Trusted – The human approach to building outstanding client relationships in a digitised world
Trusted – The human approach to building outstanding client relationships in a digitised world
Author: Lyn Bromley & Donna Whitbrook
Review by: Su Askew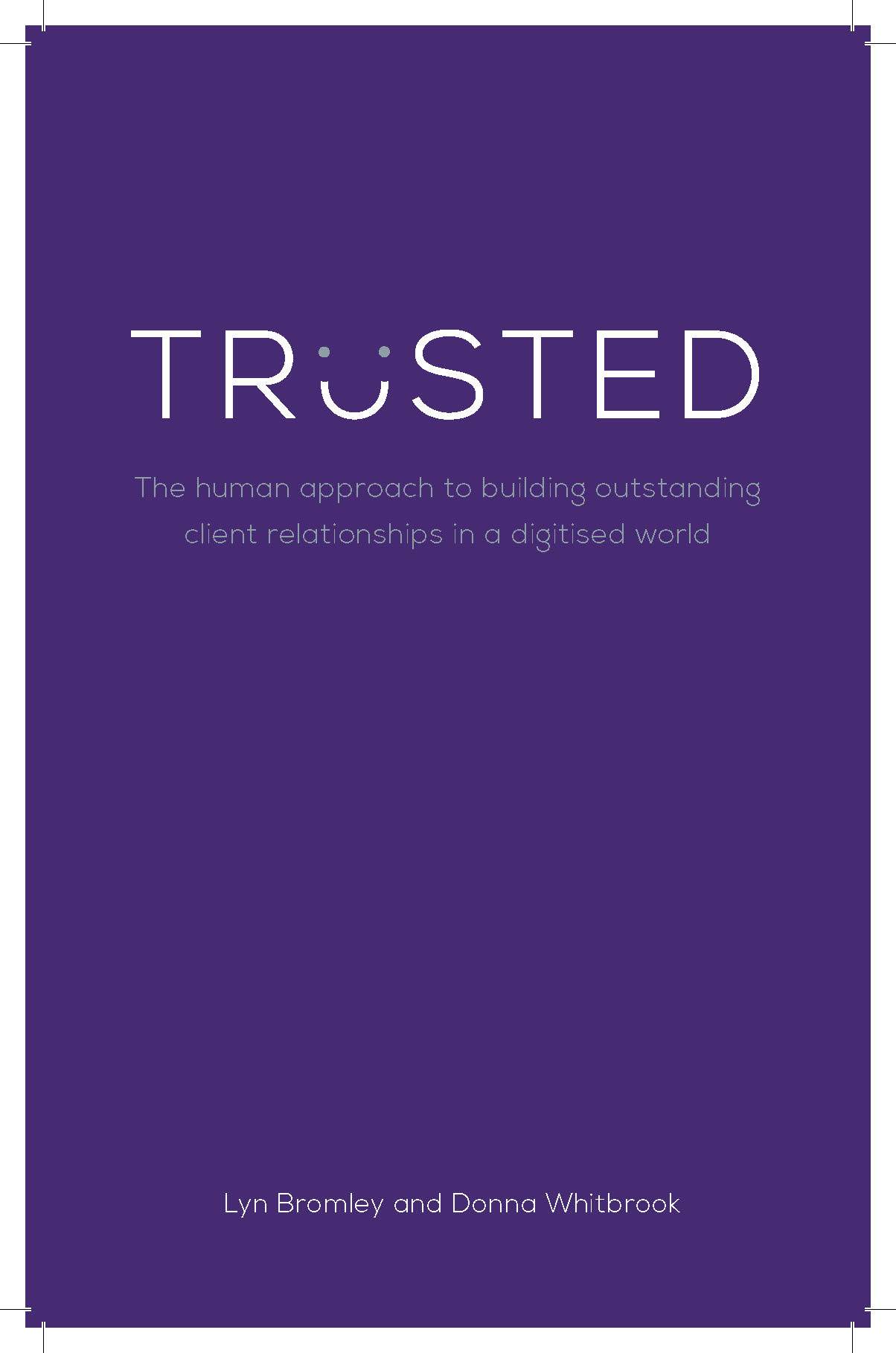 I'm naturally interested in trust in the workplace, so the title hit home instantly. The book contains practical advice, tips and additional tools: you can interact with many online assessments and guides that will really help you to reflect on your own role and organisation. The content is a catch-all aspect to the hard work Donna and Lyn carry out in their organisation; you can see from the case studies and open, honest stories how their clients have advanced from the work the authors have done.
The book is, I conclude, intelligent, current, business common sense. To that end the information in here is not wholly new; but it is largely forgotten and ignored, and not often gathered together in one place. Fundamentally, if there is no trust within the organisation or its eroded with clients, you basically don't have a business equipped for the future, and that's the clear message.
'Trust' is banded around in rhetoric all around us but rarely truly explored and nurtured. You don't need any fancy new concepts to get the marginal gains (underpinning the book) that will ensure you and your teams, over time, create and maintain that essential commercial edge.
Dotted with quotes and good anecdotes from some of my favourite successful people like Amy Cuddy, Tony Robbins and Henry Ford, I felt comfort with the tonality and vibe of the book. It led me to think, who is this book for? Sales, Customer Services, Managers, Leaders or Business Owners, perhaps all of them. It would take a strong cultural transformation (even with the marginal gains approach) to tap into all the elements of this book. There is, in fact, something for every level of business here. If we really buy into the marginal gains approach, then you can start right now with so much of what they impart. We all must admit many of our staff and peers struggle with creating the right business credibility and edge, and we don't effectively address it.
In so much as it focusses on our increasing digitised world in terms of social media, importance is given to the benefits of face to face communication, effective attendance in meetings and being present. So many of my clients tell me that they just cannot do that, given their global and diverse locations and focus. How can we maximise the digital world to help us bolster the relationship building and, in turn, trust? I would have relished some tips on this aspect.
There are murmurings in the narrative about writing and assessing our policies, to help people to know what to do – more policy surely erodes trust in the employee, if we assume they don't know what's appropriate, how will they feel? – a tough balance to strike. I totally bought in to the excellent focus on the 95% of staff rather than focusing on the 5% who may need these policies.
I took away a few real gems that hit a nerve for more focus; leaders need to be aware of the disconnect between marketeers and the user experience. There is often a delta there that erodes trust very fast.
Silence and miscommunication are the enemies of trust – so often I see this unintentionally happen, we all can upgrade our communication, if we are honest with ourselves.
Some people just hate networking, it's no good telling them to get out there – help them to build and practice these skills, it's not that easy.
All in all, a solid valuable addition to your business reading, whatever your role.