Mindfulness For Busy People
Mindfulness For Busy People
Author: Michael Sinclair, Josie Seydel & Emily Shaw
Review by: Graham White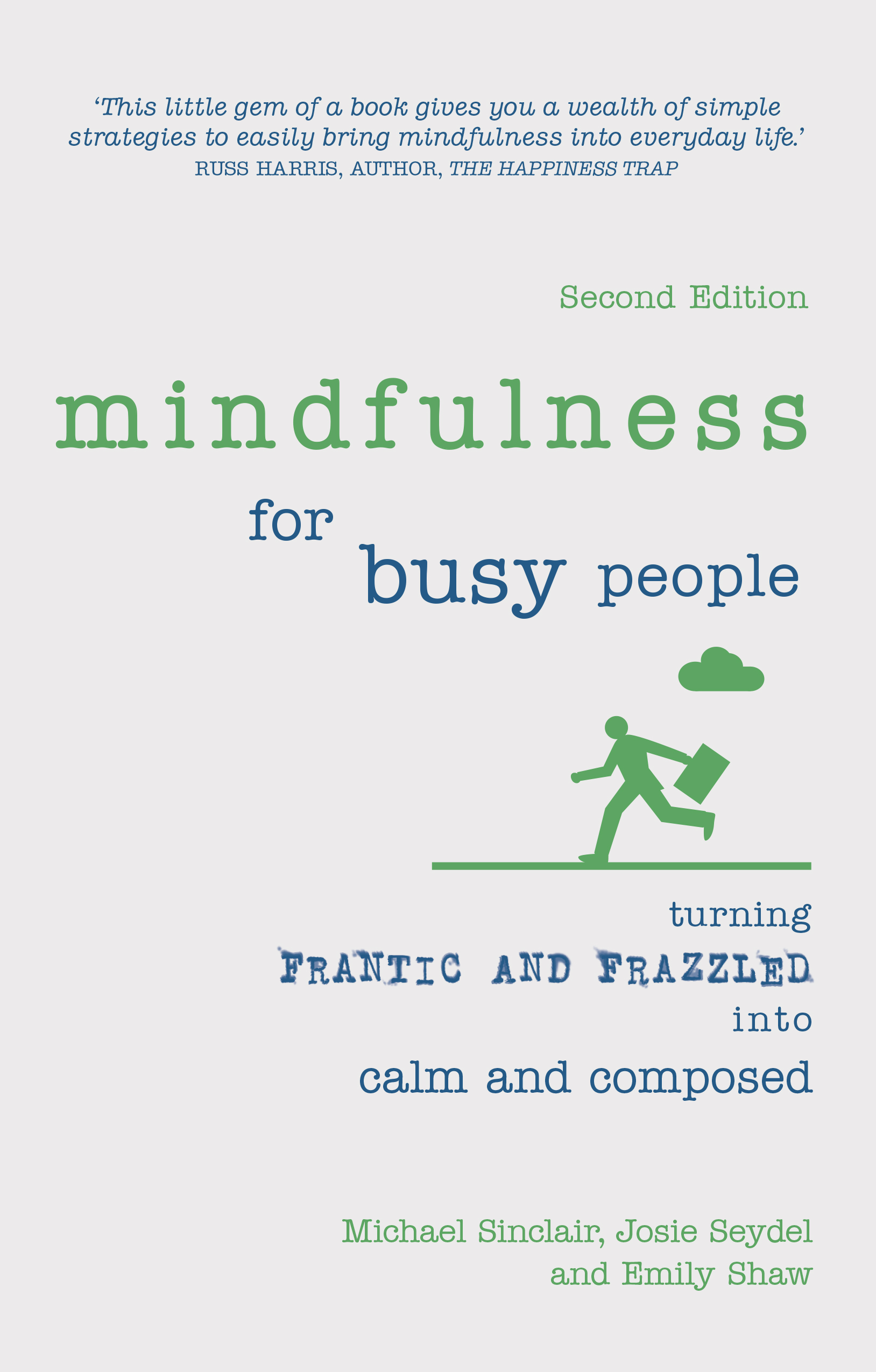 CS Lewis once said "Don't use words too big for the subject. Don't say infinitely when you mean very; otherwise you'll have no word left when you want to talk about something really infinite." So, it is without reservation that I say this book, if read and applied will revolutionise your life. In two hundred and eighteen pages this book has the potential to grab busy people by the shoulders, gently reset their direction of travel by only a few degrees and dramatically change for the better their hectic, busy and possibly troubled lives.
By now I expect readers are anticipating that the authors of this book will require that they shave their heads, put on saffron robes and head for a mountain top. Whilst I am sure these requirements might deliver a stress-free life; this book offers an alternative that guarantees a life changing reaction by providing an idempotent opportunity that will blend practical and relevant mindfulness practises into the everyday lives of readers causing little or no disruption to the day to day activity yet creating meteoric change to the quality and quantity of that same life. Whilst the origins of mindfulness started centuries ago, the move from sunny kumbaya riversides to high rise office blocks is finally underway and the way that we talk about mindfulness in this book has become something its mountain top originators might not easily recognise. Since the start of the last decade mindfulness has gone from an afterthought to a headline with Google confirming it is trumping many other key words when searches such as "quality of life" are undertaken. Furthermore, a recent search on Amazon for mindfulness books confirmed there are currently over 8,000 titles actively on sale.
Whilst many prospective purchasers of this book may feel that mindfulness is something we all naturally possess, and it is only the weak and cowardly who can't manage themselves, this book, in a very discrete yet impactful way helps the reader to understand that positive mindfulness is more readily available to us than we realised when we develop and integrate mindfulness practices into our lives daily. With growing research showing that when you train your brain to be mindful, you are remodelling the physical structure of your brain, this book is a timely and positive contribution to ensuring all of us shape our living in a way that ensures that the priorities we focus on are those that matter most to us and those we love.
In a time when technology is filling up too much of our waking minds and the same technology is perpetually connecting us and wearing us out it is not surprising that many of us are grasping for a bit of peace and calm. The promise that technology would make us work less not more and the assurance that technology would help us identify and solve problems quicker has not materialised. Instead, we have become a world that finds it hard to switch off, unlimited supplies of information are swirling around, coming at us from every direction creating more distraction than direction. We are living in an age of technology-induced stress and into this era comes the second edition of a book very well described as "an operating manual for the most important but least understood area of our lives".
From the very first words of the introduction this book sets a tone for the reader that ensures they will think again about their ability to influence and manage the busy lives so many of us now live. The book becomes an exciting adventure of page turning as you discover one adjective after another that you may have thought were pariahs to the modern business environment. "Compassion", "fulfilling relationships" and "Relax" to name but a few are the cornerstones of the benefits promised as part of this journey. And the wider benefits promised to create a list that goes well into the arena of utopia. From improving motivation and relationships to enhancing energy levels and immune systems.
At this stage it is important to confirm that I have begun the program and speak from the perspective of a "user" and without reservation I can confirm that what I believed was the most significant promise offered in this book is true. On more occasions than I care to recall the book promises and delivers on the guarantee that you do not need to change what you do in your life to benefit from positive Mindfulness. I am not ohm-ing on my way to my next meeting nor am I staring out the window at blue skies, but I am following a pattern of living that has begun to show me how to destress my whole life and create islands of calm that not only assure my wellbeing but also prepare me positively to enjoy the next challenge that comes my way.
The book is structured into five sections which take the reader on an emotional roller coaster. From the excitement of Part One you discover the promises that lay instore for you as the reader through the journey of awareness. By part two you naturally fall into the self-assessment and self-awareness section allowing yourself to be very honest about just where you really are. Parts three and four are the heart of the book bringing much of early thinking into a time of reflection preparing the reader for the final challenge of determining what really matters most to each one of us and finally embedding that concept into our everyday living and how it will influence the whole world around us.
The structure of the publication is also supported by two very significant influencers. The first is the downloadable audio guides which many will find greatly assist and guide you through some of the practices. The process for downloading these was very straightforward and I found them very helpful, often returning and listening a second and third time. The second influencer is even more impactful as you discover the "sessions that regularly appear throughout the book. These sessions have the potential to stand alone as mindfulness guides. They send you on journeys that open your thinking in so many ways and is so many different directions. I do not plan to spoil these experiences for you and will only touch on two that have had a profound impact on my own thinking. Early in the book Practice 2.2 introduces you to that broken record every manager hears themselves saying "I haven't got time for this" and very quickly shows that by using the "two-minute breathing space" you discover a sense of focus that controls your thinking and helps to identify how and why your mind wanders. Much later in the book at Practice 11.7 this concept is taking even further with "mirror mirror on the wall…" where a simple exercise lights the blue touch paper on our emotions that after a very short while begins to re-energise us as well as help us to re-engage with everyone around us. But as promised I do not plan to spoil too many of these practice sessions other than to tell you they hold the book together adding practical and relevant activities and feelings that brings the logic of the book alive. So also watch out for "biscuits" and "hamster wheels"?
Many in this field believe that both sport and education have beaten business to the benefits of mindfulness however much of what makes this book relevant now is about timing and influence. As a second edition the book benefits from many new and updated ideas that ensure it is even more relevant and timely now as we close in on the end of this second decade. Most significant for me as a reader has been the way in which the book has acted as a catalyst in taking the concepts of mindfulness from conceptual to practical. Many bookshelves including the ornate shelves of many CEO's offices hold several well written guides to mindfulness, but this book finally takes itself off the bookshelf and into the top drawer of the desk. By adopting the concept of practical wellbeing and non-evasive mindfulness we discover through the chapters of this book how the secrets of pace, patience and positivity are within our grasp needing very little in the way of redirection and lifestyle change.
In conclusion I would confirm that reading this well written and well researched publication has made me think again about how I use my days and how I assess or determine just how busy I really am. In a light hearted yet personally challenging way this book has set me on a journey that has no end, just more and more opportunities to enjoy life. From cover to cover this book is a treasure trove of practice sections, personal reflections, illustrations and self-assessments. Despite mindfulness not being goal driven I have found these activities invaluable helping me to restructure and redirect my thinking whilst also helping to create a sense of positive intent. Any outstanding questions are well catered for in the section for further reading and useful resources for support and in the words of the authors themselves I believe that this book has the potential to help the reader experience joy, peace and a rich and meaningful life.
Graham White, Retired HR Director