Dedication – the Huawei Philosophy of Human Resource Management
Dedication – the Huawei Philosophy of Human Resource Management
Author: Huang Weiwei
Review by: Perry Timms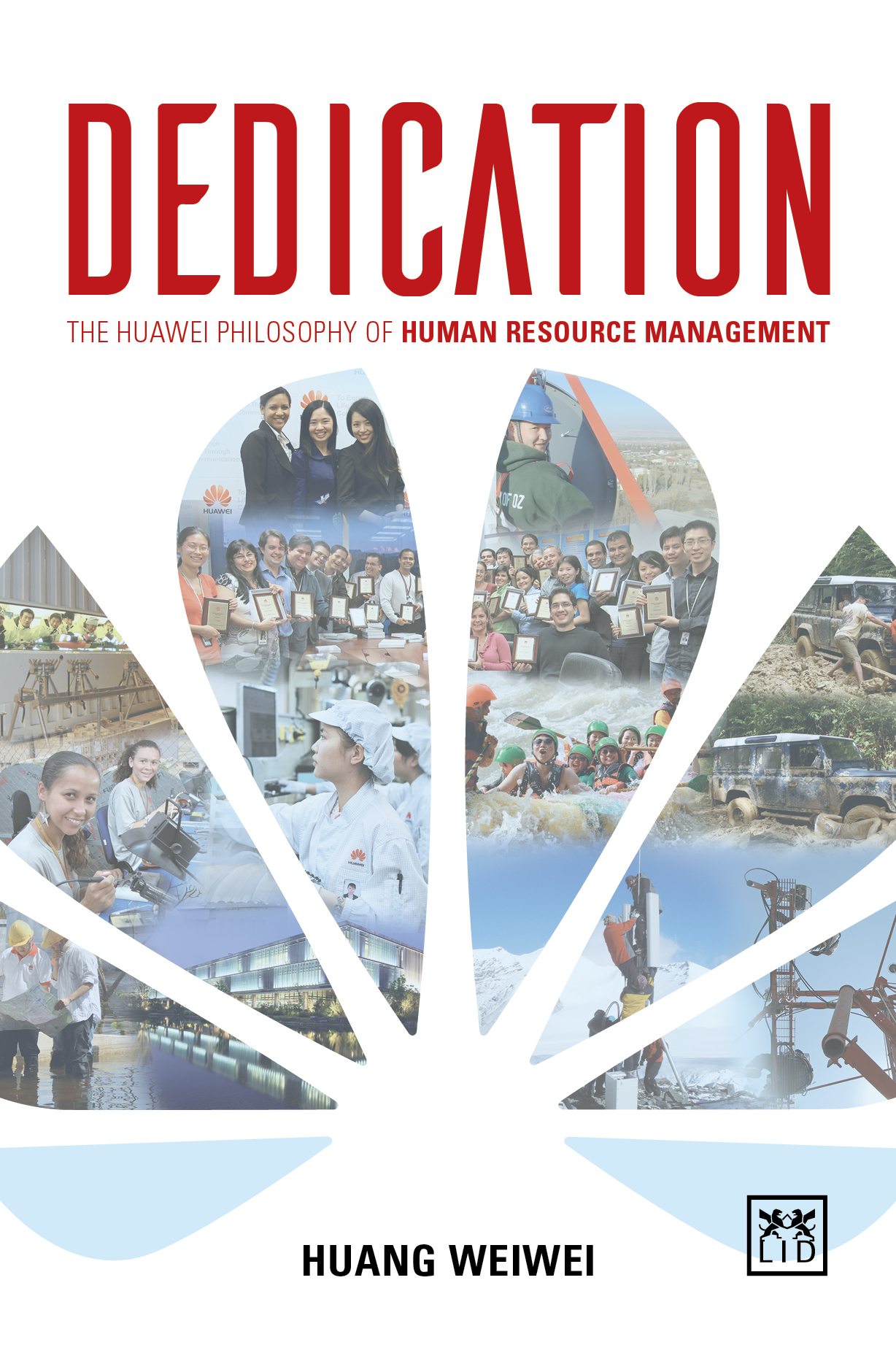 There's no other way than to describe the rise of Huawei as phenomenal. A huge uptake of telecoms devices and connectivity overtaking many more established players in the market.
So it was with great intrigue that I took the book Dedication as a review project. What was Huawei's secret power source? How can the rest of the business world learn from such a (now) giant in a highly competitive industry? Would it ignite my excitement as a book about Nokia once did in the early 2000s?
Sadly, it didn't. Excite me that is. And here's why.
In a fascinating break from many story-like business literature that I'm used to (Gladwell; Hamel; Merchant; Laloux), Dedication reads like a massive – and I mean massive – 334 page staff handbook. Quote upon quote of (clearly) charismatic leader Ren Zhengfei proves how instrumental he has been in Huawei's success. This is an important factor in Huawei's surge – a strong, visionary and focused leader.
From the outset, I found the quote upon referenced quote broke my reading flow. Not that I had to be bothered to check each reference point out, but it seemed strange to me, to intersperse the writing with so many references. Out of respect for Mr Zhengfei, it's clear he has been remarkable in creating a legacy and guided the company to amazing growth and fortune yet for a flowing read, it jarred with me.
Trying to overcome and negate that constant punctuation in the story, I persevered. I started to note, in the opening chapter, some core tenets of what made Huawei what it was and eagerly waited for the HRM, sorry, people – aspects to leap out at me. I was comforted by some of the analogies and quotes that gave me a sense that, despite a huge company, it was about the people. For example, that the company is successful is because of "the brainpower of people". And that HRM at Huawei is to empower people to go all out to create value.
A statement of intent that growth of the company allowed for personal development of the people enamoured me. And that this was about customers and not shareholders. Winning with me on that one too.
Choice of words says a lot to me about the mindset and intent of a company and how people feel working within it. To say the basic goal is to survive was an interesting choice for me. Of COURSE the basic goal is to survive. Else all bets are off. I suppose we should applaud the author for not being afraid to state the Huawei obvious – that ultimately, this is what it's all about. I guess my years of seeing "embroidered" mission statements and values have somewhat irked me so this back to basics should be applauded. Yet I found myself strangely unanimated by this. I'm sure Huawei employees aren't but I wasn't drawn to it at all. Overall though, this was settled a little by referencing to winning customers; creating value for them; and achieving sustainable growth so I guess it's a little like MBA 101 stuff, so OK, it's fair and of course relevant.
Value creation – according to Huawei / Zhengfrei is about labour, knowledge, entrepreneurship and capital. And that HRM at Huawei was considered to be the value creation assistance programme. Again, the choice of language was interesting and I got past that and could see that what was valued inside the company was hard work; staying sharp; being enterprising and resources / financial viability.
I then find that Huawei doesn't like to make TOO much money. And that profits are not its motive – growth is. And that this aspect of the culture is what drove its HRM policies and approaches. This I found interesting and in keeping with some of my own philosophies. So Huawei wouldn't compromise on quality just to keep profits shored at a high level; that they believed in service to the customer over all things and that people mattered so they would be not only oriented towards this philosophy but rewarded for it.
So I found myself in that story and reading through this journal / staff handbook approach to telling the story of success became a little less like a trip to a place I wouldn't normally go to.
Many examples really did bring home that this is a well managed machine. So maybe I'm the wrong kind of person to review such a machine-metaphor story. I'm so human biased and whilst I appreciate mechanics and systems, I look for the stories of individualised, inclusive and even somewhat messy ways to run a business, imperfect is good for me as long as I can see the human in the machine (and that it all works out in the end).
With this book, I could sense the level of parental care and guidance to the humans mixed with an amazingly well-tuned machine. I sensed more metallics and binary code than heart and creative soul. Fairness though, features highly in the writing. Fair in compensation, opportunity and in being clear to people what is expected of them to create value. Huawei's value is steered towards dedicated people and high performing teams. Nothing wrong in that meritocracy approach is there? So in essence; you do well, you win.
So key takeaways from this massive staff handbook and journal of Huawei's success:
Crystal clear leadership. I was fascinated by the huge impact Mr Zhengfrei has had on the company. I could sense him in every word. He's clearly a very clever, focused and dedicated man. To have built this company with such clarity and unambiguity is quite something in the 21st century. Could many of today's leaders learn from this? Yes – the clarity of ways of working and the focus on customer not shareholder are important. I was left with this question though: Are people in awe, in service of or even in fear of Mr Zhengfrei? Whatever they are, when he moves aside or on, or upstairs, what will that mean? Has he created an amazing legacy with such a well drilled army of workers or is it his presence holding it all together?
Comprehensive playbooks can work. Whilst not part of my beliefs system, for 170,000 employees in one of the most competitive markets there is, it appears this tightness has delivered success where all other attempts could have failed. In a world where perhaps not everyone likes to work it out for themselves, this has seen a comforting sense of certainty yet with the promise of growth. In essence, here's the rules of the game, play hard and win, we grow, then so can you. Maybe in this messy world we're in that certainty is a winning formula for some companies?
A harder form of HRM IS sustainable and isn't inhumane. When I say hard, I don't mean spiky or ironclad. I mean a firmer proposition. A sort of Special Forces version of HRM. We're seeing some companies achieve huge growth off the back of this format. Is it good for the human soul? For some folks, the safety of a large, thriving corporation means security so they'll take that over any notions of surfing in the afternoon or ping-pong breaks.
So am I a convert to the Huawei way?
Actually, no way. I cannot argue with the company's success yet I still feel I've experienced something more Blade Runner than Star Wars.
I guess the world's big enough to have many forms of HRM and I won't be ditching my models and theories in favour of the practices covered in Dedication.
Perry Timms, Founder and Chief Energy Officer, PTHR
Published by LID Publishing