50 Top Tools for Employee Wellbeing – A complete Toolkit for Developing Happy, Healthy, Productive & Engaged Employees.
50 Top Tools for Employee Wellbeing – A complete Toolkit for Developing Happy, Healthy, Productive & Engaged Employees.
Author: Debbie Mitchell
Review by: Adele Swan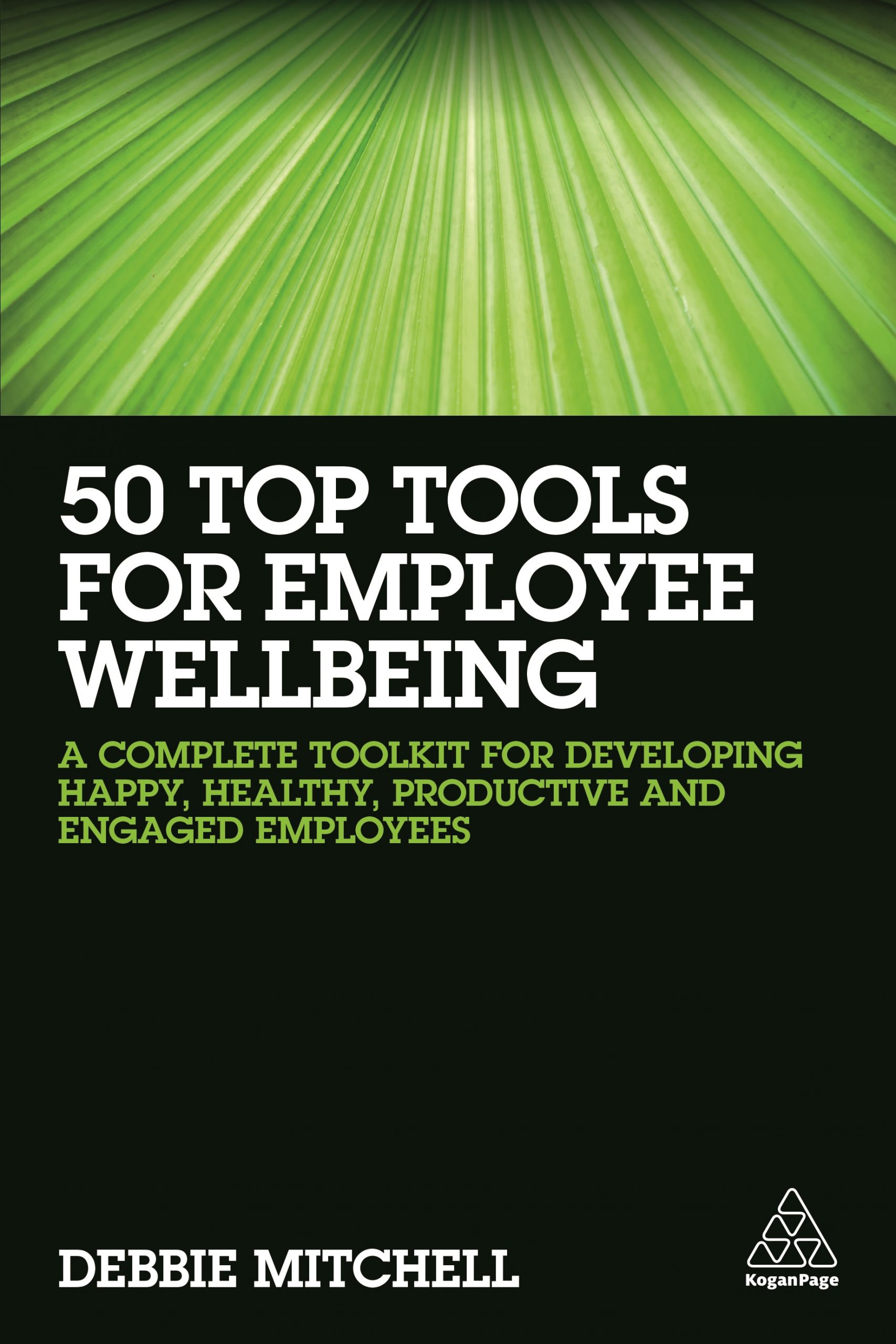 In a fast paced world of uncertainty and unprecedented change, people are increasingly putting a premium on personal wellbeing and resilience.
With around 14.7% of people facing some form of mental health challenge in the workplace, and a suggestion that 12.7% of absence is connected to mental health (according to the Mental Health Foundation, 2017) companies cannot afford to ignore this issue.
Enlighted companies have recognised the importance of employee wellbeing for some time. The statistics on the payback of such initiatives, in terms of employee engagement, attendance and lower turnover tell a compelling story.
So what if your company is not yet on the wellbeing journey? Where do you begin? What should you focus on?
Whilst some wellbeing books on the market are a little "airy fairy" The 50 Top Tools for Employee Wellbeing is a comprehensive yet easy to ready guide for anyone looking to develop a wellbeing approach for the first time or plug some gaps in their current offering.
The toolkit is written by Debbie Mitchell, an organisational development consultant who specialises in employee engagement, coaching, talent management and change who held in-house HR roles for British American Tobacco for 10 years. Perhaps because it's been written by an author with experience of implementing programmes, it looks at wellbeing through a very practical lense. Mitchell is cognisant of budget constraints that many companies face but insists some of her ideas can be implemented at very little cost. She also asserts that companies who do nothing will ultimately pay because of time lost through absence, loss of productivity, reduced levels of customer service and poor employer reputation.
One of the things I particularly liked about this book is the focus on the role of the manager in managing his or her team's wellbeing. It is a "fundamental responsibility of managers to show a duty of care to employees" Mitchell writes and she asserts that "people management is about trust, empathy and caring, and managing people with positive intent."
The book is split into five main sections, each of which focuses on the theory behind, and the practical application of, wellbeing initiatives that consider the topic from a range of angles. At the same time, Mitchell acknowledges that issues/causes often overlap – for example physical issues can lead to concerns about finance or security – and that it is often not possible to look at each topic in isolation. In recognition of that fact, she has provided a handy table at the back of the book which identifies complimentary and connecting tools.
The five main sections Mitchell focuses on are:
Leadership and Advocacy
Career
Physical and Mental
Social and Community
Financial
Leadership and Advocacy – having personally experienced how important this is to the success of a number of HR initiatives I have led, I agree with Mitchell's decision to lead with this topic. She recommends publishing a wellbeing strategy to demonstrate intent and cites a 2016 Great Place to Work survey which identified wellbeing as a key driver for employee engagement for many "employers of choice." In contrast, not having this in place may make your firm less attractive to the most marketable talent. Mitchell suggests aligning the strategy to your business strategy and core organisational values, rather than having it sit in isolation. She suggests that the next key step is to carry out a current state assessment to identify any gaps and also to flush out any negative actions or behaviours which may get in the way of employee wellbeing. She sets out a series of questions which could form an employee survey or be used in focus groups or 1:1 interviews, alongside suggesting business metrics or performance indicators which should be considered. These include things like absence, turnover, data from exit interviews, productivity and customer service.
Turning attention to developing a programme, Mitchell suggests organisations should think carefully about the content, as well as the leadership and financial commitments required. She also highlights that it is important to communicate to employees what is happening and warns against being over-ambitious in making commitments "to publicly state that you will implement something and not do it, or stop doing it part way through because it costs too much money, will have a significant impact on how employees perceive the organisation and its commitment to and its concern for the employees' wellbeing." Crucial to the success of the wellbeing programme is identifying supporters at all levels of the organisation to champion and advocate it. Regularly reviewing the success of individual initiatives and being transparent about this is also important.
Having set out the overall strategy, the remaining four sections focus on topics which can impact – positively or negatively – an employee's wellbeing. For brevity, I have pulled out some highlights that stood out for me but there may be points I have missed which would resonate with others.
In the Career section – Mitchell advocates a number of people management practices which would be supportive of employee wellbeing. This includes taking a strengths based approach to people management (in recruitment, performance and recognition) where focus is placed on playing to people's strengths and not focusing on weaknesses. This is an approach which has been deeply embedded in my organisation for a number of years, with positive results. In this section she also covers peer coaching, development, feedback and mentoring and gives a lot of practical tips on how these promote wellbeing, how to implement them and how to monitor results.
The third main section is focused on Physical and Mental and covers topics such as the return to work interview and managing sickness absence on one end of the spectrum to introducing fruit boxes, exercise programmes, workplace massage and business travel health initiatives at the other. Mitchell recognises that not every organisation has the resources to do these things so helpfully suggests cheaper alternatives such as Fruit Fridays or supporting public initiatives such as ParkRun. The topic of stress and strategies to recognise and deal with this is also covered in this section in some detail. Flexible working and home working are also covered, recognising that may people in the workforce are part of the sandwich generation with caring responsibilities.
In Social and Community, Mitchell recognises that there is great diversity in our workforce and creating an inclusive culture isn't just good for business, it is also important in creating a sense of wellbeing amongst employees. She cites the ACAS guide to Health, Work and Wellbeing which states that one of the 11 factors they put forward for a model workplace is "attitudes and values that can help healthy relationships to flourish." In this section she also highlights the benefits of charitable work on collaboration, engagement and wellbeing and the positives of establishing shared interest groups, for example sports and social clubs.
In the final section on financial wellbeing (which Mitchell acknowledges is brief as it is not an area of expertise for her) she highlights topics such as offering flexible benefits to meet different employees' needs and also pre-retirement planning to help employees transition successfully out of the workplace at the end of their careers.
Overall the book is very comprehensive and it is hard to do it justice in a short review. Even where topics are only covered at a more superficial level, for example mindfulness or financial well being, there is enough material in the toolkit to prompt thinking. The book is well structured and easy to follow. It can be read all the way through or could be used as a reference book for the reader to dip in and out of depending on their needs and interests.
Adele Swan, Senior People Consultant and Executive Coach, Standard Life Investments
Published by KoganPage