A Thorough Manual: What Does it Cost to Develop an App in 2023?
What is the price of creating an app? When beginning an app development project, this is probably one of the first things app brands and developers need to have the answers to. The most fundamental and yet important part of every mobile app development project's budget is an app development cost estimate.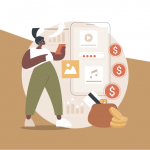 Top Factors Affecting the Price of Developing a Mobile App
The process of developing a mobile app is exciting because it combines technology and ingenuity to create a work of digital art. Understanding the variables that affect mobile app development costs, when hire vetted devs is crucial for a fruitful and cost-conscious project.
App Features and Complexity
The main pricing factor for your software is its feature complexity. Apps with simple interactions and static information tend to be less costly than those with complex features like geolocation, real-time data synchronization, and sophisticated animations.
It takes talented designers and usability specialists to create user-centric designs, simple navigation, and captivating interfaces. The complexity and level of detail in the design stage affect how much your app will ultimately cost to produce.
Costs are heavily influenced by the platform(s) used, such as iOS, Android, or both. Due to varying programming languages and design standards, creating many platforms costs more money. 
Team Members and Location
Your budget will be impacted by outsourcing to locations with different labor rates or hiring seasoned specialists. Although quality comes at a cost, it's crucial to create a balance between expense and talent to get the results you want.
APIs and Backend Development
The integration of Application Programming Interfaces (APIs) and backend development, in addition to the app's user interface, raise expenses. 
Integration of Services from Third Parties
Both functionality and complexity are increased when third-party services like payment gateways, social network logins, or mapping APIs are used. Although these services improve user experience, they could incur license or development charges that have an influence on your budget as a whole.
Tests and Quality Control
Thorough testing and quality assurance are required to guarantee that your software works smoothly across devices and settings. Finding and fixing issues, improving performance, and verifying user interactions are all tasks that are part of this phase and add to the time and expense of your project.
Implementing strong security measures is essential at a time when data breaches may damage a company's image. Encryption, following best practices, and protecting user data all require additional development work and expenditures.
App Updates and Maintenance
The journey of the app doesn't finish with its release; ongoing upkeep and updates are crucial for keeping it functioning and relevant. Long-term cost forecasts must take into account the cost of planned upgrades, bug patches, and platform compatibility.
Project Duration and Scope
Due to the additional resources needed and the possibility of rework, rushing development to meet short deadlines might result in greater costs. Effective cost management may be achieved by defining the project's scope precisely and establishing reasonable deadlines.
Submission to the App Store and Marketing
Certain expenses are associated with submitting your software to app stores, and marketing initiatives to advertise your app to a larger audience might affect costs after launch. Include these costs in your entire budgeting process.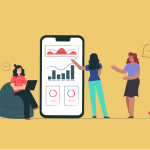 What Will It Cost to Create an App in 2023?
The findings of GoodFirm's extensive study may be summed up in a few sentences, although the overall cost of an application depends on hundreds of different factors.
In 2023, the price to create a straightforward app may be between $30,000 and $50,000. A simple app is generally created between 4,5–11 weeks and includes minimal functionality, a user interface, user registration, and login. Simple applications include calculators, flashlights, and the weather.
A complicated app may cost $100,000 to $250,000 or more to build in 2023. Complicated software is often created in 7 to 16 weeks and includes more sophisticated features including third-party connections, real-time updates, push alerts, and advanced user interfaces. Complex applications include social networking apps, e-commerce apps, and gaming apps, to name a few. 
A complex app may cost between $250,000 and $1,000,000 or more to produce in 2023. A sophisticated app is often produced in between 11.5 to 16 weeks and contains very complicated features including artificial intelligence, virtual reality, and machine learning. Healthcare, finance, and enterprise-level applications are a few examples of sophisticated apps.
Understanding the Different Phases of App Development and Their Cost Implications
Developing an app is not a one-size-fits-all process. There are several phases in the development cycle, and each has its own set of costs. For example, creating an MVP (minimum viable product) will cost less than developing a fully functional version of your app because it requires less effort and time to create. In addition, if you choose to work with freelance developers instead of hiring full-time employees or partners in development, then this will also affect your budget significantly since freelancers tend to charge higher rates than companies that employ hundreds or thousands of workers at once.
When looking at different ways in which an app can be developed and what they might cost you should keep two things in mind: First off, there's no way around having some sort of budget when working on new projects; secondarily though maybe most importantly don't forget about quality!
Beyond the Initial Build: Post-launch Expenses to Consider for Your 2023 App
Once you have a finished app, there are ongoing costs to consider. The first and most obvious of these are support and maintenance. You'll need people who can answer questions about how the app works and help users if they run into any problems (and they will).
A good rule of thumb for estimating this expense is 1% of your initial build cost per month. For example: if it costs $50k/month to build an app in 2023, then you should budget $5k/month toward support costs after launch day. For apps that rely heavily on user engagement or interactivity (like games), this number may go up significantly if those features require specific attention from developers before they go live; however, if all goes smoothly with the initial build process then there shouldn't be much work left after launch day besides answering occasional customer inquiries via email or phone calls no need for constant updates unless something happens that requires significant changes within your codebase itself (e..g., upgrading from Swift 4 to 5).
Conclusion
A smartphone app requires extensive development. And you should be aware that developing a good mobile application requires particular knowledge and expertise. You need a skilled technology partner to turn your ideas into digital reality if you're serious about using mobile apps to grow your company.