Corporate Savviness is an organizational characteristic that refers to the enterprising use of a collection of core organizational competencies, i.e., Key Savviness Aspects (KSAs) that are needed by dynamic businesses to attain/maintain/sustain formidable competitiveness. It is a proactive trait that buffers progressiveness against paralyzing hindrances from precarious situations and enables a desired pace to business excellence. This article provides a brief explanation of the 15 KSAs and subsequently depicts the Corporate Savviness Barometer (CSB), against which, an organization can be assessed, for appropriate corrective/preventive actions or, in case of being on target, indulge in a 'moment to savor' with renewed affirmation.
The 15 KSAs are…

KSA # 1 – Employee Savvy
This refers to the ability of an organization in anticipating the needs and expectations of its employees in a proactive manner. It requires an enlightened approach to Talent Management that is manifested in the delightful measures taken to ensure the best possible journey for the employees as they enter, transition and exit the various roles within the organization during their employment lifecycle. It is a primary driver for maximizing employee engagement and reaps its rewards through selfless displays of 'organizational citizenship' behaviors and in the joyous reflection of the 'psychological contract' fulfillment through 'glowing' employee surveys.
KSA # 2 – Technology Savvy
This refers to the ability of an organization in seeking out and incorporating/developing the optimum mix of technology that will result in greater efficiency and effectiveness in strategic and operations management. It requires an honest review of existing and future needs, exploring viable options and maximizing the productivity/quality/cost effectiveness benefits by amicably resolving the dilemma of proportionality between apprehensive workers and their technological nemesis. A key driver in its smooth incorporation is the speed, with which, the unlearning of old practices takes place to learn and apply the new knowledge with minimal hiccups.

KSA # 3 – Environmentally Savvy
This refers to the knack of an organization in appreciating the value of ecological diversity in its surroundings and taking proactive actions to ensure that any adverse impacts from its products/services/operations are conscientiously alleviated/eliminated as a management imperative. It requires the courage and foresight to invest in technological solutions/workplace practices that may not be popular at the onset, but consequently, generate responsible mindsets, inculcate sound work habits and lead to greater/robust revenue growth among increasingly loyal clients/customers prone to rewarding environmentally friendly organizations.

KSA # 4 – Business Savvy
This refers to the knack of an organization in understanding the market through careful analysis/diligent deliberations by using tools and techniques such as, PESTLE, SWOT, Balanced Scorecard, etc., and taking insightful business decisions that secure its viability as a 'going concern', and placing it firmly on the path to becoming a 'darling' of the key stakeholders. It demands strategic nimbleness, meticulous resourcing, operational optimization, financial discipline and an unrelenting focus on success while having the resilience to absorb tough losses with a 'learning' attitude. It also requires the adulation of core businesses and the temerity to disengage, without debilitating guilt, from unprofitable and unproductive enterprises.

KSA # 5 – Competitor Savvy
This refers to the ability of an incisive organization in outwitting the competitors for gaining a predominant position in the market. It requires prudent anticipation, reflective understanding, deferential appreciation and actionable intelligence in terms of developing and deploying effective strategies to marginalize/neutralize the current/potential challengers from jeopardizing an organization's profitable existence. It demands operational synchronization wrapped in a blanket of impregnable confidentiality. It merits supreme confidence in seamless execution complimented by the disciplined disposition to engage in muted celebrations of success.

KSA # 6 – Future Savvy
This refers to the ability of an organization in peering farther into the labyrinth of the future state of business than its competitors and realize the 'first mover advantage' in unexplored/underexplored markets by delving into the essence of the 'Blue Ocean'* strategy. It requires visionary leadership that is unfazed by current challenges and has the fortitude to take profoundly astute, inherently unpopular, staggeringly transformational and emotionally draining decisions, that are prone to resistance from less enlightened quarters of the organization. It demands the channelization of the inherent 'surviving and thriving' animalistic instinct within the disciplined ingenuity of a thinking human mind.
*http://www.blueoceanstrategy.com/

KSA # 7 – Branding Savvy
This refers to the aptitude of an organization in adroitly leveraging its name as the emotional link that conjures up images of excellence in diverse aspects, e.g., products, services, organizational culture, employee relations, etc. It entails the solicitous application of the Vision-Culture-Image (VCI) Alignment Model* and beckons a loyal following by key stakeholders to its offerings with unremitting confidence. A key success factor is the timely 'brand refreshment' that is necessary for retaining the 'Top of Mind Awareness (TOMA)' shelf space in the thoughts of its ardent advocates to ensure a steady traction for its recruitment initiatives and the unremitting influx of desired talent within its ranks.
*http://en.wikipedia.org/wiki/Corporate_branding

KSA # 8 – Community Savvy
This refers to the aptitude of an organization in harnessing the strength of the surrounding community to vociferously advocate the virtues of its 'naturalized' presence. It requires concerted efforts to increase visibility within the community by sincere Corporate Social Responsibility (CSR) initiatives, e.g., developing schools, healthcare facilities, infrastructure, scholarships for bright students from low income families, etc., that breed endearment through the enhanced quality of life. It also demands sensitivity to the broader needs of the community by delicate handling of the simmering political/social/economic/cultural/environmental activism, and any consequent spillage. Beneficial byproducts of such endeavors can include; a steady supply of local talent for the future needs of an organization, enhanced reputation, political clout, loyal customer base, etc.

KSA # 9 – Media Savvy
This refers to the knack of an organization in leveraging the power of various forms of media in creating, developing, inculcating and reinforcing a positive image of itself. It requires sound relationships with key decision makers within the various types of media. It demands proactively anticipating problems/issues and devising robust solutions in a timely fashion. It entails the optimum use of available forms of media to reach the maximum percentage of target market and overcoming the challenge of 'inundation' by delivering 'palatable packets' of information. A key success factor is the judicious use of senior management in depicting an accountable leadership that is strong, unwavering and responsive in their pursuit of business excellence.
KSA # 10 – Regulation Savvy
This refers to the ability of an organization in navigating through the finer aspects of applicable laws, rules and regulations without transgressing the established legal boundaries. It entails an astute understanding of the 'letter and spirit' embedded within the applicable regulatory documents and ensuring complete adherence accordingly. It demands the religious preservation of 'referable' records to provide the necessary history of compliance. A key success factor pertains to harboring the shrewd knowledge of the 'tensile strength'* of the applicable regulation. Mastery of this core organizational competence is exuded through the infectious confidence in inviting 'outside due diligence' without having dizzy spells.
*http://en.wikipedia.org/wiki/Ultimate_tensile_strength

KSA # 11 – Supplier Savvy
This refers to the knack of an organization in creating/maintaining/sustaining a robust relationship with its suppliers by propagating the virtues of a win-win partnership. It requires the application of Confidence Building Measures (CBMs) that are necessary to gain mutual trust for meeting stated and implied expectations as a catalyst for eventually 'going the extra mile'. It entails the consistent honoring of commitments in times of certainty and feverishly finding ways to avoid disruption during times of uncertainty. It demands a genuine interest in the 'corporate health' of the faithful supplier organization and timely provisioning of necessary support to enable a steady stride for keeping up with the growth of the client/customer organization.

KSA # 12 – Customer Savvy
This refers to the knack of an organization in maximizing the positive experience of clients/customers, as they come into contact with its products/services, by enriching the value chain*. It reflects a dogged commitment to earning the trust, confidence, satisfaction and loyalty of clients/customers who put their faith in the quality of its products/services. It demands the agility for timely adjustment to meeting/exceeding the changing needs/expectations of clients/customers. It requires humility in recognizing mistakes and willfully taking the necessary corrective/preventive actions effectively. It entails the invigorating freedom to engage in publicized celebrations on gaining high marks for its products/services from delighted clients/customers and forging an infallible determination to continue the same.
*http://en.wikipedia.org/wiki/Value_chain

KSA # 13 – Change Savvy
This refers to an organization's aptitude in being comfortable with change and taking timely proactive measures to ensure its continued relevance in the market. It requires an honest periodic review, using facilitative tools, e.g., SWOT, Force Field Analysis, Porter's Five Forces, Balanced Scorecard, etc., to analyze an organization's capacity to meet emerging/future challenges that are aligned with the achievement of corporate vision and deploying a systematic approach to reach the desired future state by using suitable methodologies based upon/inspired by 'action research', e.g., Kurt Lewin's Change Model, John Kotter's Change Model, etc. A necessary step for ensuring higher success probability is the unabashed preservation of 'lessons learnt' within the knowledge bank as an indispensible resource for future change initiatives.

KSA # 14 – Partnership Savvy
This refers to the ability of an organization in developing robust alliances with suitable partners for gaining the maximum synergistic value/cross-fertilization in terms of structural/functional growth and profitability. It requires prudent due diligence activities that can identify the most appropriate matches. It entails strategic alignment and operational synchronization with the preferred partner under the umbrella of clearly defined common goals/objectives. It is akin to conducting a 'recruitment and selection' exercise for inducting desired talent within an organization and demands paramount focus on effective 'talent management' during the partnership lifecycle.

KSA # 15 – Innovation Savvy
This refers to an organization's ability in embracing innovation as a core value and ensuring its pervasiveness in all aspects of its operations, employee mindsets and products/services. It is driven by top/senior management as an imperative for generating 'delight factors' for key stakeholders. For example, designing electrifying reward packages for employees, returning higher-than-expected returns for shareholders, enriching preferred suppliers with unexpected privileges, delivering 'transformational' experiences for loyal clients/customers, elevating 'community engagement' to unprecedented levels, attaining 'role model' status in regulatory adherence, etc. A key success factor is the embodiment of the perennial adage of a 'can do' attitude.
Savviness Calculation and Relevant State Identification Methodology
> Rate all 15 KSAs on a scale of 1-10, with 1 being the lowest and 10 being the highest
> Sum all the individual scores from 15 KSAs
> Compare the overall score with the relevant scale corresponding to the specific state on the CSB (Maximum Score = 15×10 = 150)
> Identify the specific state of your organization on the CSB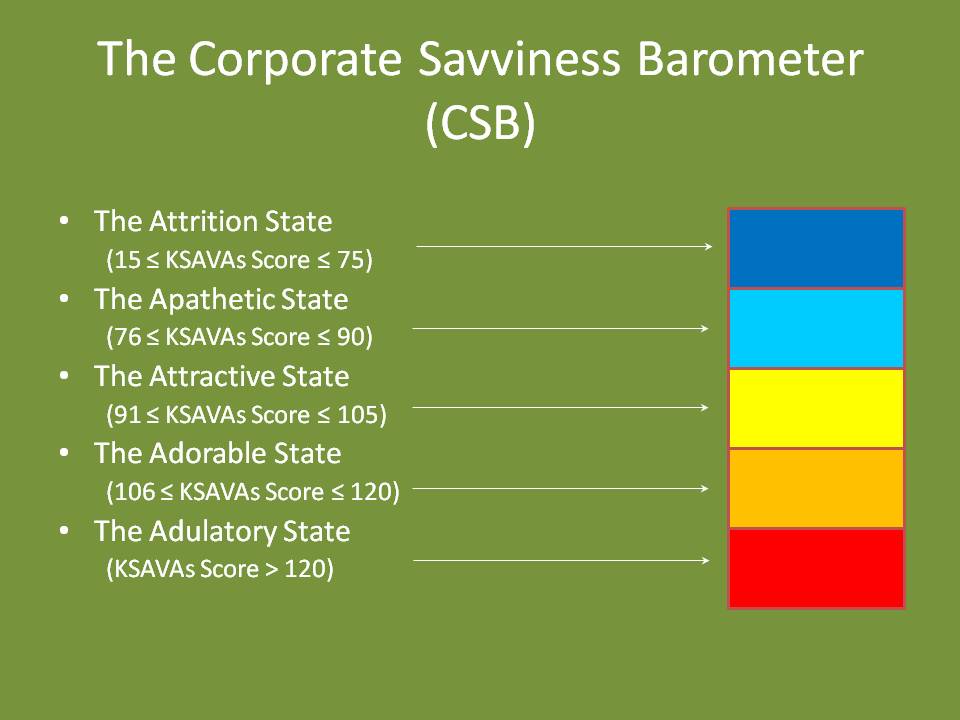 Your Next Move?
> 15 ≤ KSAs Score ≤ 90 – Time to Act & Survive!
> 91 ≤ KSAs Score ≤ 120 – Time to Reflect & Improve!
> KSAs Score > 120 – Time to Rejoice & Sustain!