Article by Murad S. Mirza
(Illuminating a Viable Path for Corporate Leaders)
The dynamics of the digital age impacted by the COVID-19 pandemic continues to be a profound challenge for organizations, especially, those facing the dire prospect of being marginalized by astute competitors who are incessantly nibbling at their previously secure and dominant market positions.  This has especially been a rude awakening for those corporate entities that had developed their risk management plans according to 'normal/foreseen' business cycles.
Consequently, the primal instinct of survival has come to dominate the majority of recent leadership thinking as innovative solutions are being frantically sought for grappling with the reality of increased fickleness from current/potential customers/consumers/clients who have been jolted/shaken by the experiences of living through a period of extreme uncertainty on a personal and professional level.  The staggering impact of low/no business activity during shutdowns has also been devastating to micro, small and medium enterprises, many of whom, enjoyed a veritable standing in the surrounding neighborhoods for decades.  The following 'ROOTS' framework is being presented for enabling organizations to maintain a robust foothold within the corporate landscape in terms of relevancy and competitiveness: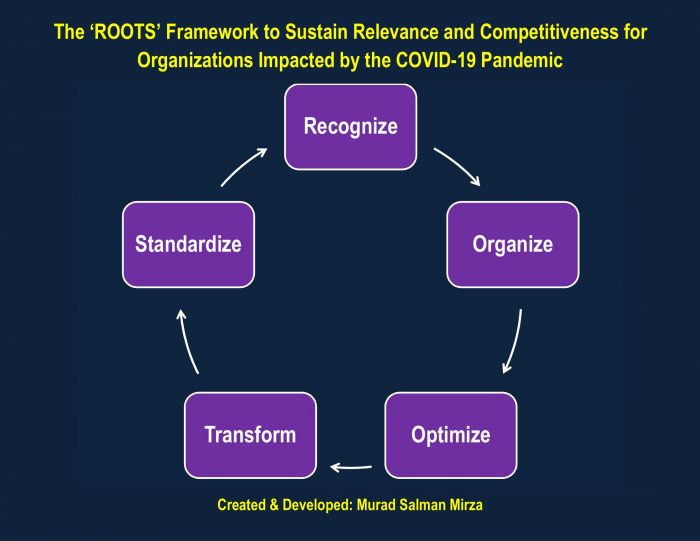 Recognize (R)
This refers to achieving a sound realization of the challenges being faced by the organization through the deployment of suitable formal/informal means and leveraging technology to extract meaningful/beneficial information to facilitate astute decision-making.  It requires leadership that is comfortable in its own skin and not hesitant to point a finger at itself for strategic failures and is willing to take responsibility for assuring and ensuring appropriate remedial actions in the larger interest of the organization.  It entails an honest self-reflection and an unbiased comprehensive review of the status-quo to magnanimously embrace and meticulously implement the elements of change under the guidance of a galvanizing leadership that serves as a role model for the rest of the organizational hierarchy.  This calls for the firm bonding of the 3Cs (Courage, Commitment & Conscientiousness) in leaders tackling stressful situations during periods of economic uncertainty driven by the COVID-19 pandemic.
Organize (O)
This refers to streamlining current policies/practices/processes in a way that enables the organization to pivot seamlessly to the 'new' reality of doing business in a fluctuating market.  It requires the opening of communication channels at all levels of the organization for soliciting innovation solutions.  Such an invitation inevitably creates a strong 'buy-in' from the workforce who feel 'close' to the leadership due to the strengthening of the 'psychological contract' in terms of having a 'say' in the achievement of the strategic imperatives of the organization.  The change of mindset from 'us against them' to 'we are all in it together' can usher in freshness of ideas/approaches/initiatives that have a higher probability of success in turbulent times, rather than, banking on the 'confined' wisdom of the upper echelon of the management hierarchy who are often oblivious to the undercurrents that run through the other levels of the organization, especially, in case of geographically diverse operations, while erroneously assuming to 'know' their organization to the level of required cognizance.
Optimize (O)
This refers to achieving a harmonized synchronization between the various functional elements within the organization in order to achieve desired results in a seamless fashion.  It entails the accommodation and appreciation of diverse views in the spirit of a closely-knit team that is finely tuned for a high probability of success.  It also includes a resolute focus on minimization/elimination of waste from all the key business processes to enhance the presence of value-added activities that provide a viable buffer for pivoting to alternative options in precarious economic situations.
An important aspect to consider in the respective context is to stay away from the lure of 'perfection' and channelize all the available/accessible resources in enabling effectual solutions to current/foreseen challenges for organizational relevance and competitiveness in congruence with the 'new' normal that is being shaped by the COVID-19 pandemic.  Some shining examples in the respective context include; alcohol producers switching to making hand sanitizers, airlines converting passenger planes into cargo planes to facilitate supply chain operations, textile companies reducing the manufacturing of fashion apparel in favor of making much-needed healthcare clothing and gloves, restaurants increasing their food delivery capabilities due to the curtailment of in-house dining, manufacturers from multiple industries adjusting their production lines to makes ventilators, museums offering virtual tours of their collections, sports stadiums/conference venues opening their facilities for vaccination drives, hotels providing secure residential facilities for accommodating healthcare professionals and other essential personnel to shield their families from any accidental infection, etc.
Transform (T)
This refers to the groundbreaking initiatives that seek to go beyond the current practices and reengineer functional working to compete effectively with the offerings of the opportunistic competitors.  It requires the marshalling of creativity and imagination with relevant knowhow for realizing transformative solutions to formidable challenges posed by the COVID-19 pandemic.  It demands an inclusive mindset on part of the leadership in terms of accepting innovative solutions from the 'rebels' in the organization who refuse to conform to the 'norms' and present differing views from the 'conformers' who are simply 'doing their jobs'.  This cannot be successfully realized unless the 'rebels' are empowered to voice their opinions without fear of reprisals from vindictive superiors who might feel threatened/insecure due to their own inability to display innovative capabilities and, thus, feel the urgency to suppress such 'noisome' team members to sustain the fleeting hope of advancing their own career prospects by concentrating on doing 'business as usual'.
Standardize (S)
This refers to ingraining the successful outcomes of the transformative initiatives among the relevant hierarchical levels within the organization.  It entails orientation and sensitivity training to cater for the efficient diffusion of updated/refined policies/procedures/processes within the appropriate members of the workforce to assure and ensure timely and effective transition to the revised changes in the workplace pertaining to the COVID-19 pandemic, e.g., hybrid working conditions, remote monitoring mechanisms, virtual team constitution, work allocation/scheduling, adjusted performance expectations, amended reward and recognition practices, modified talent pipelines for succession planning, enhanced robustness of risk management plans, etc.
Parting Thoughts
This framework is designed as a foundation on which an organization can develop a systematic methodology for sustaining relevance and competitiveness.  However, it demands 3Ps (Prudence, Patience and Pragmatism) from leadership to astutely pilot the relevant initiatives in terms of assuring and ensuring an effective resolution.  Will you take up the challenge accordingly?
Murad is an innovative thinker and an astute practitioner of areas within and associated with the field of Organisational Development. Talent Management & Business Transformation. He has a rich history of delivering desired results for progressive organisations. His scholastic accomplishments have been affirmed by induction into Beta Gamma Sigma, and International Honour Society, as a Lifetime Member.