Managing the ever-changing needs of the workforce – Roundtable Report
29 October 2013 London
Hosted by theHRDIRECTOR.
Chaired by Jason Spiller.

DELEGATES
Paul Barrett, Head of Wellbeing – Bank Workers Charity
Robert Bull, Corporate HR Manager – Bechtel Limited
Sarah Coogan, Regional Head, Benefits & Wellbeing – BNY Mellon
Andrew Kinder, Clinical Director – HELP Employee Assistance
Liese Lord, HR Business Partner GMS, Europe & Workplace Agility Lead – Pitney Bowes Ltd
Andrew Walsh, Head of Resources – The Pensions Trust
Jane Williams, Director – People Innovation Ltd
Sharon Williams, Director of HR – Bright Horizons Family Solutions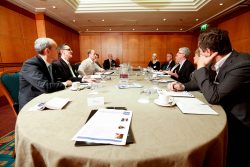 It's not about being everything to everybody but recognising that people shouldn't leave themselves at the front door of the office. So recognising people as whole people that they have a life outside of work.
What every employer must take into serious consideration is, what extra pressures will the multi-generational workforce bring to the business and how it operates? In this roundtable we focus on the changing workplace cultures which support employees beyond the workplace.
The workplace is changing more rapidly and radically than ever before, with convention such as hours of work and the relationship between management and subordinates all but history. A flexible and agile workforce is increasingly becoming the norm. Employee expectations for a less rigid framework, a more understanding supportive and holistic culture that acknowledges and supports not only work performance, but also the many pressures and commitments in the non-work environment. With multi generations in the workforce, each with different sets of life pressures and needs, employers must increasingly go deeper than just what employee surveys and metrics reveal, in order to understand and support their people. At one end of the spectrum we have the Gens Y and Z entering employment, dealing with issues such as finding affordable accommodation and at the very other end the abolition of the DRA means that the demographic in the workforce will be older and care and responsibilities for partners and relatives who are long term ill or disabled, will be increasingly an issue. Meanwhile, in the middle, the so called "sandwich years", are hard hit workers juggling work pressures with caring duties for children and increasingly, due to the ageing population, for elderly and long-term sick parents.
Let us first look at the modern workplace. Also, at the incoming generations and their influence, and how technology is changing the workplace and relationships, particularly communication.
Andrew Walsh: There is a change of attitude. In the past the boss would say jump and people would jump, whereas with Generations Y and Z the boss says jump and they say "why, what is the purpose"? This change of attitude can cause difficulties in organisations as the values of each group differs.
Jane Williams: The influence of technology shouldn't be underestimated, people are more autonomous, working remotely bringing greater flexibility and work/life balance. But this means that manager skills must come to the fore, their job is changing, getting more difficult in some respects.
Sharon Williams: I would agree, I think communication is an absolute key now and we need to understand the best way to communicate with employees.
Andrew Walsh: You also have to have different ways of communication for different generation groups. The dilemma is, how far do you go to have different management styles for different generations, how much can you afford to do that?
Sarah Coogan: We find within our organisation email is still the most common form of communication, but so many people do not read their emails because they get so many. We are restricted corporately as to what we can send by email in terms of communications to try and control the number of emails staff receive. It's very challenging.
Sharon Williams: I would agree. We have just started texting new employees when they join the organisation. The first message they are getting formally really, apart from being through the recruitment process, is a text message, a welcome to the organisation, which feels not quite right yet, but that's the way they are wanting to be communicated with.
Andrew Walsh: That's interesting you say it doesn't feel quite right, but texting is the norm for Generation Z.
Andrew Kinder: Atos have taken this a step further by asking the younger generations to design the workplace through a 'wellbeing@work' programme. Part of this is moving to a zero email environment where internal emails are replaced by collaborative tools such as BlueKiwi or using messaging or phoning others using Office Communicator. The Facebook generations are designing the workplace of the future and my message is that we need to listen carefully to what they are saying.
Paul Barrett: In my current job Twitter and social media are used every day in the office. Where I was working previously, a predominantly Baby Boomer environment, social media had no place at all. I now really appreciate the value of it.
The flexibility and freedom are obvious, as is the new challenges of managing this taken-for-granted freedom.
Andrew Kinder: The sort of tools we use allow a kind of messaging approach where you can put a message out, and then you can see other people commenting. It really saves time as you can quickly flick through other comments and then take a decision or refine your approach. It also tracks all the information and approvals, which is certainly better than trying to locate these in a pile of emails.
Mike Conlan: We've started using collaborative platforms, but we have found it difficult to get some people to accept this level of technology. People in less technical areas of BT can struggle to understand social media and we are trying to solve that particular problem.
Robert Bull: Engineering construction is highly-regulated and safety and intellectual property maintenance are absolutely critical, so there is obviously a concern about our environment, which is in theory against the more open collaborative environment of social media.
Liese Lord: We're an evolving business we have our traditional mail and franking machine business of which we're hugely proud, but we are now very much more a technology and software-focused organisation, so we've sort of bridged the gap between the two and the generations we attract. We do have a divergence of cultures within the same organisation which, when we bring them into one space, is quite interesting and again, we have the multi-generational mixture blending in with that. We find that we use collaborative tools greatly now such as Yammer and Office Instant Communicator for example, especially as we find that people work virtually so much more, particularly as we are a global business. We have meetings daily with colleagues in different countries, using all of these new technology tools. But it is an interesting mixture of the generations, particularly in terms of their expectations. By giving people the right environment and the right support, combined with the tools and the training, we've seen people really welcome the new working approach and the benefits that they can then enjoy.
Andrew Walsh: Everybody outside Generation Y and Z are, I suppose, technology tourists. It's still all kind of new to us, whereas Y and Z are technology indigenous, they use it naturally, so organisation will have to change the way they communicate.
This very much typifies these crashing cultures doesn't it. Older workers will be saying: "I've only just got to grips with email"!
Andrew Kinder: We've implemented the notion of 'reverse coaching' where you link a younger person, like a graduate up with an older person, to explain how to use the new zero email tools and it's been a tremendous success. You need to build up relationships because actually that's at the heart of all business and all interactions. Also, how often do we hear colleagues say "I've had a really hard day, responded to 50 emails", but they haven't actually spoken to anybody?
Sharon Williams: My daughter has just started university – she doesn't email as that just seems too formal; she also did all her on boarding online, she didn't speak to anybody, and joined the group's Facebook page.
Mike Conlan: I think social media will continue to evolve – of course – and to survive, companies will need to reflect this.
Andrew Walsh: You've got to be careful not to knee-jerk react. Email is very important to a lot of the workforce, it's what we're used to. Moving entirely away from email to use other communication media needs to be a gradual process.
So how can employers best understand the needs and pressures of Gen Y and Z who are entering the workplace with a new set of needs and expectations?
Liese Lord: I think it depends from which generation you're coming from as a business. We're a traditionally conservative organisation but we realised that we needed to implement a trust culture. I think what we've understood is that we need to give people flexibility around how, where and when they work – particularly younger generations, how they juggle all of the different needs in their life. A flexible approach definitely appeals more to the Y and Z Generations. From an employer brand perspective and employee value proposition, we very much need to attract younger people into the business. When you think about our organisation from an employer brand perspective, we could appear traditional, so we have made a lot of effort to change our image.
So the generations from young to old will have to coexist and employers will have to work hard on harmonising and optimising this increasingly diverse workforce.
Mike Conlan: With all the exciting developments at BT, such as BT Sport, we're recruiting many more apprentices and that is refreshing. We had a short period during the full recession, where we were only bringing in a small number of graduates or apprentices. At the moment, we're actually, got a large number of young people joining us. We've also got a huge number like me in their 50s and in some cases 60s. This is a reality for sure, and of course it can work, but change is a given.
Paul Barrett: I read research recently that suggested Generation Y will change jobs ten times before reaching 38 years of age. Well that represents quite a significant turnover, and what does that mean for staff retention? There are a lot of implications for organisational culture. How do employees absorb what the business is about, and how do you elicit commitment and loyalty in these circumstances? For example, it's difficult to get the benefits of shared knowledge when you've got a workforce that's fragmented and home based much of the time; it's more difficult to keep employees up to speed on what's happening in the business and team building becomes harder. So if these patterns do become established in the years ahead, organisations will have plenty to think about.
Andrew Walsh: You've got to build that into your processes that people move on quickly now. As an organisation, we embrace the idea that people will move on and that we'll train and support them to move on, and in return they will be totally engaged and committed to us and the job for those three or four years. This works well as people know where they stand.
Sharon Williams: And it's about how you brand your organisation, how ethical it is, what it gives back to the community – it's all about building culture and building the brand and communicating that effectively.
Jane Williams: I am a trustee of a charity and we recruit graduates as care workers and train them but they're all ambitious, articulate graduates, and in the long term there are not enough management roles for them. So we know that after about two to three years they will leave us as friends potentially and support us if and when there is an opportunity.
Engineering is traditionally a sector that retains people, and organisations will be concerned if their expensively trained people move on to rivals.
Robert Bull: In engineering, it's certainly counter-cultural to us. However, the reality is that you have to get that balance between what you put in and what you get out and accept that some people will move on, there is a difference in pay rates between young and older workers, that can cause restlessness.
Jane Williams: I think that is a wider issue than the engineering sector.
It's about what you offer as an employer that defines the loyalty and longevity you receive back.
Liese Lord: It's about looking at the benefits you can offer, tangible and otherwise, around the workplace and inside the workplace. It's also about offering different benefits – whether it's sports club memberships, massage or therapies- whatever – and bringing them to the workplace or near the workplace to encourage people to come in. For us, we want people to come to the workplace, we also want them to be able to enjoy working in other locations, but keeping the communication strong and maintaining that feeling of being part of our family, our group, our organisation, is really critical. It's essential to offer benefits in a different number of ways, recognising that not everybody wants the same things at the same time or in the same way.
Andrew Kinder: Flexibility is key, but taking this on further, we have worked with a global group of young professionals and they keep on bringing up the point that when working within an organisation they want to be trusted. However, we are not talking about a free-for all, it is important that we have some parameters or structures. Enabling 'management by outputs' is key, so this is how trust can be earned.
There is a dichotomy, trust is about loyalty and the new Gens are not around for the long term, even after you've invested in their development.
Paul Barrett: Employers need to adjust to this way of thinking because if these employees do move on, you're going to be recruiting replacements that have exactly the same set of expectations. It's not going to go away, it represents a different kind of psychological contract from the one we grew up with. Sharon Williams: I don't think it's age-specific, it is about the whole workforce, no matter what age you are. You want to be trusted, no matter what age you are, you want to have flexibility, no matter what age you are, and you want to feel a sense of achievement for the work that you're doing.
Paul Barrett: The flexibility that employees in the "sandwich generation" have been pushing for a very long time, may well arrive on the back of the changed expectations of a younger generation.
Andrew Walsh: You've always got to look at these things with a business head on. Flexible working is a good example. You've got to quantify the benefit of flexible working in relation to bottom line. Does it actually add value? I appreciate it's difficult to measure the business benefits of flexible working, even though it clearly helps engagement within the workforce.
Sharon Williams: Every workplace is unique, so flexibility needs to be specific to your industry and you need to ensure that flexible working is part of a culture, to make it work for your organisation.
Robert Bull: That is key, we can't influence house prices in London, but we can concentrate on providing flexibility and balance. Certainly in my generation, it was common to have a single higher earner and either a non-earner or a lower earner. This is less the case now, so how the goal is to have packages of flexibility that support the change. Part of this is to set clear objectives and clear understanding of the job, and the expectations. Performance management part is critical and we are often not very good at it.
Flexible working on its own is not a panacea.
Liese Lord: It's critical to give people a degree of autonomy whilst creating an environment where they feel that they can be supported and able to share the responsibilities they've got outside of work. When we went through the relocation last year, we moved our teams from a traditional 'Monday to Friday, 9-5' officebased work style to a very different physical space. We implemented flexible working and changed the approach to working hours, and we worked very hard to match that to individuals. For some people – with childcare responsibilities for example – it meant working from home on set days, which can be changed with due notice if the business needs to, whilst for others we had to find ways to keep them close to the old office because of their carer responsibilities. We worked on an individual needs basis and took a concept and applied it to multi-generations. Developing the trust element was critical.
Andrew Kinder: Home working needs to be set up carefully. I know of some companies who have stopped it, but this seems to me to be a backward step, but is perhaps a response to a lack of clear rules which employees need to follow.
Absence through stress is on the increase, so how best can employers reach out and provide the support and understanding that it so readily needs?
Sharon Williams: It's about being able to recognise the whole person and we talk a lot about that and helping managers figure out how they can act. It's not being everything to everybody, because everybody's different. It's about recognising that people can't and shouldn't leave themselves at the front doors before they go into the office, that they have a life outside of work and what can we do to support them.
Paul Barrett: In the banking sector most of the people we help, excepting a small minority, justneed help in getting over a hump in their life and then they regain their equilibrium. We try to get in as early as possible because this prevents their problems from spiralling out of control. Instead of just handing out money, we try to bring about a sustainable change, otherwise there's a risk these individuals end up in a dependent relationship with the charity, which isn't good.
It's important leaders are on board with this.
Jane Williams: Yes and increasingly, leaders are talking about their life outside of work, and that is improving communication, so that everybody feels comfortable about discussing their other responsibilities. That will lead to better management and potentially decrease the stress associated with juggling work with life issues.
Paul Barrett: Our charity did a large piece of research and it revealed that one of the biggest sources of stress was issues such as; debt, relationship breakdown and caring demands, all impacting adversely on wellbeing. But these non-work problems weren't being well addressed by the banks, possibly because they weren't seen as part of their duty of care. And to make matters worse, economic austerity measures have reduced the funding available to agencies in the community that employees have traditionally turned to for help, so the support is often not there. I think employers have become far better at identifying and addressing this but there's still a way to go.
Sharon Williams: We partner with Carers UK, which did a piece of research that showed one-in-seven people in any workforce have caring responsibilities and one-in-five people leave the workplace because they are just not getting the right support.
Andrew Walsh: A change of culture and attitude is needed, for example job share is an option, although often the initial response from senior managers is that it is not convenient to have manager posts filled with job sharers, as there is no continuity. However, the business has to learn that a compromise is needed. Although there is undoubtedly some inconvenience in a job share, the alternative is that we may lose two good managers.
Andrew Kinder: It does go back to cultures, which can be quite macho, and the fear is that an employee's career can be impacted if they show a 'weakness'. So this is where I think organisations need to have in place a support service, such as an employee assistance programme. Unfortunately people often get help when the problem has got quite large. So promoting that the employee assistance programme is important.
Sarah Coogan: It's not an expensive benefit to provide either. We've just rolled out an EAP programme across all of our Europe locations.
Sharon Williams: It's about making provision accessible, relevant and meaningful. We have a wellbeing strategy, so whether it's financial support or whether it's caring support, there is one place you can go to access the support you need. Employees won't share if there is a lack of trust, so to get employees to open up and share what is important to them, you need to make it part of the organisation's DNA, so it becomes the norm! Include it in the job performance appraisal process and the induction – as many things as you can – because if it becomes the norm, then you're more likely to put the right resources in place.
Jane Williams: It needs to go into the manager's toolkit and leaders must accept that looking after people is part of being a responsible employer, and that needs to be in management training too.
Sharon Williams: Often managers are just worried about making the wrong decision, which means sometimes, they don't make a decision.
There is a stigma that the older population in the workforce is more likely to be ill more often, and need greater consideration in terms of caring duties. That is a negative perception that will have to be overcome. Also, UK legislation seems to be lagging behind some peer EU countries.
Sharon Williams: You only have to look at what happened to Andrew Marr to see that drastic changes in life can happen without warning and at any stage of life. His wife is now his carer, and he was talking about what Germany does in relation to supporting people with caring responsibilities. For example you can reduce your hours down to 15 hours a week and you can do that for a period of two years. So we have to do something more here. When you are pregnant, you've got nine months to get ready for it; in terms of caring responsibilities through illness, it can happen just like that.
And pregnancy is a joyous occasion isn't it, with colleagues and managers buying into the event. Recovering from or caring for the sick and disabled is a whole different world.
Sharon Williams: Only if you're not working in a culture that enables you to share that type of information. As an organisation if you recognise you are going to, without question, have people in your workplace that will have lots of responsibilities outside of the workplace, you need to determine, as a responsible, inclusive organisation, how you are going to support those individuals.
Liese Lord: We've had a lot of exposure to this in the last two years because of our relocation. For example, perhaps an individual in the department might have been aware that a colleague had a caring issue, but it wasn't really discussed or known formally by HR. We found that a quarter of our staff affected by the move had a carer responsibility; child care or adult carer – and we had to create a culture whereby people could talk to us confidentially and we could, empathetically and sensitively, understand their situation to try and find a solution. We also needed to give confidence that we were genuinely intent on taking as many people with us in the move as we could and since then, we have built on the trust and confidence and encouraged management and employees to discretely share situations so we can support them better. This wasn't easy and for some people we had as many as seven discussions before we were able to progress a potential solution. People were anxious about the situation but they didn't know how to discuss their issues with us. I like to think we have changed that for the better. We've had an employee programme in place for five years and have recently appointed a wellbeing manager, we promote these mechanisms and that's really helping us to identify situations where we can support an employee.
Robert Bull: We want our experienced people to stay on, to be teachers and to share their knowledge. And as has been discussed, along with that is reverse mentoring. So getting this culture moving where you're supportive, as long as they are doing the right thing at the right time, then there's a lot of hope in that.
Sharon Williams: It's really important you understand what the issues are and what support they need that you are committed to putting things in place. This may just be signposting to other resources outside of the organisation.
Andrew Kinder: I've seen many employees phone up and talk about a caring responsibility which results in them taking time off sick. Referring them to occupational health is not really helpful here as it is not a medical problem. So the business cost is if you don't put some support in place, your workers are going to go off anyway but with sickness. Unfortunately, I have also seen cases where the employee goes off with caring responsibilities which, over time, then escalates into a medical issue.
Paul Barrett: The issue of organisational culture is particularly important here. Businesses need to create a psychological climate at work that makes employees feel able to tell their managers they're struggling with these non-work problems. Raising such things with their manager when they feel their job may be at risk could feel a step too far. But I think we also need to recognise that we are operating in a difficult economic landscape that's generating high levels of job insecurity.
Sharon Williams: I think the business case is pretty clear. Our consulting division, Horizons Workforce Consulting, undertook a study on the impact of employer-support – to manage their home and working responsibilities – on employees' wellbeing. They found 74 percent of unsupported employees are likely to have mental stress issues, so it's a major business issue.
Mike Conlan: We've just got our Board's agreement to a new inclusion strategy and we're now going to look beneath the surface at opportunities like unconscious bias. I personally have used EAP and I think it's a superb service and we use it very effectively in BT. I'm going to be very honest, I've got Multiple Sclerosis – luckily it's a mild version but I've had it for about 17 years. I only told BT in 2011, because I got to the point where I had sick leave for the first time in ten years, as previous to that I was able to manage the symptoms. Since then I have moved into a different job for BT and not had any sick leave absence. I only declared this because I hit a crisis point and I'm glad I decided to tell BT officially about the MS. I should have done this earlier. BT is continuing to change and look below our processes and actually think about what it can do for its people on an even more human level.
What challenges does the multigenerational workforce present employers and what are the key considerations in meeting business objectives with an effective and sustainable workforce plan in consideration of the broad spectrum of needs?
Sharon Williams: Flexible working patterns will support older workers, and well managed, won't impact on the opportunities for other younger workers. I don't necessary think there will be a jam.
Andrew Walsh: We may have to start by actively differentiating between groups of employees, in consideration of benefits, communications, recruitment methods, involvement, work patterns etc, and you have to understand how they differ according to the generation groups. Most organisations were set up by, and for, Baby Boomers. That's how they're structured, and we struggle to change that.
What about the cost of this greater level of employee care, does it make the UK uncompetitive internationally?
Jane Williams: Workforces in northern Europe are expensive, and balance of work and life is seen as our responsibility. In our part of the world, people do not want to sacrifice their standards of living, but inevitably, we will have the situation where people in engineering – Rob's industry – will be competing against China and India. In these parts of the world the work/life balance is not a key issue.
Robert Bull: I really believe there's an underclass of employee that is not represented, supported and engaged properly here in the UK and that's a bigger number than we perhaps realise or admit. There's a certain dichotomy here, there's an erosion of care on the basis of the economy, the zero hour contracts for example, and employers that are showing responsibility for caring for employees are also under increasing pressure to be competitive with emerging markets.
As so often is the case, there is so much importance placed on leadership, especially where culture change is needed.
Sharon Williams: Unquestionably, we have moved away from the command and control type approach within our organisation and we've been on a journey over the last few years, moving away from the policies and rules, and trying to install some behavioural change.
Mike Conlan: We're going through real change in BT via a programme called the leadership challenge. It's important for us not to have an autocratic approach but genuinely empower our people to make decisions and to be allowed to learn from mistakes. We see the new inclusion strategy as a key pillar to providing market growth with people from all backgrounds, helping to make the right decisions for our company.
Andrew Kinder: Relationships are key and empathy, showing a more human touch is key for leadsers.
Paul Barrett: Recent research around managerial behaviours that support employee engagement and wellbeing, that NICE and CIPD have produced, shows some organisations have already used this evidence-base to support training interventions that encourage the adoption of different styles of leadership and managerial behaviour, to create a more supportive organisational culture.
Andrew Kinder: We've been running a kind of 'how healthy is your team?' programme, where you identify the areas of weaknesses in the team as well as helping them identify some solutions that can make a difference – often these are just small steps but are very significant when the team unites behind them.
Sharon Williams: A few things we do involve storytelling, sharing those really compelling stories. We also have an annual leadership conference and have just recently introduced a wellbeing award which enables us to showcase managers that are succeeding in this.
Robert Bull: One thing we do is upward feedback sessions. One of my personal targets is to do 50 a year, and they're very powerful, we select behaviours to focus on and to change, and it's very focused on behaviour and change. We're trying hard to make leaders, leaders and not just someone that knows the topic better than the group.
Sharon Williams: Yes, and it's about leaders at all levels of the organisation, not just at the top.
Mike Conlan: It's also important to have an ethical culture that is committed to looking after people and to go the extra mile, to make improvements and solutions and to remember that every person is an individual, regardless of the size on the organisation.
Sarah Coogan: We have processes and policies in place, but you have to work with people, and ensure they're guided in the right direction – one size doesn't fit all.
How can organisations monitor success and benchmark? What does good look like?
Robert Bull: I found benchmarking very frustrating to get the appropriate measureable actions. We joined 'Great Place to Work', and thought hard about how appropriate it was to compare ourselves to totally different companies, like Google etc. We have learnt many things, some we can't replicate, but we can learn and I think we're making progress.
Andrew Kinder: We've also joined Great Place to Work and have been implementing this globally which is very interesting so you can leverage knowledge and best practices from one country to another.
Sharon Williams: We are in the second week of the GPTW survey process. We have had a great experience working with it and I would encourage networking, as it is really important to bring an external perspective to the organisation. What does good look like? It's different for everybody; it's a question you need to keep asking. It's about desire to improve, and working in a learning culture, no one ever turns up to do a bad job, so how can we support them to do their best work? We need to care and be responsible and inclusive – it's these people that are delivering the business objectives.
Read more Roundtable Reports – click here.
If you would like to sponsor a debate, please click here for more details.