THE FUTURE OF HR – Roundtable Report
27 November 2018 Manchester
Hosted by theHRDIRECTOR.
Chaired by Jason Spiller.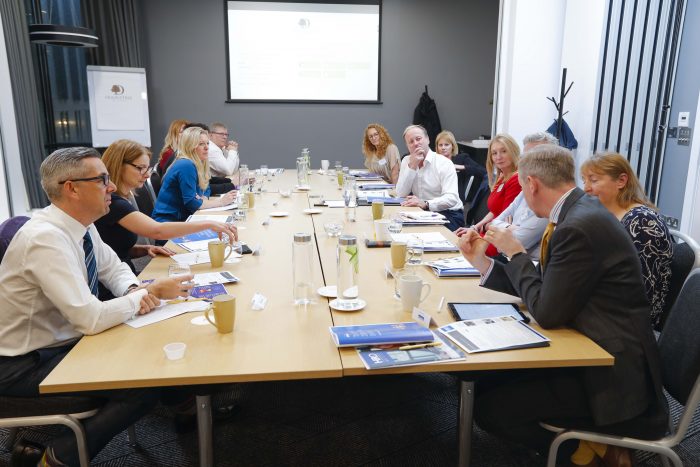 As the digital era re-defines the world around us, and constant workplace and workforce change impacts on business operations, HR risks falling behind in the race for future relevance. The inevitable choice businesses and HR functions face amid today's unprecedented forces of change are clear; drive change or be changed – shape or be shaped. As we continue to steer through a protracted period of disruption, the necessity to; predict, react, change and adapt remains top of the business agenda and pivotal to the effectiveness of HR in the future.
DELEGATES
Sarah Bentley, HR Business Partner – Mag (Airports Group)
Nicola Byrne, UK Group Hr Director – CMA CGM
Geoff Cawley, Senior HR Business Partner Infrastructure – Ove Arup & Partners International
Ian Franklin, Chief Talent Officer – Innovo Innovation Ltd
Sarah Gregory, HR Director, HR Operations – BBC
Kate Holt, Partner, People Consulting – KPMG UK
David Jackson, Assoc Director, HR Business Solutions – Manchester Metropolitan University
Jo Radcliffe, Group HR Director – The Regatta Group
Alisdair Seenan, Senior People Partner, Ocado
Paul Smith, Group HR Director – Outdoor & Cycle Concepts
Diane Thornhill, Director and Head of HR, UKIMEA – Ove Arup & Partners International
IN TERMS OF THE CHALLENGES FACED AND A VISION OF HR'S ABILITY TO SERVE IN THE FUTURE, WHAT IS TOP OF MIND FOR YOU AS AN HR PRACTITIONER IN YOUR ORGANISATION?
Sarah Gregory: Scale of change and transformation for the BBC is just huge, reinventing the corporation for the next generation. Unprecedented competition, people are consuming media in so many different ways. We need to be able to respond to that as an organisation. A big driver of our HR transformation was to remove complexity – we've simplified our terms and conditions, put a new career path framework in place and reduced our job titles from around 5,000 job titles down to 600. We moved our HR service centre to an in-house model, set up new specialist teams and really invested in our technology to help our Team Leaders. Future direction is how we enable everyone to do their best, and use our strengths in creativity to deliver value and quality for our audiences. So the challenge is, how we enable and unlock that level of agility and pace and good fast decision making.
Alisdair Seenan: Ocado is a relatively new organisation, by comparison. Tech-driven, our people include; software engineers and developers who work in a variety of different ways, for example Agile and Kanban, which is quite different to the standard operating models we as HR professionals are used too. From a technology point of view, the business is very advanced and always innovating. It is my belief we need to be at the forefront of delivering the best experience. Our basic processes and systems need to match the ambition and fluidity of the new workforce, so that we can continue to evolve and develop. The people that we work with, are in high demand because of their specialism and innovative mindset. They are all very employable. There's always more that we can do to set ourselves apart and attract and retain. There's a really keen appetite to change, innovate and not stand still.
Ian Franklin: There are some similarities with INNOVO, but where we differ is, since forming in 2011, we don't have employees – everybody is a contractor. The specific challenge we have is being able to identify the right sort of candidates, who have the experience to be entrepreneurial. Most people come out of a more traditional corporate environment into an accelerating, fastgrowth business, and it's a challenge to find those who can move as fast as the company – we operate in advanced technologies, including AI, robotics and blockchain.
Nicola Byrne: Social care is a tough sector to operate in – high volume and low margin. It's charity status, the NHS has no money, likewise local authorities and everybody is stripping costs down. So the challenges are clear – social care is now starting to realise that it can interface its tech and intervene in very different ways, for example phone and online consultation. Despite limited budgets, we have invested internally, so the next challenge is finding and developing tech skills behind it. This is not an environment where you traditionally think about tech, so culturally, this is a significant challenge.
Diane Thornhill: We're an employee-owned organisation, so actually creating a sense of urgency to change is quite difficult, because people are vested in us setting our own agenda. We don't have disruptors on the outside that create the need to change. That's something that we can decide at our own pace. One of our challenges is, how do we bring together a meeting of minds through a multi-generational workforce? They all bring value, but we need to harness this in service, and of where we need to position the organisation for the future. We're bringing people with tech skills and those with legacy together to knowledge share.
Jo Radcliffe: We are a family business with a mix of people, some who have been with us for 40 years, through to joiners last week. The Group has always been entrepreneurial and fast-changing, so all our people are used to change. Some of our IT systems have been with us for years, and that is a challenge. Our legacy systems were originally designed to support a UK Wholesale business, but now we are international and omni-channel, with much more complex requirements. In recent years we have invested in our logistics and our fabulous HQ. Technology is our next big investment. We are investing in a new global ERP system which is a significant project for us. It's easy to assume that everyone is familiar with technology – smart phones, ipads, but we have found that is not always the case. We could train somebody on new systems and, the minute you walk away, they'll probably still go back into their Excel spreadsheets, because that's their comfort zone. That's a challenge, but a big opportunity for us.
Sarah Bentley: If you think of an airport, our world is a very corporate environment, with lots of regulation. MAG took a strategic view, that we would set up our own digital disruptor within the airport itself, to drive our digital business forward – our own digital tech team, which has been up and running for about 18 months now. From an HR point of view, there is ongoing progress to be made, we have a new SAP system, but there's still quite a lot of work to do – and like everyone, we're working hard to attract and retain the right people.
David Jackson: We are seeing in the Higher Education sector an increasing amount of interdisciplinary working. That same mindset has begun to filter into HR and other professional services teams at the University. So, we have people coming in with incredible skills and the confidence to use those skills. Equally though, the explosion in Management-related information available online and through social media, has meant people have been challenging HR's role as the custodian of knowledge around people issues. When your customer is quoting HR theory or employment law at you that they have found online, it changes the dynamic and, fundamentally, challenges you to establish your credibility in a new way.
Paul Smith: The first challenge is prioritising, what do you fix first? Our transformational journey is for the business and internal operations – we're a bricks-and-mortar retailer primarily, so we needed to accelerate our ability to be agile, and transform our proposition, without losing what makes us different, which is fundamentally customer experience and expertise. On the one hand, we need to hang onto our tradition, but at the same time, we need to predict what the future's going to look like from a consumer behaviour point of view. So we need good analytics, good data and we need digital technology. Now, from an HR point of view, commercial decisions as an exec team, all play back to the people proposition.
Geoff Cawley: The future relies on leadership prescience, capability and ambition for change. We have a digital team with a digital census, and a talent and succession plan, but right now, it's a tenure for senior leadership roles that we really need to mobilise rapidly – feet to the flames. And it's HR's role to pull the business along.
Kate Holt: Transformation is being triggered by the customer, by the necessity to operate competitively, by tech-enabled colleagues, and HR is centre stage, so crucially, that skillset also has to be within the HR function. Culture is important, to embrace the change and to think differently across the piece. There are a common set of challenges and opportunities, and unquestionably, there is the ambition and will there.
TECH TALENT AND SKILLS ATTRACTION, I SHOULD IMAGINE, IS THE TOUGHEST FRONTLINE BATTLE.
Alisdair Seenan: Indeed it is, a primary initiative for the business! But as said, in trying to attract highlyemployable people, the approach to attraction and talent management has to change. Consequently, we have developed our own internal careers model, which is proving a significant attraction, in Ocado Technology, where people can map out their own careers and progression. The model aims to show that our talent can progress, not just into managerial roles, but into exciting new roles that will develop with the technology.
Sarah Gregory: Our approach and focus on talent is around diversity, equality and inclusion. We're really promoting our new flexible working policy to all, to demonstrate that you can have a flexible career. We're constantly examining how we attract and retain people from different backgrounds, so that we are representative of the audiences that we serve. As part of our Royal Charter agreement, we are asked to inform, entertain and educate all of our audiences, so that means we need a diverse team across the BBC to deliver this.
Ian Franklin: We recruit and source people and hit the process of learning and development right from the start, which sets the pace, as we provide L&D and the total opportunity to work in any other part of the organisation. Having that complete flexibility and L&D culture is proving a crucial differentiator in talent attraction and management.
WHAT ABOUT SECTORS THAT AREN'T ON THE TECH TALENT RADAR, CARE FOR EXAMPLE, THAT MUST BE EVEN HARDER TO ATTRACT CRUCIAL SKILLS?
Nicola Byrne: Caring is, by culture, vocational and tech does not necessarily attract and retain, it's more about actually driving costs down, so that we've more money to reinvest, so a different twist to the normal pressures. In terms of recruitment, we have high volume carer resourcing, then we have a more-timely, needs-specific recruitment, so specialists and contractors parachute in when required.
Diane Thornhill: We're seeing STEM graduates decreasing and tech skills requirement going up – it's tough out there, and there is a good deal of political and economic uncertainty too. The challenge then is keeping people, and helping to create a line-of-sight for a good career and flexibility. It's also about people taking ownership of their career direction. It's an advantage to be employee-owned and have a culture that supports a relatively  entrepreneurial approach.
David Jackson: Yes and I think part of the answer is, the closer the links between businesses and universities the better. The combination of students, academics and the commercial world is a compelling combination.
Paul Smith: Last year we were going through a lot of transformation, as we underwent some acquisitional activity. We were crunching teams and businesses together, people were saying they were becoming dissatisfied, because we'd lost our way as a business. Our passion and expertise is the outdoors, that's shared by our people, so we've brought our DNA back as a business. Our strapline is, "people are happier outside." We're translating that cultural aspiration back into employee experience, that connect. Fact is, if you're too business-focused, you can be distracted from the people agenda.
Sarah Bentley: Yes, likewise culture has been a big focus for us, certainly in developing the MAG-O brand and what we have to offer in our CSR is really important to us – everyone is an ambassador within the MAG-O team. Feedback and conversation is key.
AS WE MOVE INTO THE SUBJECT OF CULTURE, THERE'S A GREAT DEAL OF WORK-RELATED CHANGE – FOR EXAMPLE, PEOPLE DON'T WANT TO BE PIGEONHOLED, THE NINE-TO-FIVE IS GONE. HOW DOES THIS TRANSLATE INTO WORKPLACE CULTURE THAT FITS THE FUTURE?
Alisdair Seenan: Organisations try to force culture change and, my view is, it's an evolution and the agile loop is key, we have to always adapt. In terms of culture, 'losing sight of "who we are", as has been said, there is always a danger of that, and so identity is as important as it has ever been.
Kate Holt: Millennials are now entering their thirties, and as we have been discussing, the world has changed – rhetoric and "values" posters on the wall are rendered to the past and there is a prevailing transparent and authentic culture.
DO YOU SEE THE NEED FOR YOUR HR FUNCTION TO UNDERGO A DIGITAL TRANSFORMATION, BOTH IN TERMS OF NEEDING NEW ROLES, NEW SKILLS AND CHANGES ON HOW IT OPERATES?
Geoff Cawley: We are a staid workforce, so we need to be quite radical in our transformation without losing our cultural thread which is integral to our business. It's high up the agenda and we are running pilots and trialing AI.
Alisdair Seenan: It is more evolution than revolution. We need to decide what we focus on, what's important for the business, not knee-jerk reaction, keep adopting the next shiny thing that comes along.
Ian Franklin: Agreed, we're a comparatively young organisation, fast-growing and digitally-led, so yes, we're evolving our HR talent function continuously, as we are across the business, and we're recognising the need for new roles in HR, and likewise, that is an evolving process.
Nicola Byrne: Huge opportunity for HR, the challenge in healthcare is the disruption to the constantly hectic schedules and in terms of digital transformation, you see reticence from doctors and nurses, they've seen how disruptive that can be. HR has to take the lead because change is inevitable, sooner or later, and the benefits will be game-changing for the sector.
Paul Smith: Changing job roles is happening all around. Ten years ago, the primary role of people working in a high street bank was to transact money, and now they are advisors. The job is still there, but it's completely transformed, primarily because of technology and also changing customer needs. So clearly, a mindset that doesn't see change as a threat is important in transition.
Kate Holt: Agreed and getting to the heart of what's needed is really important, and piloting one area that is successful sets positive examples.
ARE YOU USING TECHNOLOGY TO IMPROVE EMPLOYEE EXPERIENCE AND PROCESS EFFECTIVENESS, AND DO YOU DERIVE GREATER INSIGHT FROM DATA ANALYTICS TO SUPPORT BUSINESS DECISION MAKING?
Jo Radcliffe: We do use technology to support a sense of belonging and engagement, mainly Apps that people access from their smart phones. We use Workplace for communication, we're about to launch the BUPA Boost App to support wellness and we're moving our benefits platform onto an App, to help people make best use of our retail discounts scheme, so that colleagues can instantly download discounted retail vouchers when they are in a store. We have found as well that our recruitment system provides a better candidate experience by improving communication throughout the process.
Paul Smith: We're just in the process of implementing a new intranet platform. It's very mobile and you can use it on multiple devices. The important thing is, you can take it with you, so, we can communicate with people, not just in the workplace, but outside of the workplace – it's very effective at both informing, engaging and empowering our colleagues. We've just completed a Culture Survey and we're now introducing a realtime feedback mechanism, so, we have real-time qualitative data, which I can use to leverage the conversations with the Finance Director and my CEO.
Sarah Bentley: We have a huge amount of customer data, but the colleague journey and experience is building and is a big focus for us and we're working really hard on bringing some data-driven insights. Not just reporting a few metrics, actually what does the data mean, and what impact does this initiative have on the data.
I READ A PIECE FROM CIPD WHICH SUGGESTED THAT LESS THAN A QUARTER OF PEOPLE DATA IS FINDING ITS WAY INTO CORPORATE REPORTING. WHAT DOES THAT TELL US?
David Jackson: It's telling us that volume of data is not the panacea to informing decisionmaking. When I was in the health sector, data was coming out of our ears; turnover, sickness, appraisal completion, but nobody was putting it together into the narrative. Volume of data is irrelevant, the intelligence and sophistication derives from right data, right time.
Kate Holt: Agreed, just having data analysts does not create narrative. We have been talking about the necessary jobs in HR, and it's really about developing the story, in essence, a data storyteller; "this is the themes, the implications and the impacts".
David Jackson: There's also a values lens. Simply following the data can lead you to decisions that you would never want to take, and so, there is the translation piece, where we need to bring that human element in.
IT'S HARD TO IMAGINE A CORPORATE PLANNING DOSSIER WITHOUT PEOPLE ANALYTICS, IN THIS DAY AND AGE. IF THE CIPD REPORT IS CORRECT, THAT IS MIND-BOGGLING.
Alisdair Seenan: I remember moving roles, and I went from a fully-developed people function with lots of available data to one where there wasn't the same ability to extract and review any meaningful people data. All the HR data was held by payroll, but I was lucky enough to find a real people management technology disruptor tool that brought in a whole host of wonderful services. The tool was not only a HRIS system, it provided data analytics to the business development function, as well as finance and the executive board for reporting purposes.
Sarah Gregory: Reviewing process efficiency and the employee experience are definitely on the agenda for us. We have SAP HR, but we don't have a full human capital management solution. We've gone for solutions that give us more agility, so it's not as costly and, if we want to change something, then we can if we have to move very quickly. We launched a new innovative people directory called PeopleView, an HR-led piece of work providing standard directory information, along with helpful information.
Nicola Byrne: Social care, is on the cusp of recognising some huge benefits and we embarked on a journey some 12 months ago, very much around people, process and tech. We've moved from tech insight and we're onto process and people. We have invested in an Oracle Stack, we have data, and we are now in the privileged position where we're overlaying our data – sophisticated people metrics, with performance data and patient outcomes. The next stage is, how can we optimise our capability and move it forward?
Diane Thornhill: We work with 14,000 engineers, and engineers love data – if you don't invent it, they will. Having said that, we have some good structures in place. Wellbeing is a strong focus and we have some very sophisticated dashboarding, which can pinpoint trends in health and a gateway in terms of people self-analysing. That was part of our strategy around proactive health management, because we were funding the symptoms, not trying to manage the cause. And we have a data analyst in HR, who is able to tell the story to a point, but what she doesn't have is the business context. So, she can tell the story from the data and interpret that quite legitimately, but she can't take it into the business context. That demonstrates the necessity to have a compatible combination of skills in HR.
Ian Franklin: We operate on a simplicity and transparency basis. We have to – we're still evolving and still growing. We use Yammer as a global organisation, that works for us. In the context of recruitment, I've developed, with colleagues, an applicant tracking system and HRM system. Kate Holt: It's advisable not to pin all hopes and budgets on that one big system and it's important to not feel that technology itself is driving transition.  There are some stats where we're seeing 60 percent of people planning to invest in predictive analytics and 53 percent in enhanced process automation. Less so, in the pure AI machine learning. What's interesting is, we're seeing a recognition that this is a big opportunity for the whole organisation.
WHAT ARE THE OBSTACLES AND BARRIERS FOR YOU IN IMPLEMENTING AI AND/OR MACHINE LEARNING WITHIN YOUR ORGANISATION?
Alisdair Seenan: Ocado is experimenting with AI, it's a business-driven by digital innovation, of course. This is propelled by an agile cycle of constant feedback. Not all of it will land, but some of it will.
Kate Holt: Be brave, fail fast and, as you said, do ten and two will work – you must go in knowing that and you're building that expectation into your plan. Courage and confidence is an important competitive edge.
Sarah Bentley: Where we've big volumes of data, we are automating so that the human interaction is added value.
David Jackson: As this fear of a dystopian future in which technology becomes a controlling and oppressive force subsides, and people start to use AI tools, they will come to rely upon and even enjoy working with the tech organically, that becomes the game changer in transition.
Geoff Cawley: In our engineering space, there is an acceptance of some of the AI and how we can best use it. In the people space, culturally we have a bit of a way to go yet. We need to go at a pace we feel comfortable with. Because of the demographic, it's going to take more time to get over the line.
Nicola Byrne: We're starting simply, what leads us tends to be process efficiencies, driving down costs. We're automating the helpline and how well that goes will dictate the pace for the next tranche of investment. Increasingly, as people become confident, it's opening more doors.
Kate Holt: Important to change management is feedback from colleagues and recognising the emotional piece. So it's about bringing people along on the journey, the "what's in it for me"? Is an important consideration. If we go right back to the biggest barrier for AI, it's around culture and around people being ready to embrace it culturally. Yes you need to change culture, but you also need to manage the change as it happens.
THE FUTURE ROLE OF HR MUST BE TO MAINTAIN THE HUMAN ELEMENT. SOMEWHERE THERE NEEDS TO BE A WAY OF CO-EXISTING WITH AI.
Geoff Cawley: Personally, I think there will be a space for some humans, but there will be an awful lot of automation. I don't think anyone really knows what the future role of HR will be. Jo Radcliffe: People are best to deal with human problems – empathy and the ability to support and comfort, and the capacity for; innovation, creativity, emotion, values, ethics – all of these are human attributes that, if anything, will become more important.
Paul Smith: It's going to happen and we don't have to just accept it, we have to celebrate and champion it. The human role will become more strategic, more thoughtful, adding greater value and depth of insight into the culture of the business. Every business needs an identity and empathy and connectivity drives that, and that's a human value.
IS IT NOT STRANGE THAT WE'RE HERE, HAVING TO JUSTIFY OUR FUTURE POSITIONS IN A WORLD OF RISING TECHNOLOGY? ARE WE CREATING A MONSTER?
Kate Holt: It is, and HR itself has spent 20 years trying to justify its existence as a profession. But what has been said is true, there will remain a need for ethics, the moral conscience. I still believe the HR profession just needs to keep really close to the business, understand what the business needs and how to deliver on resourcing. Yes, that will change as technology advances.
David Jackson: For me, it sort of exorcises the demon, the capacity for being more human fits the future vision of work, providing the time and capacity to be more sophisticated and mindful, to drive diversity, inclusiveness and humanity and abolish stupid policies, procedures and rules restricting what we can do.
ARE YOU ACTIVELY PLANNING AND CONSIDERING HOW YOUR WORKPLACE WILL BE FIT FOR THE FUTURE?
Paul Smith: We use the term "future fit" a lot, in terms of stress testing whether what we do today will cut muster in the future. If we look at our market, retail, the whole traditional model is hobbling along, market players have to radically adjust to survive. The same goes for the HR function. By demonstrating that mindset, that if we don't stay future fit, we will be irrelevant, we can authentically demonstrate that we're hardwired to the business. I'm happy about the fact that our roles are going to change.
Alisdair Seenan: We're a relatively new part of the retail offering, home delivery, and we're bringing retail along on the tech journey, so in many respects, we represent a future, as opposed to a past tradition. That provides us with the futurelooking mentality, and complacency and operational lag are not in the vocabulary, which is advantageous for us as a business, in terms of future vision. You need to keep innovating, you need to keep planning, you need to keep doing things differently.
Ian Franklin: In some respects, we have it easy as we don't have a workplace. Everybody is remote working. That is one of the visions of what the modern workplace looks like.
Diane Thornhill: We are trying to hold onto tradition, but we want to embrace change in the future. We'll be a more porous organisation as we progress on the journey. We have to be prepared, as HR professionals, to come up with what those creative solutions might look like, that actually play into the kind of environment that we need to build. HR cannot operate from an ivory tower, collaboration is crucial to responsiveness, efficiency of delivery and staying true to values.
Sarah Bentley: Agreed, where we can add value is enabling that creativity and working at that level, because actually, answering a really basic query is of no relevance. Colleagues can gain the basic information they need through self-service.
Paul Smith: Yes, all we can do is predict and the best way of doing that is to have as much meaningful, tangible and accurate information at our disposal as possible. Most importantly, it's being able to use the; systems, processes, data and analytical capability that we build in our teams and how we bring this to life, is crucial.
SHOULD BUSINESSES BE SCARED OF FALLING BEHIND IN THE TECHNOLOGY RACE?
David Jackson: The rate of change now is unprecedented. This is the fourth industrial revolution and people will be studying what we are doing today in the history lessons of the future. It's important businesses are not existing in a vacuum. Increasingly, it's our people that are setting the pace, bringing their skills into the workplace.
Geoff Cawley: Agreed letting people loose is imperative.
Sarah Bentley: Unquestionably, tech is the enabler, but we should always keep in sight the culture of the brand, authenticity and transparency. The tech's all great, but it has to deliver what we are as a business.
Alisdair Seenan: Yes, the technology may be there, but we must never forget the importance of values. As a HR profession, we need to be careful with what we invest our effort and time in and ensuring that what is delivered is valued and valuable.
Sarah Gregory: We talked about the pace of change, the technology at our fingertips. The qualities needed for tomorrow's HR professionals are very similar to those required by tech entrepreneurs; you need resilience, to test and learn. An opportunity for all of us is to inspire the resilient, innovative, future-thinking HR professional of the future.
Ian Franklin: Human resources must remain human, first and foremost. That said, AI is going to continue to develop and we need to move along with it.
Diane Thornhill: We've got to dare to be a bit different, we're not moving quickly enough as a profession – we need to be the enablers not the responders. We have to be prepared to let go, stop protecting our patch and start reinventing it, be in a position of influence to change.
Kate Holt: Be brave, be confident about trying and failing the piloting and having a go. Keep close to the business, keep listening to the business, listening to the customer and listening to the employee. Know them well and don't ignore the cultural change piece. How you help individuals in the business go through that change is critical. Invest in new skills, recognise that you don't have all the skills, you don't have all the experience and nor do your team. Be open to bringing different types of people into the business, partnering with finance, marketing, the tech people in a more broader way and you'll gain richer results.
To read more Roundtable Reports please click HERE
If you are a Senior HR Practitioner and would to take part in one of our complimentary debates, please register your interest HERE
If you would like to sponsor a debate, please click here for more details.