DELEGATES
Kate Banbrook, Senior Learning and Development Manager – Cyient
Sheila Cork, Head of HR – SMBC
Patti Crozier, VP People, Corporate Functions – RS Components
Jo Mosley, HR Director – The Salvation Army
Lisa Porter, Snr Director, Global People & Culture BP – Jumio Corp
Simon Ruggles, Head of Ecommerce – Autoglym
Tali Shlomo, Int Head of Inclusion & Wellbeing – Shearman & Sterling
Paul Smith, Group HR Director – Outdoor & Cycle Concepts
Laura Toscano, HR Director, Products & Services – Moog Industrial Group
Toni Wilks, HR Director Corporate Development – Subsea 7
Jane Dickinson, Digital Skills Lead – The Open University
Jacky Hinton, Director of Apprenticeships – The Open University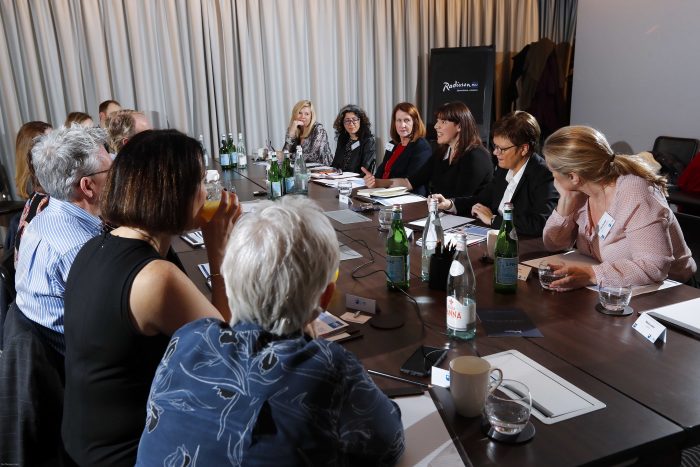 With the pace of digital development continuing to accelerate, no leader can afford to underestimate the extent to which their own digital skills gaps will impact organisational operations, business competitiveness and employee performance. A culture for developing leaders for the digital age is the greatest imperative.
WHAT CHALLENGES IS DIGITAL TRANSFORMATION POSING TO YOUR SENIOR LEADERSHIP TEAMS?
Laura Toscano: For us in HR leadership positions, there is an important balance to set. Typically, in engineering, there are ageing senior leaderships and change can be really challenging if the higher echelons of a firm become isolated from the digital imperative, particularly where an organisation has few younger people of influence. Consequently, people carry on as they always have and that has obvious consequences, as competitors march on. That's why achieving the flatter, collaborative workforce structure is so critical now.
Kate Banbrook: We have always hired with relative ease, but talent is definitely becoming thinner on the ground. Our focus now is, how we build that talent from within and use that momentum to attract and retain. Digital traction is definitely a key component of the employee experience now. We have the advantage that our leadership keeps pace with new technologies and their specialisms  in their markets, which enables them to have the entrepreneurship view to drive us forward.
Toni Wilks: One of the challenges is the business case for change, new technology to replace existing is always expensive and the perception can be, is the cost and disruption worth it? It does require  a collaborative influence across the organisation to create a culture that makes change an imperative and people having the platform and confidence to challenge the status quo.
Tali Shlomo: In the insurance profession, digitalisation is touching every part of the employee and consumer cycle from; talent acquisition, retaining talent and evolving talent for the future. We are all experiencing a generational gap and I agree that means achieving a moratorium of input across the workforce, so that businesses don't become complacent, whilst peer firms take the digital lead. Speed and agility are imperative and we're constantly asking; "what is it we're trying to achieve with digitalisation? Will it lead to better consumer outcomes? Can artificial intelligence do more"? If you keep coming back to the business case, you can maintain momentum.
Patti Crozier: What a lot of our leaders are challenged with is really understanding what digitalisation means. What does it look like and feel like? We know we need to do it, but struggle with the why? Having everyone onboard is so important to supporting the digital transformation.
Simon Ruggles: As a manufacturer of a retail brand, one of our biggest challenges is setting the scope of what digitisation means. In many ways, digitisation started off as an understanding that we needed to trade with customers in new channels. It meant continuing to offer support both above and below the line in High Street retail, alongside a rapid need to adapt our support above and below the fold online. In pursuing this strategy, we very quickly realised, as an organisation, that digitisation runs deeper than this and we're still very much at the early stages of the journey. Stakeholder buy-in at the senior level is critical to that journey. There are a number of core strategic initiatives running at present that will start to really bake digitisation into reformulating our corporate objectives.
Sheila Cork: It's not a generational thing so much, it's how we break down silos of thinking. Also, humans are irrational and digitisation is rational and it would be so easy to digitise most of what we do, but that's not what we're finding our customers want, they want some very complex thought processes around multiple products. Being a commercial wholesale bank, we work relatively slowly; neither we nor our investors want us to lose their pensions. Nevertheless, there is a high level of robotics now in Japan and retail banking is almost completely roboticised.
Jo Mosley: Salvation Army is very relational, as you can imagine and, as well as being this huge social care provider in the UK, it's also fundamentally a church and our leadership and governance is led by the church. So, we're trying to bring in new approaches around flexible and agile working, to try and break that need for everybody to be in our headquarters and in the boardroom,  so opening up opportunities for people not London-based. Not only because it just makes a huge amount of sense for such a large workforce, but we also work across 1,000 sites in the UK.  So, to bring people together physically is incredibly difficult. We are bringing through flexible working for carers, women returning to work, all of those opportunities that haven't been there before and utilising technology to do that. This needs to be jointly led by people, property and IT and we now have a new CIO and Property Director. So, we are starting from absolute zero and yet in other areas of the organisation, the innovative work we do with technology – such as our Atlas programme, which enables homeless people to be digitally connected – is absolutely cutting edge.
Tali Shlomo: I guess it's a sign of the times that we're talking about the here and now, when it's always been perceived that what we should be looking at is planning for the future – having the talent in place and enabling the forward-planned business objective. There's a real need to move to the front of that curve.
Jane Dickinson: Indeed, keeping in step with digital is attracting and retaining key talent and so within the employee experience frame must be the investment in developing your own workforce.  The findings of our Leading in a Digital Age report shows that when leaders really understand the power of digital, the bottom line benefits.  Any culture shift is about change and it requires buy-in and sponsorship at the top. Leaders, like all employees, need digital training appropriate to their job role. Take cyber security as an example, it's everyone's job and responsibility. All employees should be mindful when checking email to guard against phishing, whilst IT Pros have specific responsibility to proactively defend computer systems and networks from attack and breach. Leaders need to understand risk. The reputational damage associated with cyber breaches can have significant commercial implications. For example the loss of contracts and/or customers. For leaders, it's not about developing a deep technical knowledge, but having an understanding of the importance of technological know how and best practice within the organisation. It's about championing a culture and growth mindset to support the right behaviours. The challenge is in the creation of the strategy and implementation of it.
Jacky Hinton: We all have to evolve and indeed we are supporting our customer base and so digitisation is of paramount importance to The Open University, from the top of the organisation through to ourselves and colleagues designing the curriculum. Why that is important is that, with a multi-generational workforce as we're experiencing today, the challenge can be designing a digitised curriculum for a very diverse audience.
DO YOUR LEADERS AND MANAGERS HAVE THE TRAINING TO UNDERSTAND NEW TECHNOLOGIES AND THEIR POTENTIAL IMPACT ON THE ORGANISATION?
Sheila Cork: We do have a programme to upskill our leadership teams and I've personally found that very valuable, but I don't think anybody wants digitalisation itself to become the strategy. It should be a supporter of strategy and well-planned out and steady development is what we're looking for, rather than constantly knee-jerk reacting to change.
Patti Crozier: Agreed, our leaders are recognising that they have to stay on the leading edge of this to remain relevant and they recognise that the only way to achieve that is through training.
Kate Banbrook: We have programmes to train all leaders and employees in the digital technologies. The training programmes are set at different levels; 101, 102 and 103 in the emerging technologies. For example, the 101 stream is for our employees and leaders that need to have an appreciation of what the technology is and its potential and we have also developed and cross-trained our employees to embrace these new areas to design solutions for our customers.
Laura Toscano: The challenge for the part of our organisation that I am HR Director for is that the product and the technology, hydraulics, has generally been slow to change over the years. It's primarily the same as it always has been and that reliance on predictability can influence a mindset across all technology and that needs to be addressed and managed, so that we don't fall behind the leading curve. Also, as we're in a market renowned for secrecy, there is a nervousness about employees on social media and, of course, these forums and platforms are so key to employee advocacy and showing the outside world what kind of organisation you are, so there are conflicting challenges that need to be considered.
Paul Smith: We're not by definition a digital business, but it's about understanding, what does good leadership look like in this disruptive world. Of course, a good leader needs to have a good understanding of digital, but importantly in the context of what they do in their role – their functional responsibility – and the nature of the business. Digital has disrupted so much around us, in terms of behaviour and culture, but also the way in which we organise ourselves. For example, we've moved to be a more horizontal than vertical command and control framework, which is essential now.  not a threat it supports culture and mindset that translates to a positive influence on the business.
HOW DO YOU INTRODUCE THE NECESSARY TRAINING RIGHT UP THROUGH THE ORGANISATION COVERING A VERY WIDE DEMOGRAPHIC?
Jo Mosley: We have such a variance, some people are incredibly tech savvy, to those working in our local churches and communities, who may find it a barrier. So it's meeting people at each level. I'm interested in what we've talked about with regards to mindset, because if we take senior leadership, actually them having technical skills and digital understanding is less important than them empowering those people that do. We have people coming through with great skills and ideas about how to change and make radical differences around digitisation and they need the empowerment and the flexibility to be able to share and grow those ideas.
Toni Wilkes: Each organisation has its rhythm and pace for change that they can cope with. You can't react to every technological change immediately, but you can have an overall strategy that informs on the pathway ahead.
IT'S A CATALYST THAT TRADITIONALLY LEADERS HAVE BEEN TECHNICALLY THE BEST AND NOW SUDDENLY THEY POTENTIALLY COULD DE-RAIL DIGITAL PROGRESS THROUGH RELYING ON PAST EXPERTISE.
Jane Dickinson: It's the principle of servant leadership isn't it, where leaders become enablers, not dictators?
Jacky Hinton: Each organisation has its rhythm and pace for change that they can cope with. You can't react to every technological change immediately, but you can have an overall strategy that informs on the pathway ahead and you can select the most appropriate technology at that time.
Tali Shlomo: A big player in employee experience is engaging with colleagues from concept to deployment and this rings true for digitalisation. If people see impact of digitalisation on the business in a positive frame and that redefining their roles is not a threat it supports culture and mindset that translates to a positive influence on the business.
HOW DO YOU INTRODUCE THE NECESSARY TRAINING RIGHT UP THROUGH THE ORGANISATION COVERING A VERY WIDE DEMOGRAPHIC?
Jo Mosley: We have such a variance, some people are incredibly tech savvy, to those working in our local churches and communities, who may find it a barrier. So it's meeting people at each level. I'm interested in what we've talked about with regards to mindset, because if we take senior leadership, actually them having technical skills and digital understanding is less important than them empowering those people that do. We have people coming through with great skills and ideas about how to change and make radical differences around digitisation and they need the empowerment and the flexibility to be able to share and grow those ideas.
IN TERMS OF DISSEMINATION OF INFORMATION AND MAKING SURE THAT MANAGERS AND LEADERS ARE ADEQUATELY TRAINED AND KEEP UP IN TERMS OF PACE, DO YOU FEEL THAT ENOUGH IS BEING DONE IN YOUR BUSINESS? WHAT NEEDS TO BE DONE TO BRING IT UP TO SPEED?
Simon Ruggles: It comes back to the age-old distinction between leaders and managers. Leaders should move from being the decision-makers to becoming the facilitators, empower the experts around them to make critical decisions, including ensuring they have the training and tools required to do so. Many of our successes related to digitisation stem from proactively encouraging collaborative and cross-functional decision making. In other words, break down the silos between the various different areas of the value chain and empower those individuals to work collectively to move towards our new goals, with a new sense of ownership.
WHAT ARE THE BIGGEST DIGITAL CHALLENGES IN YOUR INDUSTRY?
Toni Wilks: In our business – primarily oil and gas – it's pretty fundamental as the industry is changing its strategies to manage the energy transition, towards lower carbon and renewable energy supply. Moving towards that shift, efficiencies are needed to stay competitive and one of the ways to be competitive is digitalisation.
Sheila Cork: That's exactly our situation too.  I don't think our customers particularly want digital products per se, they want us to be more efficient at what we do and faster at what we do.
IN THE FAMILY ENVIRONMENT, DIGITAL HAS LED TO A BREAKDOWN IN COMMUNICATION AND INCREASED ISOLATION. PEOPLE ARE LIVING MORE DISPARATE LIVES, WRAPPED UP IN THEIR OWN DIGITAL WORLDS.
Jane Dickinson: As we automate more, it's going to be the characteristics that make us human that are going to be increasingly in focus. Automation will free us up to perform less repetitive, more strategic tasks. So, aspects such as, emotional intelligence and the meta skills are going to become more important in the workplace of the future.
Tali Shlomo: Agreed, empathetic leadership is absolutely critical, not only with leaders, but everyone in the business. In a digital environment, the social connection with our leaders, colleagues and stakeholders will play a key role in the culture and digital change which is taking place.
Jacky Hinton: Digitisation enables more to be done, but that also means more data too and with an ever-increasing layer of complexity. For leaders, it is vital to know how to deal with that and make informed decisions.
DO YOU THINK YOUR ORGANISATION IS EMBRACING TECHNOLOGY TO BECOME DIGITAL FIRST RAPIDLY ENOUGH? WHAT LEVEL OF IMPORTANCE DO YOU THINK YOUR LEADERS ARE PLACING ON DIGITAL CAPABILITY AND NEW TECHNOLOGY IN THE QUEST TO BECOME FUTURE COMPETITIVE?
Kate Banbrook: In terms of disruptive technologies, we have a plan in place to address this, to upskill our employees and to develop products and solutions. But we also need to embrace how digitalisation will affect us internally, for example the digitalisation of HR and other aspects in our IT structure and how we use this to support our 2030 vision.
Paul Smith: My view is that no one even talks about a three-to-five-year vision anymore. So, we took a step back and we created what we call our five strategic pillars and one of them we called "digital first", but I don't think we really know what we mean. It's like, "we must have something digital" and so that's one of our strategic pillars. We really must ask ourselves what do we mean by that? What does digital first really mean from a business point of view?
Tali Shlomo: It's not a diktat or decree from the top, it's about empowering colleagues to collaborate, co-create and provide their insight. Diverse thinking enables us to create that roadmap and, at the same time, you are crystallising capabilities and skills and you can start to address and support enhancing capabilities and skills, as you deliver the strategy as a team.
Patti Crozier: One of the challenges with enhancing capabilities and skills is that the workforce doesn't know how to transition to those resources. I listed all the different digital tools that we we're using in our organisation and it was 20-plus and some of those are already becoming outdated. So, how do you enhance that skill and capability to stay at the forefront has to be constantly assessed.
Sheila Cork: An aspect where the Japanese  do have something of an edge is the culture  and understanding to work by consensus,  to bring together people with differing viewpoints and knowledge – and this for me is a big  leadership point.
Laura Toscano: Collaboration has to be calibrated carefully, otherwise it leads to procrastination, going around in circles and the route to decision making suddenly becomes a slow and frustrating journey. On the plus side, decisions eventually have broad consensus, but by then it could be out of date.
Jacky Hinton: Indeed, when you have a very collaborative culture, it has obvious advantages in terms of sharing of ideas and embedding change, but it can lead to implementation challenges if people have widely divergent views.
Jane Dickinson: I agree and that's at the heart of today's discussion, it's about creating a lifelong learning culture which is dynamic and agile. There's a need to provide access to training and learning opportunities, but equally important is to foster a motivation to learn.
Tali Shlomo: Indeed, it's the lived experience which is a big part of the learning and in the frame of learning, it's about acquiring new habits and removing old habits. It's in the growth mindset and the winning hearts and minds and that comes back to the social connection, because it's about the lived experience and the sharing of knowledge.
IS IT POSSIBLE TO TRAIN MANAGERS AND DEVELOP DIGITAL SKILLS WITHIN THE BUSINESS TO HELP ADDRESS THESE CHALLENGES?
Toni Wilks: What is training in digital skills? It's a question I'm sure we've all asked at some point.  My conclusion is that there is training around; IT tools and, say, social media engagement platforms – that's the obvious and basic areas. But as for the critical points of disruptive technologies, there's a sort of survive and thrive mentality through shift and change, because of the ambiguity and uncertainty. For me, that's the areas where the shift in mindset is key.
Laura Toscano: It goes back to that point about the necessity for change not being delivered as a mandatory instruction from on high, that's never going to work in this day and age. The business imperative is one thing, but if people don't believe that their own development and progress is nothing more than desultory, then the road is long and hard. Expectation of discretionary effort, engagement and loyalty cannot be guaranteed if the question; "what's in it for me"? is not authentically answered and provided for. That is integral to the flat workforce structure, where collaboration and knowledge-sharing are critical.
Simon Ruggles: It comes to that critical element of empowerment, enabling individuals to take control of, not only their own development, but that of the organisation. Those who drive the most change are often those who become self-taught practitioners of their profession. The old, paternalistic, prescriptive approach to training; "this is where you go for this information, this is where you can access that training", is history. This is where soft skills and empathy engages with peers and reaches through to suppliers, networks and customers. It's our responsibility to empower others to find the answer themselves, for these answers often are the most valuable and least formulaic.
Jo Mosley: Salvation Army has a large training college up at Denmark Hill, which caters for traditional residential learning, but the onus is, we need to move people to digital. So, we're looking at new and exciting ways and capitalising on opportunities such as the apprenticeship levy, which is opening up doorways for us. Obviously, we have to carefully account for all spend, so to invest longer term in somebody is incredibly difficult. There is no margin for that investment and development, which is a real sad state of affairs for our country actually. Because the people who are most vulnerable are being cared for by people who are very hard to invest in.
Jacky Hinton: We're definitely seeing an increase in the demand for "just-in-time" learning from employers at The Open University. Where we've seen the biggest gains in people's development, however, has been in teaching the skills to engage critically with new knowledge. In addition to teaching new knowledge, we explore the skills of reflection and help people to understand how they learn and how they continue to learn throughout their life.
Paul Smith: If you think innovatively, you can achieve more for less. I guess we're lucky as we're a sports retailer and our people base themselves on their passion and their expertise for the products that we sell, so they're always hungry for learning. We've partnered up with the brands we sell, to cocreate L&D, so it's low cost and really encourages knowledge share, improving expertise and building on that all-important passion and specialisation, which they enthusiastically pass on to colleagues and customers. It is the proverbial win-win.
Jane Dickinson: It's answering the question, is lifelong learning possible to achieve? Whilst there are many facets and countless different approaches, it's about accessibility to training and upskilling for sure, but it's just as much about culture and engagement, plus the ol' push-pull.
Simon Ruggles: That definition of "what digital means" is really important in the frame of mutual benefit. If you're expecting your teams to bake slicker, connected, agile process into your business, valuing key skills and supporting their development is imperative. All my digital team are candidates for leadership training and we encourage everyone to look outside the box, engage with others, look externally and benchmark the competition. This is crucial, so that we can leverage competitive advantage and look to add value in the supply chain. There is no formal structured approach to 'digital training' that can teach this kind of engagement, it's the abiding environment and culture.
IS THE DECISION TO SUPPORT DIGITAL, LIFELONG LEARNING BASED PURELY ON ROI? OR ARE THERE OTHER FACTORS AT PLAY WHEN DECIDING UPON THIS?
Jane Dickinson: It's interesting to hear that there may be some situations where there is a trade-off to consider, between enhanced efficiencies and employee engagement. The Leading in a Digital Age report shows that when leaders have undergone digital training, just over half are reporting improved productivity, and the statistic for employee engagement is around the same.  Of course, that doesn't mean that it's the same businesses that are reporting both, but we are seeing a positive impact on both of those metrics. In this context, it's awareness of the power of technologies and associated methods, to enable an organisation to become digital first. It's about becoming more competitive, to deliver better outcomes for customers, benefit from increased agility and lower costs etc. It's more about an understanding of the power of digital and the concept I outlined earlier about training being commensurate with how much a leader or  manager needs to know to be able to empower  the organisation and take advantage of it.
HOW CAN DIGITAL SKILLS TRAINING HELP EVALUATE COMPETITION IN NEW MARKETS? UNLESS YOU CAN BENCHMARK AGAINST OTHER PEER COMPANIES WITHIN THE INDUSTRY AND BEYOND, YOU DON'T KNOW HOW WELL YOU'RE DOING IN TERMS OF DIGITAL TRANSFORMATION.
Laura Toscano: We've invested in a CRM system and a team who are responsible for driving its usage, but its patchy globally in different places because, again, our salespeople, do they want to sit down and tap in whatever it is they've got to tap into the system? So back to people change issues again and leadership driving the usage of the technology which will give us all of those insights.
Simon Ruggles: Digital skills, or more accurately understanding of data and data driven process have really helped us to minimise risk and make better choices. In many cases, access to this data has also enabled us to benchmark against our competition and brands in other markets. Whilst this doesn't extend as deep as how these organisations perform internally, it does give us great insight about our current trajectory and empowers decision making. We can demonstrate that we are going to be able to add to the bottom line here. "Here are the numbers in black and white. You can't argue with that." And, that's been a huge facilitator for projects and initiatives that perhaps previously would have been challenging for any organisation that isn't in the tech-savvy start up space to approve.
Jane Dickinson: We've known for many years that IT is a driver of competitive advantage, but it's probably more so now than ever, because of the advent of big data. We collected more data in the last few years than we've ever collected in the history of mankind and, when analysed in the right way it has enormous power to impact the bottom line in terms of decreasing costs, improving productivity, enhancing communication, agility and in exploring and entering new markets.
HOW CAN DIGITAL SKILLS TRAINING HELP YOUR ORGANISATION THROUGH THE DISRUPTION OF DIGITAL TRANSFORMATION? I WONDER HOW MANY BOARD ROOMS THAT PEOPLE ARE REPRESENTING TODAY HAVE DEMANDED THAT THE BUSINESS IS A DISRUPTOR, NOT A DISRUPTED?
Kate Banbrook: It's everyone's responsibility to keep abreast of what's happening digitally – that awareness is essential to competitiveness  and asking questions like; what can we embrace that will make us more efficient or add value to  our customers? Equally, it's about spotting what is a flash in the pan and what's here to stay and, in terms of transformation, it starts with a general overview. Then once something shows potential within your organisation and in the market, you then go into the detail. It is important for each organisation to define what it means by digitisation. I think everybody can talk digital transformation and disruptive technologies, but defining what it means is fundamental.
Jacky Hinton: That's where RPA has the advantage, because it is largely technology agnostic, it isn't expensive to do and you can do it in quite small pockets of an organisation and gain quite big benefits.
Simon Ruggles: AB type testing has always been fundamental to marketing, but with digitisation it's now far quicker, easier and more cost effective. With digitisation and improved analytics skills, we can empower teams to make decisions based on live scenarios. This is incredibly helpful in performance marketing and FMCG. In practice, we're asking teams to go out with an idea, test it, see what works, tweak it and do it differently. If it performs and it adds to the top and bottom line, move forward with it. Obviously, boundaries and rules have to be put in place – but the traditional brand book comes into play here. If it doesn't fit within our tone of voice or our core values, then the team do not step outside of that line. That's a massive ROI-driven change empowered by digitisation. Suddenly, our teams have that level of empowerment and, at each stage, there's that level of self-learning and soft skill development.
Jo Mosley: I was just thinking that it's not just about upskilling around digitisation or gaining better data and analytics, but also what we do about all these pockets of data and information.
Paul Smith: I'm a very firm advocator of making sure the tail doesn't wag the dog and I think it's so easy to be distracted from what your core purpose is as a business. I've got a reasonably high risk appetite as an individual and as an influencer around the table in the business, but there are times when I definitely exercise caution and say, "look, focus on what we're good at", otherwise people grow really excited and then they go off and make the wrong decisions. Good data and analytics can help provide the insights necessary to make those crucially right business decisions when it really matters.
Jo Mosley: Matthew Taylor – he of the Taylor  Report and the Good Work Plan – said and I paraphrase here; "in the last ten years we have not been any more productive, yet in the last decade, digitisation has massively overtaken the way we work". So, how does that correlate? We talk about return on investment, bottom line and competitiveness, but actually are we looking at what the impact is? The important question is, as we digitise more of what the traditional human workforce did, is there enough planning and development for the human resource in times to come?
Laura Toscano: If I had one wish it would be that our senior leaders – and indeed everyone – take a moment to look outwards instead of staring inside the organisation and just thinking beyond our current customers and our current set and ask questions about out our operating systems. If all you do is cycle through what you've always known then the risks a business is willing to take are so much smaller. I love the idea of experimenting with small budgets and giving people an opportunity to take a risk.
To read more Roundtable Reports please click HERE
If you are a Senior HR Practitioner and would to take part in one of our complimentary debates, please register your interest HERE
If you would like to sponsor a debate, please click here for more details.