LEADING WITH RESILIENCE AND AGILITY ARE IMPERATIVES TO UNLOCKING FUTURE POTENTIAL. THIS WILL REQUIRE INNOVATION, DECISION-MAKING, SPEED TO ACTION AND FINDING BALANCE BETWEEN TESTING BUSINESS REACH AND MAINTAINING CORE VALUES. AGILE CANNOT EXIST WITHOUT RESILIENCE AND THAT CAN ONLY RESULT FROM DRIVING ENGAGEMENT AND ALIGNMENT ACROSS THE ORGANISATION. AGILE IS CRITICAL TO MEETING THE RIGOURS OF THIS ERA OF DISRUPTION.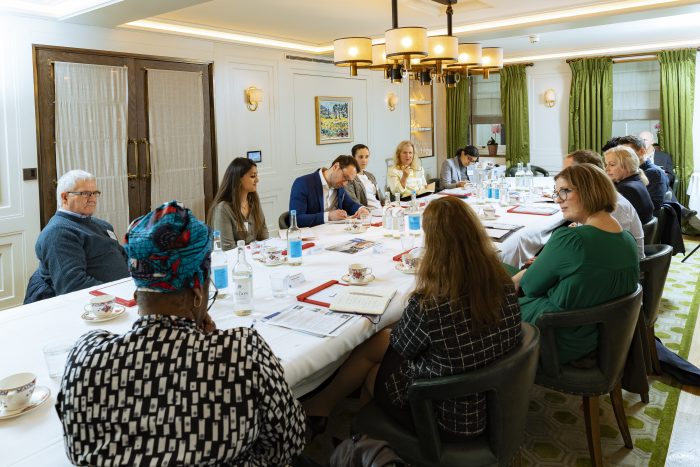 Nicole Ward, Strategic HR Business Partner – Havering Council / One Source
Aaron Wawman, Director of Business Development – Kellyocg
Kerry Young, Chief People Officer – Vitrifi
Anshoo Kapoor, Head – Recruitment UK&I, Human Resources – Tata Consultancy Services
Laura Perretta, Head of HR Transformation – Everest Re Group
Hanita Ananda, HR Change & Transformation Director – Silicon Valley Bank
Maxine Bonwick, HR Director – Renault Group UK&I
Matt Smith, Director, Talent Acquisition EMEA – Silicon Valley Bank
Fay Thompson, HR Director – Thompson Services Limited
Christopher Talbot, Chief People Officer – Global Banking School
Jo Jacobs, Head of People – Twinings
Katya Gorokhova, Vice President EMEA Rpo Practice Lead – KellyOCG
EXPLAIN HOW THE LANDSCAPE HAS CHANGED SINCE THE PANDEMIC IN YOUR ORGANISATIONS AND HOW YOU ARE MEETING EMPLOYEE EXPECTATIONS?
Kerry Young: Our challenge is catering to the shifting balance of staff and candidates only wanting hybrid or remote roles. That requires leaders and managers to effectively manage hybrid teams, by being really clear about what that means – it's not about being virtually present at all times – it's about delivery.
Maxine Bonwick: With Hybrid, we asked employees "what do you want"? Not to say we were going to implement it all, but to find a balance of employee and business demand. Most people missed the face-to-face buzz, so we trialed a day in the week where everybody came in, because an important aspect of our culture is collaborative teams.
Anshoo Kapoor: We started with work-life balance and quickly moved to work-life integration. Now, everyone feels empowered, that they can choose how they want to work. Yes, performance is absolutely critical, but the how, what, where and when are no longer a primary concern.
Jo Jacobs: Neuroscience demonstrates the hormonal reaction that occurs when individuals are together in person, leading to greater levels of connectivity and creativity.
Hanita Ananda: There's a need for appreciating that each individual is unique and that hybrid working is about work/life integration. There is no enforcing of what days you need to come in and how many days, the focus is on coming into the office to collaborate, problem solve and build relationships which syncs up with the culture.
Christopher Talbot: Our people have to be present, because it's classroom-based. Consequently, the challenge in recruitment is, people expect at least partial homeworking. Nevertheless, in the past two years, we've grown from 100 to 1,200 people.
Nicole Ward: All work cultures may be unique and setting targets for the staff not physically in a workplace is going to change. There is going to be more conversations about targets and nothing is static any more.
Laura Perretta: We need to enable a more agile workforce, find balance and structure, as new generations want to be able to move into other areas, try new projects.
Katya Gorokhova: Hybrid working is the headliner, but of course, not all roles can adapt, so there needs to be some thought about how to benefit those people. Equally, some companies are more technical than others, but the phrase improvise, adapt and overcome applies to all businesses, regardless of sector, because the direction of travel is clear.
Fay Thompson: In the private sector, I've seen quite a big shift in the mindset of managers and leaders in terms of being more flexible and a heightened value and respect of people. There's an acceptance that things are not binary and it's now about managing ambiguity and difference.
Matt Smith: We are seeing that our graduate population want more face-toface activity, even though they've come in during the pandemic and have no experience of the nine-to-five. It's interesting that they still want and need that engagement. In terms of binary v ambiguity, you could say we have taken a binary stance in recognising ambiguity.
Aaron Wawman: There is no silver bullet, but the organisations that are doing their best are the Vanguards, the ones willing to accept these changes. More people want flexibility in every facet – where they do the work, how they do the work and who they work for.
Katya Gorokhova: We need to be mindful that hybrid is not a panacea to work/life balance and optimised performance, there are people who are working at home harder and burn out is more common remotely than at the office. Whether it is our responsibility to encourage some balance between remote and workplace, is open to conjecture.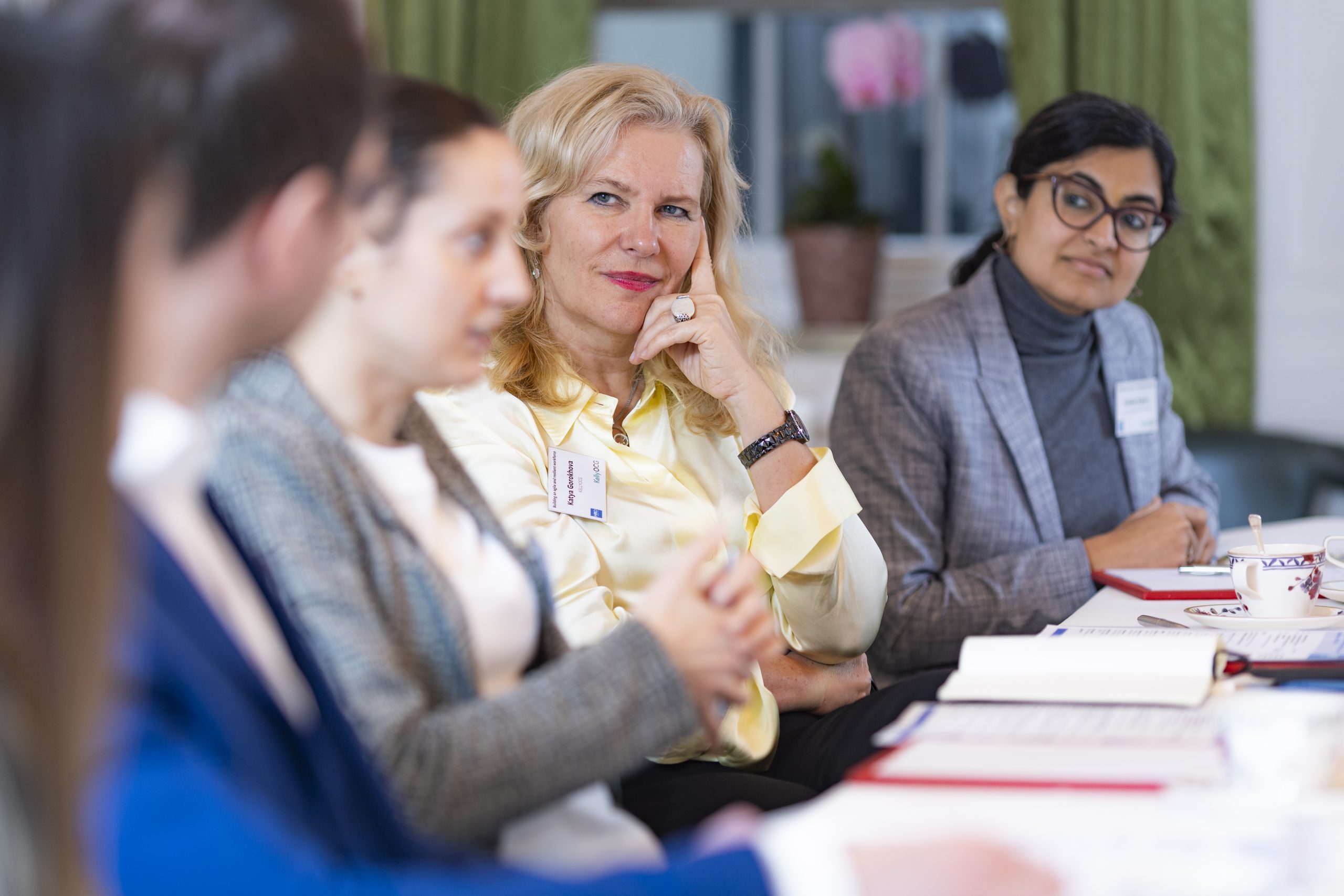 HOW HAS HYBRID WORKING IMPACTED PRODUCTIVITY ACROSS YOUR BUSINESS?
Jo Jacobs: Our efforts have been focused on giving goal clarity and ensuring there is alignment of our goals and priorities across the business.
Laura Perretta: Where we can really help is focusing on wellbeing, managing the risk of burnout. We're really helping our employees look after their fitness, mental and financial wellbeing. We recently enhanced our EAP services across the globe too.
Kerry Young: One of the benefits of not having to be physically in the office all the time is enabling HR people to do that deep thinking – instead of firefighting all the time – we have space to consider proactive HR strategies. We're looking at how we shift from the constant focus on synchronous working into asynchronous working.
Maxine Bonwick: For us it's not just a one-off bang, it has to be nudge, nudge and it's about helping to be productive, but not to burn out. You simply don't know how someone is always feeling, so it's about encouraging line managers to ask individuals. It's about those basic human hygiene factors within the hybrid world.
Matt Smith: Nudge can be used to provide financial, mental and physical wellbeing guidance, as well as leader/ employee development. It uses AI to learn and tailor the nudges, based on individual inputs. I have found it a very useful tool and at employee level, it has definitely supported employee engagement.
Nicole Ward: Productivity can be measured very differently and very separately in the different parts of your business. We need to be pragmatic too that some staff may never develop the growth mindset and that is OK. But we need to be able to recognise this and create positive interventions that addresses all needs.
Fay Thompson: In most organisations, there are people not working to common goals that are directly aligned to the strategic imperatives. The starting point is making it clear what the goals are and it's about collaboration and having that connection and sense of purpose.
Anshoo Kapoor: I would say how we as an enterprise infuse trust as a premise of operating in the work that we do is a fundamental shift.
Katya Gorokhova: It's a noble purpose to connect people to work in a way that enriches lives and meets dream work idylls. This is what brings out the best performance.
Anshoo Kapoor: People have to feel that they're valued and they are aspiring to be rewarded in different ways and it's about a mix of experiences you're giving people.
Hanita Ananda: What has become more important than ever before, is that employees want to truly believe in the goals of the organisation and the way in which it conducts business. When there is real synergy between goals, values and culture, that's what leads to organic productivity. Leadership plays a pivotal role in this and so it's important to continue listening.
Aaron Wawman: The secret ingredient is leadership, in driving productivity in hybrid teams. Whether in an office, fully remote or hybrid, it's easy for productivity to cancel itself out and it's those moments where you feel you're busy, but the productivity and accomplishment isn't there to match the effort.
Katya Gorokhova: One of the advantages of technology is the capacity to predict and anticipate problems before they happen and that is key to really helping people to recognise and avoid burnout before it happens. That's back to wellbeing, acting on data, good communication, articulate support and building self-responsibility.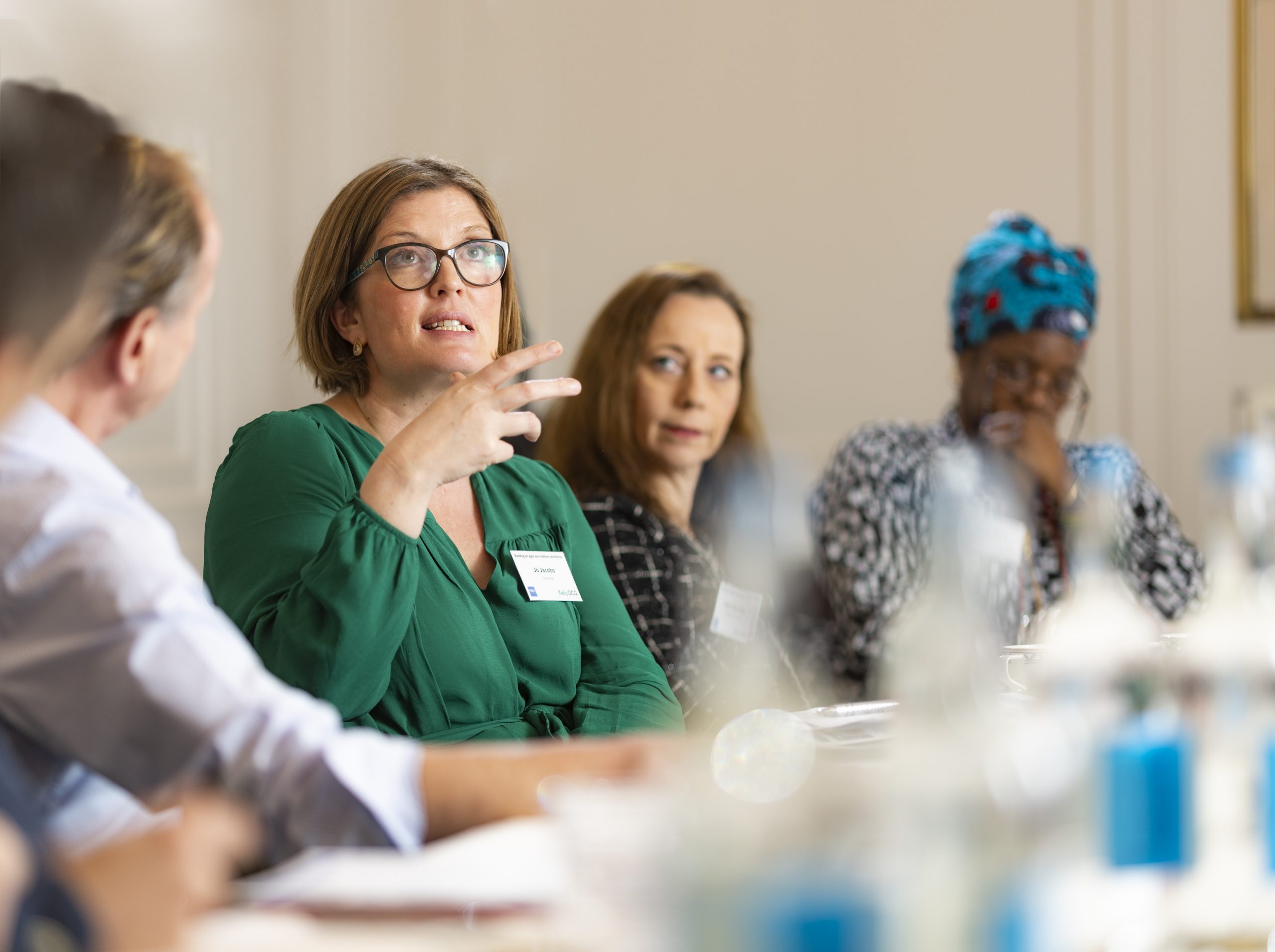 WHAT DO YOU THINK ARE THE DYNAMICS OF A RESILIENT WORKFORCE AND HOW ARE YOU STRENGTHENING WORKFORCE AGILITY?
Laura Perretta: Critical to this is to provide career and growth opportunity through a combination of cross departments projects. We need to focus on a growth mindset and support people to see learning as an everyday activity and progression as not just moving vertically.
Hanita Ananda: Part of building resilience and agility is hiring and developing for the future – hiring for now but having the foresight to hire for the future too – and importantly maintaining culture, common purpose and values.
Maxine Bonwick: For me, a resilient workforce is a workforce that understands "the why".
Katya Gorokhova: When we talk about workforce agility, it's reskilling and upskilling and also having different sources of partnering with providers, suppliers and customers in a way that keeps the business agile. Diversity of perspectives solves problems that one internal perspective may not see.
Matt Smith: We must not underestimate the power of recognition and celebrating success, however small it may seem. Recognition in all forms drives engagement and gives a sense of belonging and it doesn't have to be financial. It keeps employees going though tougher times.
Fay Thompson: Resilience is about having that robustness in the organisation to bounce back, learn and move on.
Kerry Young: My view of a resilient and robust workforce is a non-siloed organisation. The more cross-functional teams and projects you have the greater people's understanding of the skills throughout the business. It provides additional career paths for people, gives them that feeling of satisfaction that can be rewarded through the successful delivery of a project.
Anshoo Kapoor: Constant experimentation is also an important part of agility and resilience. We need to keep experimenting… fail fast and move on.
Aaron Wawman: This year, the SIA published a report, which said that permanent hiring is down, but contingent worker hiring is up. So permanent – obviously, playing a big part in most organisations – enriched by temp and contingent talent, independent contractors and of course the specialist freelance population. There are also other strategies – I use the word squiggle and stay – because unlike continuously climbing that ladder vertically, people jump off one ladder and climb another.
Jo Jacobs: I think leaders have a role to play in creating a resilient workforce, through connecting work back to values, strengths, purpose and passions.
Maxine Bonwick: It's not about making people tough, it's about resilience not being this barrier to beat, it's about understanding that everyone experiences ups and down in mental health. Resilience is key to flexing both ways.
Matt Smith: We've been addressing the balance, ensuring that BAU or permanent roles are filled with employees, not augmented by contingent labor. We have sought to increase governance in this area and ensure that contingent workers – which plays a vital role in the organisation – are used in the right way and at the right time.
Hanita Ananda: There is also the lens of operational stability, if you become too reliant on contingent and temporary resources and an added benefit is that it gives permanent employees more opportunities to move to different parts of the organisation, to develop and gain experience in other areas.
Nicole Ward: As we all try to work out what "business as usual" is, we need to leverage agility through a variety of approaches, in terms of workforce strategy.
Kerry Young: As a startup, we have increased our contingent workforce, as different requirements occur. Our early hires were all permanent hires, but now we have a good balance of permanent and contingent workers. The nature of startups is, you need different skillsets and abilities at different stages of the cycle.
Fay Thompson: I'm part of the contingent workforce and certainly from an HR perspective over the last three years – pandemic and post-COVID – I've seen a huge uptake in terms of HR people being asked to come in and manage change projects.
Maxine Bonwick: We're less contingent worker reliant, but where we have gone up is in terms of the suppliers we use. That's been a great test and learn perspective, because third-parties share their innovations and so we gain real knowledge from creative expertise within suppliers and partners.
Aaron Wawman: A contingency workforce can be expensive if poorly utilised and can get out of shape, if not governed and managed correctly. But if you've built in governance and management of that population well, it's extremely valuable to workforce agility. You need to be able to report, have visibility and oversight of it and understand where they are and what they're doing.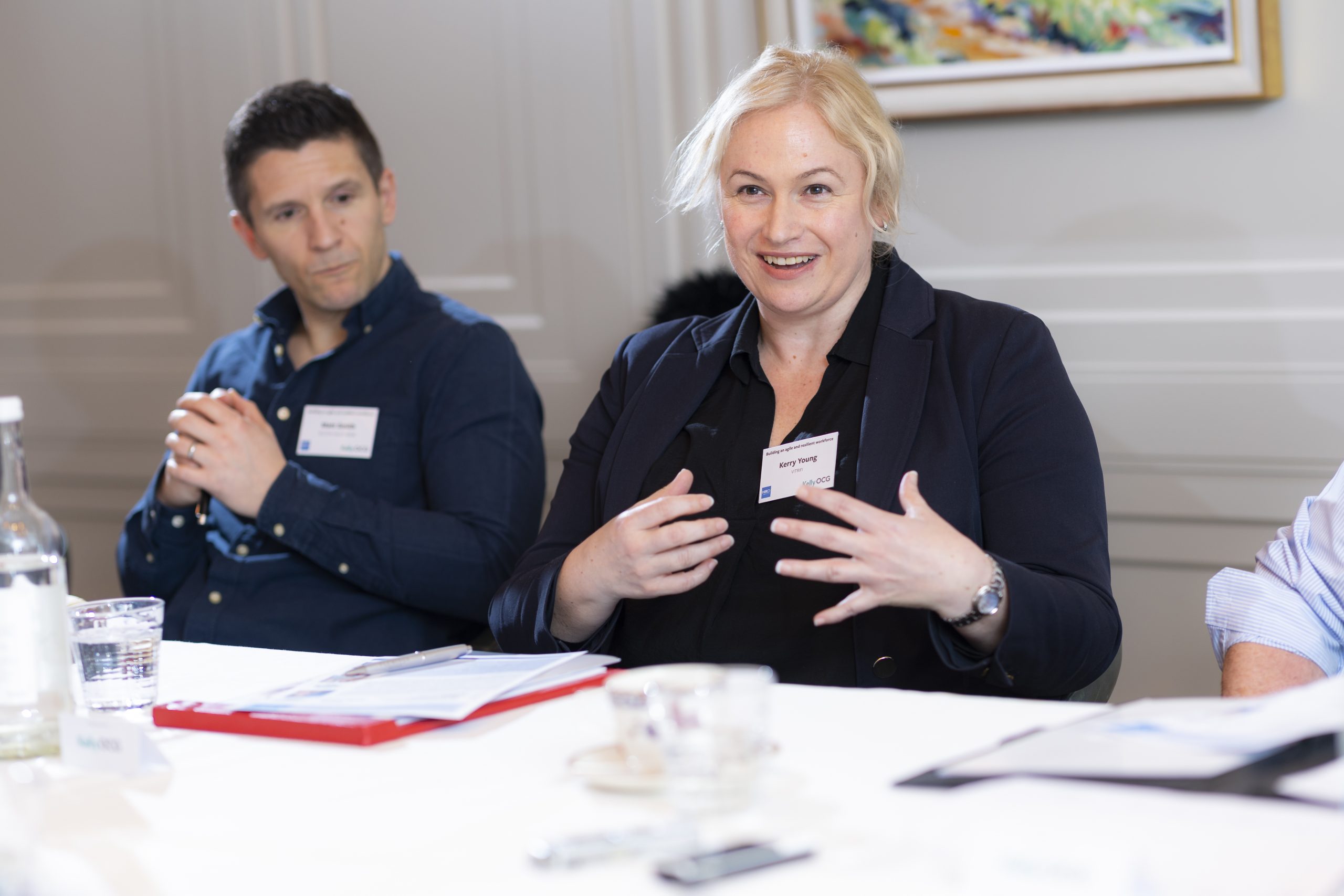 WOULD YOU SAY THAT YOUR ORGANISATION HAS IMPROVED THE EMPLOYEE EXPERIENCE FROM AN EQUALITY, DIVERSITY AND INCLUSION PERSPECTIVE?
Kerry Young: We are actively building practices that are inclusive from the beginning and being able to translate what that means from an employee experience is key. From a DEI perspective, we've introduced practical activities through our recruitment and our talent acquisition processes – using blind CVs and anonymising profiles, for example – so that our hiring managers are reviewing the quality and skills of candidates that are being put forward, rather than looking at their names or trying to look at them on LinkedIn. We need to move beyond ticking boxes to reach diverse candidates.
Maxine Bonwick: Within the auto sector, there's the dominating image of white middle-aged men, but instead of making that group the target problem, these men have become role models, playing a key role in creating gender equality. It's about including them into the solution of how we create a gender-balanced organisation. We've taken an approach of looking at the whole organisation and asking, "where can we make change"? A case in point is helping people on maternity avoid the parent or career penalty and we've seen real success in employees securing roles whilst still on maternity.
Hanita Ananda: It has to be much more than targets, it has to be the way we think, the way we work, our processes, our decisions and the way we show recognition. A DEI strategy has to be across the whole lifecycle.
Fay Thompson: In terms of the employee experience itself, employees must see that organisations are walking the talk.
Anshoo Kapoor: It's about always evolving, it's not a tick-box exercise, because expectations are changing and accessibility is vital for all.
Katya Gorokhova: In terms of recruitment, for example, a technical company that attempts to holistically increase its women population, if it attempts this through blind candidate selection, for example, the chances are they may still end up with more men, because the cohort is more attracted to that sector.
Laura Perretta: There's been such a big focus on gender and a lot of companies stopped there. Is it time now to evolve that conversation?
Aaron Wawman: If your DEI policy isn't working for everyone, then it isn't working, period. There's a lot of talent in the wider workforce that are never headliners and are easily forgotten. There is a lot of dormant, unrealised talent to untap, beyond the binary gender frontpage story.
Katya Gorokhova: This is about giving the whole diverse demographic a voice and a profile and foundation. It needs to move beyond policies and quotas to being the heart and driving motivation of a business. This is where our definition of Vanguards resides and thrives.
Maxine Bonwick: It's back to internal comms and the authenticity piece. It's the real stories that make the impact, not labeling and it's about acknowledging that life and work is different for everyone, even in the same groups. Some organisations make the mistake of trying to identify what certain groups want. You don't ask one person, because that isn't representative of everybody within that space. It's called diversity for a reason.
Kerry Young: Agreed, what's really important when you're implementing these kinds of approaches is that you don't have one person that identifies with that characteristic being the only spokesperson for the initiative. You need allyship and buy-in from everyone.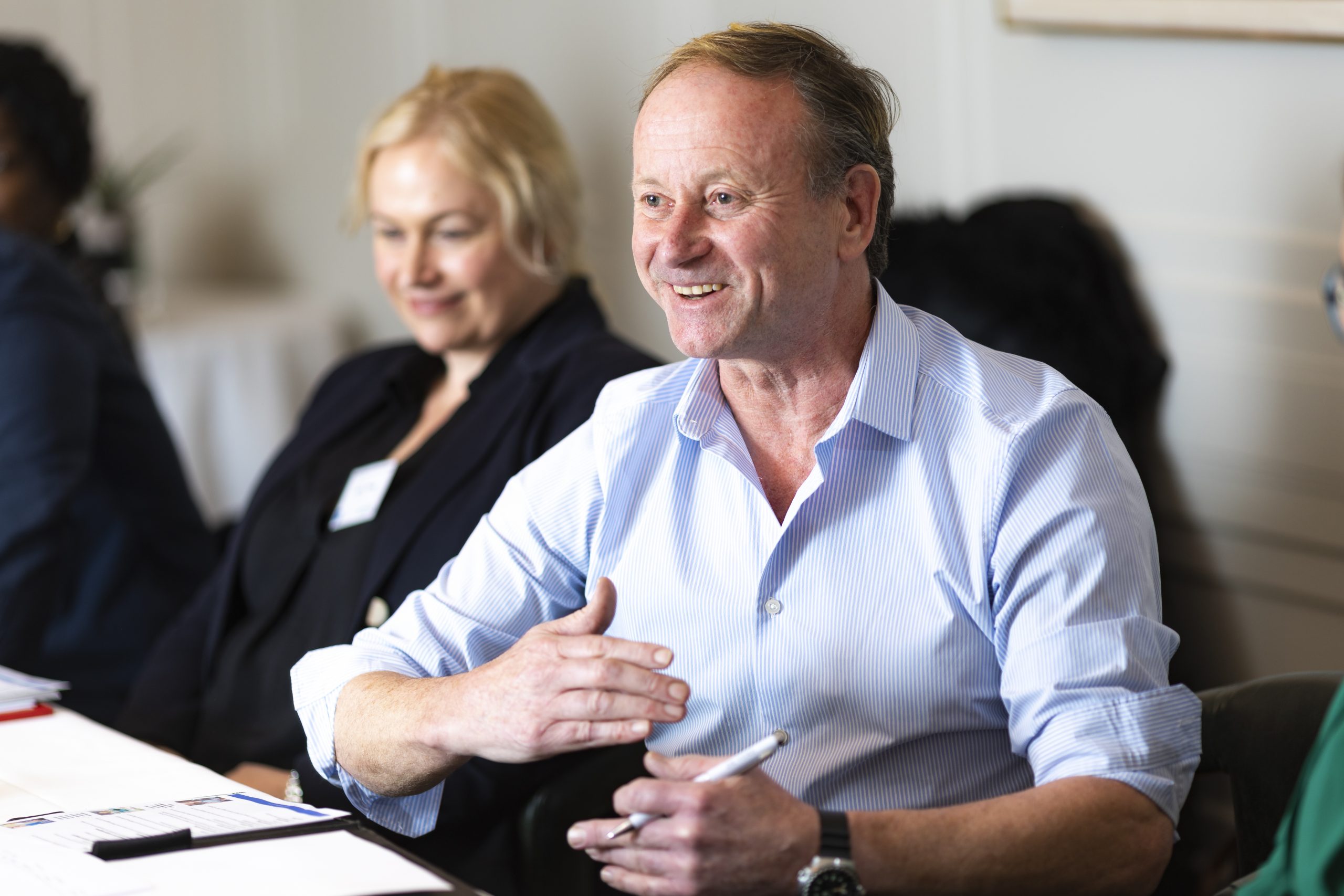 WHAT WOULD YOU SAY ARE THE BARRIERS FOR YOUR COMPANY IN ACCESSING THE TALENT NEEDED? WHAT ARE THE POSITIVE AND NEGATIVE IMPLICATIONS OF THE EXPANDING TALENT POOL?
Jo Jacobs: We need a diverse workforce to bring new ideas and fresh perspectives, which does mean accessing talent from beyond the typical talent pool. We are focusing on creating a compelling employee experience with aspirational roles that attract great people to come and work with us.
Nicole Ward: A lot more needs to be done in terms of accessing talent and doing away with the "cookie-cutter" model. This is tricky because people relate to those who look and think like themselves – we don't like change and we want to stick with what and who we know. That doesn't provide room for new talent to grow, flourish or progress within an organisation.
SO, HOW IMPORTANT IS MONEY NOW AND THE TRADITIONAL NOTION OF THE COMPETITIVE SALARY?
Katya Gorokhova: It is still a critical component. A lot of salaries just went up and companies were not expecting that. The frame of the salaries were just not matching the growing inflation. After the recognition, the time lag that happens when recruiters adjust their offering is fatal, because in a candidate-led market, people go off and accept another offer.
Maxine Bonwick: It has to be about balance and being realistic, ensuring that those within your organisation are being remunerating fairly compared to those you're bringing in externally. Some firms are almost throwing the bandings out of the window right now and people's salary expectations are huge and inflated. Our take is, we can't accept a candidate if they are not right in terms of our remuneration model and we are still hiring fabulous people.
Katya Gorokhova: Businesses that are able to recruit internationally have an advantage. Eastern and Southern Europe have the skills and the salary rates and expectations are lower, but this will inevitably change as they are absorbed into the sectors and geographies where the salary wars rage.
Anshoo Kapoor: If employers lose the negotiation grip in the candidate market, then I don't know what the future holds. Inevitably, it's forcing recruiters to negotiate a lot more in a shrinking talent pool.
Aaron Wawman: Having a proactive TA strategy versus a reactive one and trying to identify where the talent is going versus where it is today, is easier said than done. But talent strategies can sometimes be a bit too one-dimensional and it comes back to agility in the workforce – not from a classification point of view – but geographically.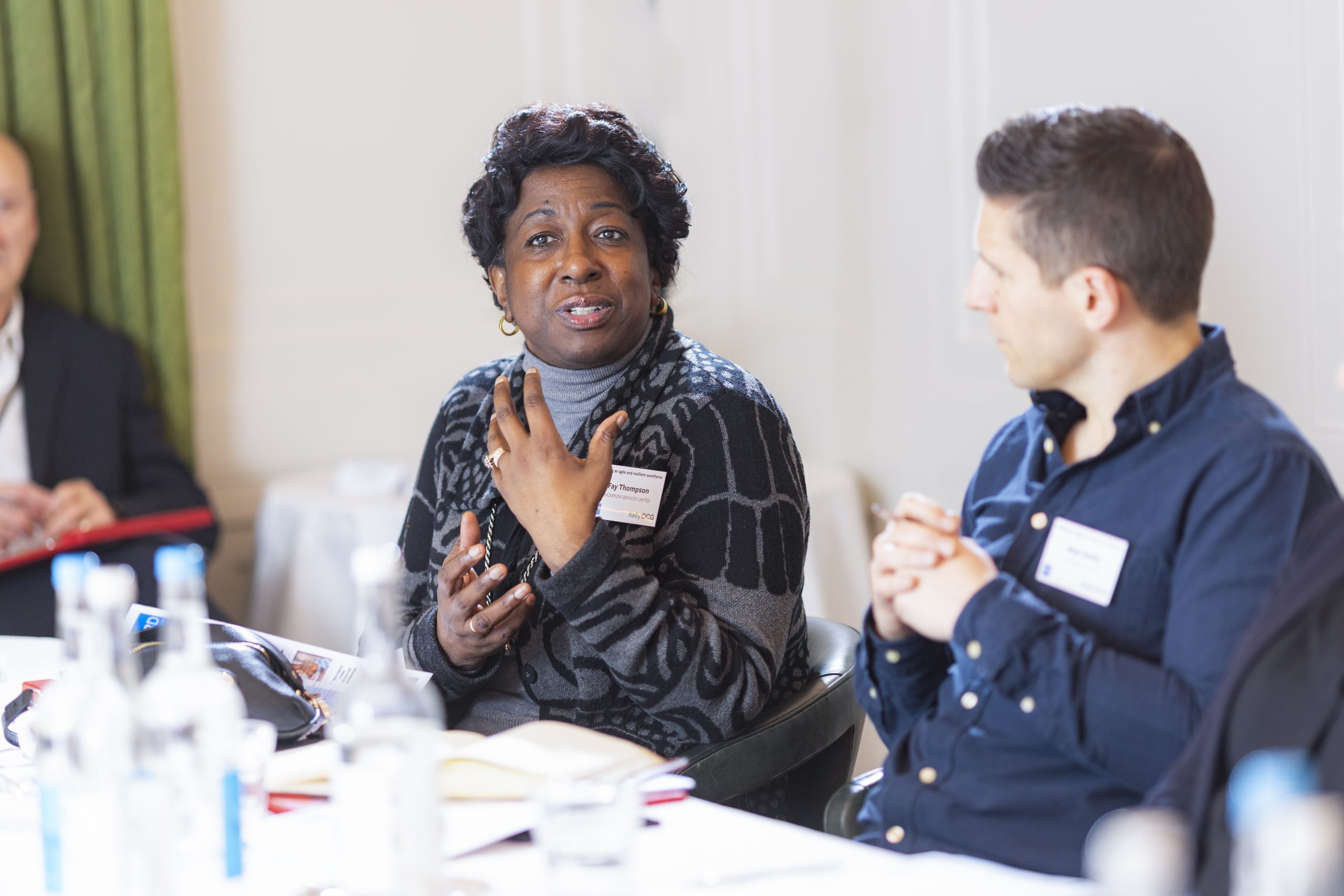 DO YOU FEEL THAT YOUR ORGANISATION HAS GAINED MORE OR LESS RESILIENCE DURING THESE CHALLENGING TIMES? HOW WOULD YOU EVIDENCE THE IMPACTS?
Katya Gorokhova: It's not just about crisis or down times, sometimes the biggest challenge is in boom times. How you manage your growth then is a true test of resilience because it's actually so much more difficult to grow because you need so much resource planning, rather than hunkering down and taking your foot off the gas during crisis.
Matt Smith: The key is to engage the workforce, to understand how they feel and use the results to drive positive change. A measure of resilience will be very specific to the organisation, but in my view, it will be a combination of employee engagement, measured from surveys and also productivity measures.
Kerry Young: It comes down to what your definition of resilience is. I think of resilience as energy – do you have the energy to deal with a particular challenge or a particular approach? Are you refilling your energy levels and making sure that you are maintaining that level of resilience in the face of whether it's a crisis or a growth challenge, because they do require different types of resilience to keep going.
Maxine Bonwick: It depends on the situation – a neonatal unit is going to need staff of a completely different skillset of resilience to a car dealership. It's individual-dependent as well, what adversity have people faced in their life and how they've learnt to cope and deal with that. Within an organisation, it also depends if people are going through a company crisis and what resilience is needed in that situation.
Katya Gorokhova: To add to that, it really depends on the leadership of the organisation, because it's their ability to innovate and invest in both the current stresses and the vision ahead.
Aaron Wawman: The last few years have been a barometer for resilience. On a business level, it comes down to the ability to manage change from external factors and how a company adapts and pivots and comes out the other side is a strong measure of their resilience.
Hanita Ananda: For me, resilience is about change and adaptability and one of the key enablers to this is transparency from leadership.
Anshoo Kapoor: It's about allowing people to be who they are and then giving them a safe space for conversation. There's still a taboo about showing weakness in work.
Maxine Bonwick: I always say to people – if they're in a moment of intense feeling – that no one puts your job title on your gravestone. It's the capacity to help people understand how they can decompress quickly and put things into perspective.
Fay Thompson: It's also building that awareness of the triggers and putting in the measures to avoid them.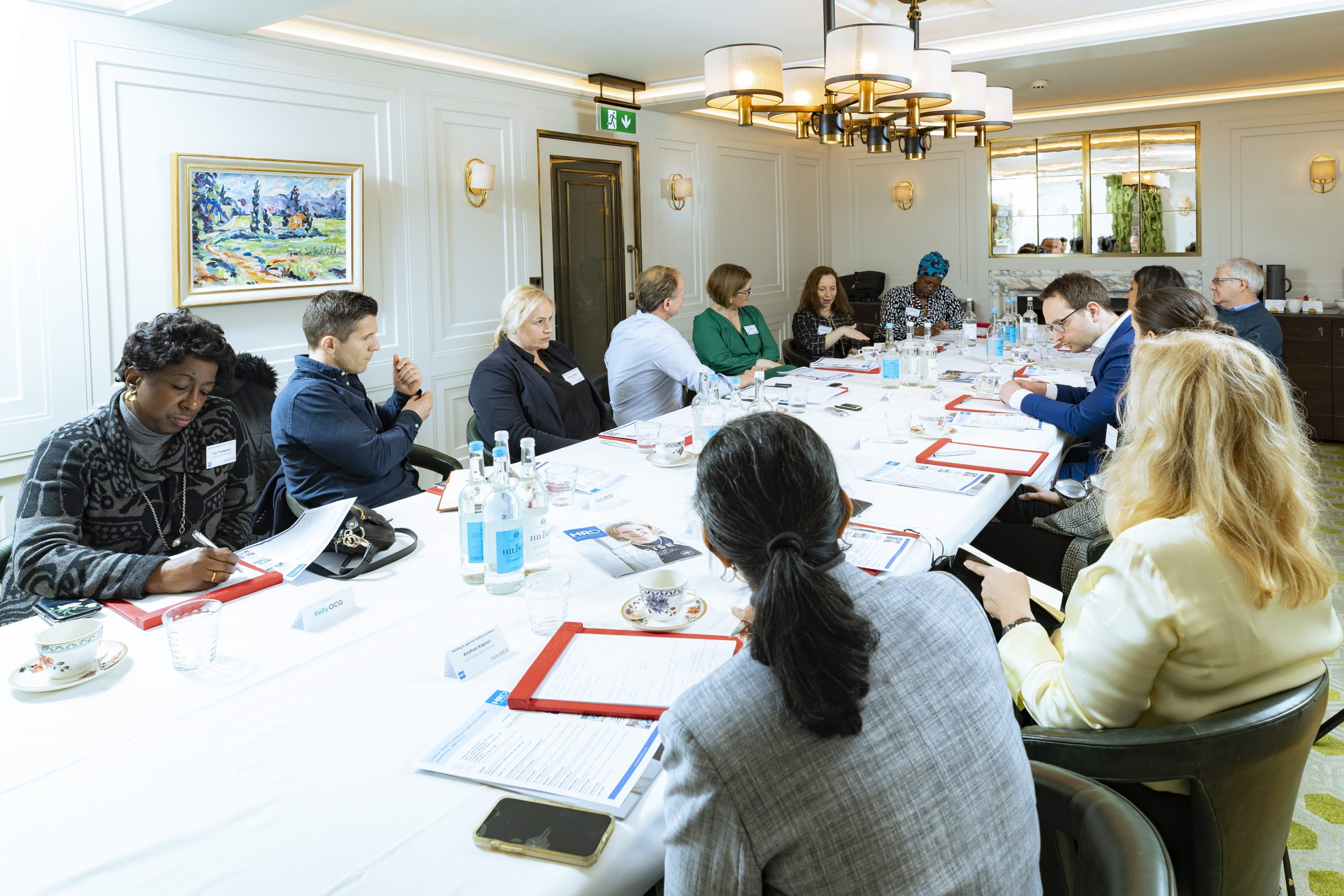 WHAT DO YOU BELIEVE ARE THE PRINCIPLES OF A FLEXIBLE, GROWTH-READY AND RESILIENT STRATEGY TO MEET THE CHANGE AND RIGORS AHEAD?
Jo Jacobs: There needs to be acknowledgment that we are human, that everyone comes to work to do their best, organisations have to adapt to different people, with different needs at different times of their lives.
Nicole Ward: It's about keeping it really simple – improvise, overcome, adapt, resolve… then repeat. Hanita Ananda: Organisations that are purpose and values led, are most set up for success. But it has to be embedded into the culture and properly lived by all.
Maxine Bonwick: You have to live it, breathe it, think it and trial it. There are so many different approaches and strategies that you can adopt right now and if you try it and it fits and works, then do it.
Anshoo Kapoor: Keep innovating as the world will keep evolving, because it's a journey without a final destination.
Fay Thompson: The fundamental principle is, if you genuinely care for each other, you can achieve anything.
Kerry Young: You need to be open to change – what's going to work today is not necessarily going to work in the next quarter. The importance of being flexible and agile runs right through this discussion and I couldn't concur more emphatically. Organisations will only be successful if they're truly purpose and values-led and fully authentic throughout.
Katya Gorokhova: It's so important to listen, question and care about each other. It's important for us not to forget that in our remote worlds, we're not alone.
Aaron Wawman: Each organisation is on a journey, at various stages and each individual one is different and so they must approach it differently. My advice is to keep being experimental, stay agile and develop what works and move on quickly from what doesn't. Change is happening for sure and it's an exciting time for all of us.
FOR FURTHER INFO WWW.KELLYOCG.COM