The conventional notion of workplace wellness used to be associated with the maintenance of a positive corporate culture, based upon shared values, that was exuded by effervescent employees as they displayed the 'right' traits for ensuring a 'happy' work environment.  However, such an approach glaringly marginalized the 'baggage' that employees brought from home that naggingly lingered in their minds while they 'wore' their 'professional' smiles as emblems of a 'satisfied and content' workforce within a 'progressive' organization.  Their internal battles did not even register on the 'Employee Satisfaction Surveys' that routinely depicted a 'highly motivated' workforce to satisfy the relevant analytics on a 'flashy' dashboard designed to curate the desired information for the senior/top management.  Consequently, the 'shallowness' of such measures left majority of the organizations unprepared when the COVID-19 pandemic hit with full force and the survival of the organization as a 'going concern' became the most important factor.
The subsequent precariousness of the economic environment also upended existing risk management plans that were designed for more 'palatable' possibilities.  Additionally, the permeation of employment uncertainty that resulted from frantic attempts by senior/top management to stabilize the 'rocking' foundations of a seemingly 'robust' organization tested the mettle of an increasingly apprehensive workforce that was faced with the prospect of shelving their 'planned' career prospects in favor of 'contingency' alternatives.  Savvy leadership at progressive organizations elevated workplace wellness as a strategic priority with various approaches being deployed to cover the large spectrum of health and wellbeing (see: https://lnkd.in/dphiesDU) while remote and hybrid working became a significant part of the corporate restructuring initiatives.  One of such options has been the use of AI-enabled technology that has resonated with wary employees for improving their mental health in a recent global study (see: https://lnkd.in/dRdQNPnv).  Some of the ways in which this can be realized in boosting workplace wellness are as follows:
Providing a Higher Quality of Customized Employee Experience
This refers to using AI in terms of gauging and enhancing employee experience through various stages of the employment lifecycle, i.e.: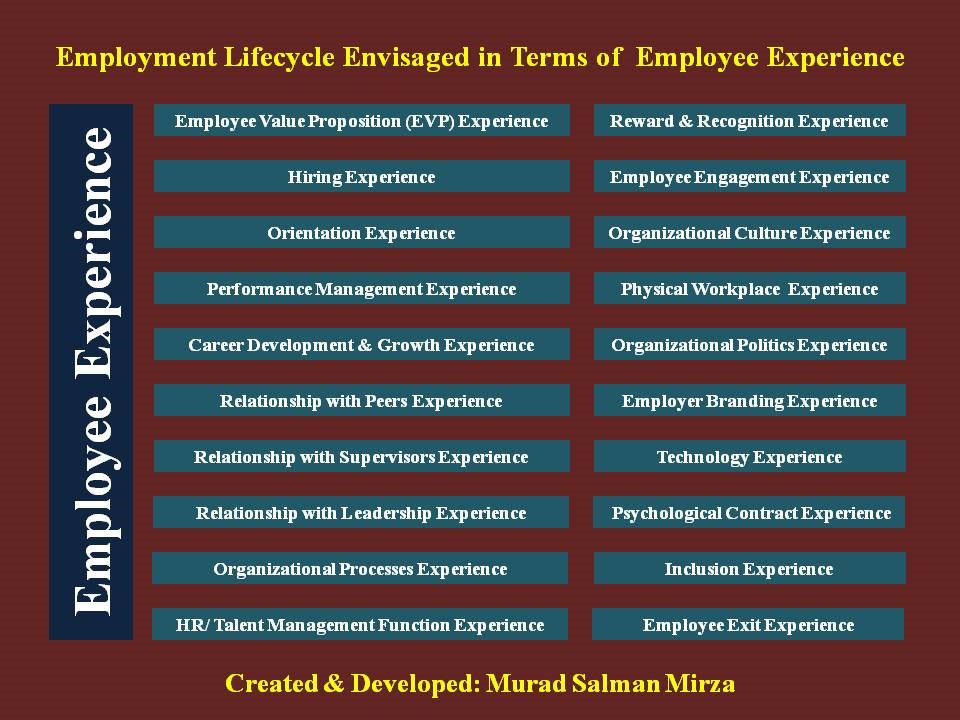 Some of the ways in which this could be accomplished are as follows:
Conducting initial screening of candidates through an AI-enabled software that is free from humanistic biases to elevate confidence of candidates from marginalized segments of society
Using AI-enabled virtual reality (VR) devices to test candidates during hiring instead of inviting them to go through pressure-filled assessment centers under the watchful gaze of discerning evaluators
Designing orientation of new employees by gaining feedback from an AI-enabled software that analyzes past lessons and provides appropriate recommendations for a more positive experience
Utilizing an AI-enabled software to track employee performance and indicate areas of strengths and weaknesses with solid evidence for a more fair and productive discussion during performance review sessions, especially, in terms of suitable growth and development measures for maintaining the desired career trajectory
Maintaining an AI-driven smart reporting system that analyzes areas of conflict experienced by employees with their peers and supervisors by cross-referencing such incidences with the personality tests of relevant parties to suggest strategies for sustaining amicable and fruitful relationships with each other
Using an AI-enabled software in analyzing employee surveys taken by the leadership to assess the effectiveness of corporate policies/processes/procedures and do timely and targeted refinements for realizing durable employment relationships and strengthening psychological contracts
Utilizing an AI-enabled software to analyze, design, customize, monitor and improve the 'total rewards' package to incentivize and facilitate employee engagement
Employing an AI-enabled software to design the workplace that meets the needs and expectations of a multigenerational workforce, e.g., ergonomics, stress reduction, noise pacification, recreational options, social interactions, brainstorming spaces, etc.
Using AI-enabled software to assess the effectiveness of DIBE (Diversity, Inclusion, Belonging, Equity) initiatives and provide recommendations for feasible improvement
Fulfilling the Role of a Relaxing Companion
Employees often have a hard time trusting their peers and supervisors in the workplace due to organizational politics and the 'stigma' associated with being perceived as 'trouble makers' or 'rebellious' in terms of having independent perspectives from the majority that is usually backed by leading powerbrokers within the corporate hierarchy.  This is exacerbated in the case of introverts who are often not able to develop strong protective networks within the organization, especially, in the absence of influential mentors.  Consequently, the stress associated with being marginalized and overlooked in terms of promising career prospects is amplified with such professionals who feel unnecessarily burdened with the weight of their dutiful conscience and the relentless expectations of being a 'team player' in terms of siding with powerful quarters.  AI in the form of a conversational app (see: https://lnkd.in/djYgm4_P) can be utilized in such situations as a stress-reliever, a nonjudgmental friend and for recommending appropriate healthcare resources that can provide comfort and camaraderie without the fear of being ostracized by vengeful and resentful peers and/or supervisors.  It can also be used as a tool for self-reflection by recording such conversations and maintaining a record of personalized road to improvement/recovery from personality issues and/or mental health challenges.
Positive Influencer as a Reliable and Invigorating Office Gym Partner
Physical health has increasingly become a significant element of workplace wellness and several progressive organizations have tried to come up with novel solutions to maintain the productivity levels of employees (see: https://lnkd.in/dMrQrJbC).  They have also developed gym facilities within the office premises to facilitate their employees in maintaining fitness to cope with the grueling hours of work over extended periods.  Such initiatives also provide a welcome break from the norms of routine work that can result in work-related injuries (see: https://lnkd.in/dSPQ_Mi7).  One of the challenges in getting employees to go to such office gyms has been the unavailability of gym partners who can motivate them to engage in associated healthy activities on a consistent level.  An AI-enabled app that fulfills such a role can be a wonderful companion in such a case as it acts as a timely reminder and scheduler to use the relevant gym facilities and provides active interaction during exercises through a voice interface that boosts confidence and provides the desired analytics to gauge the health parameters for continuing the same regimen or making suitable adjustments for gaining better results.
Providing Personalized Care as a Nanny in the Office Nursery
Young mothers often fret about balancing the needs of their children with the job responsibilities associated with professional roles.  This is one of the major reasons why women have consistently lagged behind in achieving their career aspirations (see: https://lnkd.in/dWuhu3Cm) as compared to male colleagues.  It also significantly impacts the initiatives of companies to institutionalize DIBE (Diversity, Inclusion, Belonging, Equity) measures since they are not able to retain capable female employees in the desired numbers for creating a judicious spread of leadership talent within senior positions as a necessary part of their succession management policies/processes/procedures.  Several progressive organizations have provided workplace nurseries to cater to the needs of such employees (see: https://lnkd.in/dArspBr8), however, the extend and quality of personalized care at these facilities varies greatly from company to company and is often one of the first benefits to be cut in case of a precarious economic situation.  AI-enabled robots can be deployed as 'robo-nannies' (see: https://lnkd.in/dwivUPPS) to work with their human counterparts in keeping children engaged, especially, those with special needs, e.g., on the autism spectrum.  They can also stream real-time videos to a connected app on the cells of their parents through cameras fitted in their eyes in case they want to check on their children while taking a quick break from professional work.
Enabling a Conducive Remote or Hybrid Working Environment
The COVID-19 pandemic has forced organizations across the globe to rethink and redesign their 'work models' prescribed/deployed for their employees.  Several companies are waging internal battles with their workforces as they have embraced the remote working opportunity and are reluctant to return to offices on full-time basis (see: https://lnkd.in/dWeUkWAW).  A number of factors are contributing to such a situation, e.g., more time to be physically close to their loved ones (children, old parents, pets, etc.), greater flexibility to create an optimum work-life balance, increased ability to concentrate on more value-added work instead of wasting time in tangential activities (divisive office politics, long customary meetings, lobbying for resources, addressing privacy concerns, jostling for parking spaces, rushing between multiple office locations, etc.), more control over 'switching off' from work, reduction in stress due to elimination/curtailment of long commutes to office, more level playing field for capable introverts to display their talent who routinely get marginalized due to their 'flashy' extrovert peers in office settings, etc.  An AI-enabled software can greatly help in formulating optimum remote or hybrid working conditions by assessing the various job segments and associated work hours of a professional and recommending strategies that maximize productivity while minimizing any adverse impact on physical and/or mental health.  This can also be replicated in case of managing a team that is geographically dispersed and operating under different COVID-19 restrictions.
Parting Thoughts
Proactively assuring and ensuring 'Employee Wellbeing' is a significant aspect of the overall equation for corporate success.  Any undesirable shift in behaviors at the workplace can be a ominous sign of simmering misgivings that can manifest at unpredictable times with the potential to seriously damaging the 'Employer Brand' in addition to critically disrupting the organizational harmony.  Consequently, it is prudent to elevate 'Workplace Wellness' to the stature of a 'Core Value' as a shining example of a progressive corporate culture that invigorates the workforce.  AI can be a positive enabler in the respective context if utilized in a sagacious manner.  Are you ready to take the leap accordingly?