Work Disrupted: Opportunity, Resilience, and Growth in the Accelerated Future of Work
Work Disrupted: Opportunity, Resilience, and Growth in the Accelerated Future of Work
Author: Jeff Schwartz and Suzanne Riss
Review by: Adele Swan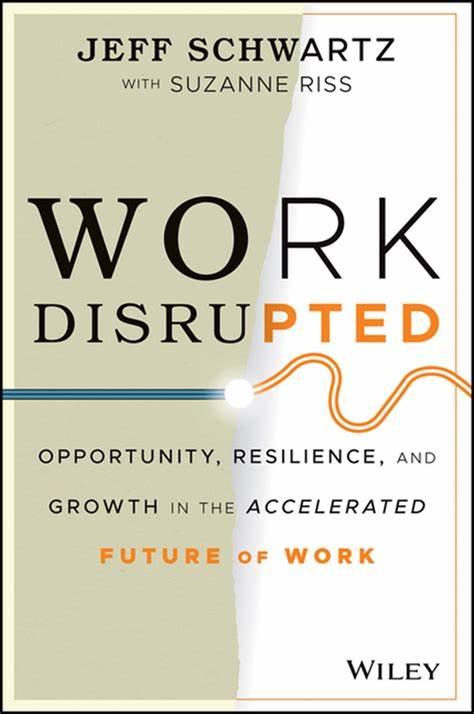 A question which is on the minds of millions at the moment is how to adapt to the rapidly changing world of work. The global pandemic accelerated some mega trends which would otherwise have taken years. Virtually overnight companies transitioned from predominately in person, 9-6 type firms to remote workers who had to juggle caring responsibilities with work. At the same time technology came even more strongly to the fore and will play a key role in the accelerated future of work.
Every individual is rethinking whether this altered world is something they want to be part of and indeed research by Ernst Young in mid 2022 showed 43% of people were looking to leave their job in the next 12 months[1] and McKinsey research around a similar time showed that some people giving up work decided not to return, instead opting to retire, take on caring responsibilities or join the Gig economy[i].
But for those workers unwilling or unable to opt out, the challenge will be how to navigate this altered world of work. And companies, faced with tighter labour markets, will need to work out how to enable this.
Written by Jeff Schwartz who leads Deloitte's Future of Work practice and Suzanne Riss, Work Disrupted – Opportunity, Resilience and Growth in the Accelerated Future of Work aims to help us make sense of the future.
Schwartz promises to act as our modern day Sherpa or guide, assisting us to successfully navigate a sometimes bewildering landscape.
In part 1 of the book, Schwartz covers some of the changes which were happening pre-pandemic but which have been given a big boost forward. Integrating AI into our workplaces, alternative work such as the gig economy and working any time, any place are all discussed. How we work with machines instead of raging against them is debated and the author gives some examples of where this has happened successfully in what he describes as the "amplification" of human potential. He gives the example of healthcare in the US where the woebot has made CBT accessible to a much wider range of people and now handles 1-2million messages per week. He also describes "superjobs" which combines what machines do best by automating some routine work hence freeing up time for humans to do activity using what he describes as core capabilities for the future- curiosity, creativity and empathy.
Schwartz also explores the concept of multi-dimensional careers – "the education/ work/ retirement model is becoming increasingly defunct as we live and work for longer." A theme we keep returning to is the importance of lifelong learning and work as core and complementary capabilities " writes Schwartz. Just as our need to keep learning and adapting to stay relevant is a key takeaway from the book, the good news is that learning is becoming ever more accessible through platforms such as LinkedIn Learning, TED and the Khan Academy. The authors highlights that millennials in particular are acutely aware of the need to keep learning and quotes a Glassdoor survey which states that 42% of millennials will leave a company if they don't think they are learning quickly enough.
Schwartz suggests that it will be important to integrate learning into workflow, make learning personal and flexible so they can learn when suits them and also integrated with the work of teams. And as individuals " we will all need to take responsibility for discovering ways to integrate learning throughout our lives, reinventing ourselves, and transitioning across multiple careers… reinvention will be the rule not the exception."
Schwartz and Riss round out their book by suggesting playbooks for individuals, leaders and as citizens and communities. The essence of their message can be summed up using an analogy to Etsy, the online platform, to what we all need to consider moving forward: "Each of us will benefit from developing a growth mindset, a plan that acknowledges that careers will take many twists and turns, a willingness to fold learning and reinvention into our life, and an appreciation of the the many ways to leverage technology."
Some practical tips they suggest we consider as individuals include keeping learning and developing throughout your life, continuing to grow your network and plan for a long and winding career path by developing experiences and capabilities that will help us to pivot to a new job or career in the future. They also implore us to work with the machines instead of against them and gain technical and data fluency and use dynamic platforms such as YouTube to keep up to date with technological developments.
The authors also have tips for those who lead and suggest that leaders need to focus on redefining work, not just by looking at efficiencies, but thinking about what value can be added for stakeholders such as customers, workers and communities. They also stress the importance of creating a culture of tolerance where diverse ideas are considered and where teams have the scope to both create and improve products and services.
Access to talent will also be critical to be successful and the authors argue leaders need to be able to build relationships across the entire talent ecosystem to be able to access talent and create opportunities for people to move in and out of organisations effectively. It will also be important to build talent market places to encourage internal mobility once workers are within an organisation.
Finally, Schwartz and Riss call for societal change to reflect the changing reality – for example by reviewing employment laws, protections and benefits to reflect the 100 year life, reviewing investments in education rather than it all being "front loaded" to the earlier stages of peoples' lives to allow for life long learning and the establishment of "transition nets" to support people over longer lives with multiple work and education moves.
As individuals, organisations and society adapt to a post pandemic work of work, and navigate shifting trends such as the war for talent, quiet quitting and the great resignation/rethink, this book provides great food for thought and practical tips on how to thrive in the future of work.
[1] EY Work Reimagined Survey 2022
[i] McKinsey Talent podcast – How can we turn the great resignation into the great attraction?
Published by Wiley
Adele Swan, Global Head of Talent, Leadership and DEI at First Sentier Investors