Walking the Talk
Walking the Talk
Author: Carolyn Taylor
Review by: Graham White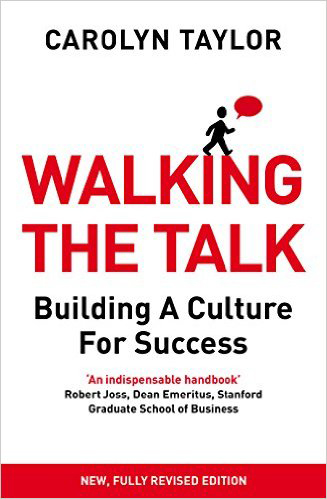 It is now a clear global requirement of organisations to ascertain the impact their culture is having on their business performance. Being able to determine whether your culture is part of the problem or part of the solution is now a critical executive competence. However, it is clear from the level of high-profile corporate failures across Europe and North America that such ability remains atypical among our corporate leaders.
And so it is thrilling to be able to recommend a resource that promises to present in its chapters a clear roadmap that sets out the journey all organisations big or small will need to take if they truly seek to align their organisation onto a new pathway of success. Built on the foundation of wide experience, lengthy research and in-depth analysis, this book answers the questions you have not even realised you need to ask. And if that was not enough it also carries the corporate scars of an author who has learnt as much from research as they have from the University of Hard Knocks.
If asked what is my single most important influence from this book, it must be the ability of the author to embed in her writing an energy and animation that has taken her words and
turned them into a living and breathing guide that gets inside you, under your skin and acts like a generator boosting your thought processes, inspiring your imagination and setting you free from historical constraints that have limited your potential thus far.
I found the book became almost un-put-down-able. From the first pages I was drawn into a journey that took me from preparation and planning in a flash, and from implementation to review
without a break. I enjoyed the examples and case studies immensely and find myself re-reading some of these more than once, which I think was always the intention of the author. Without spoiling the book for prospective readers, I commend the case study example of Rose. The simplicity of her solution contrasted with the significance of its success for her department and
exemplifies the whole purpose of the theme "walking the talk".
I had a perpetual smile on my face reading of this book and that smile returns every time I recall the many practical examples it used to get its message across. The energy and enthusiasm of the writer guarantee you will be enthralled, but I also believe it will become a well worked and regularly looked at resource for anyone setting out on the journey to change the culture of their organisation.
In the spirit of a good book review I should identify the aspects of the book that I disliked however it is difficult as I struggle to find any obvious objections. One aspect might be the over-emphasis on customer references, which could inadvertently deter some organisations such as the public sector from feeling the book is totally relevant, although it is clear we all aspire to have a customer-centric public sector in future.
I conclude by recommending this book without any reservations, as all who seek commercial and business success now accept that people and culture are the two mechanisms by which such success will be achieved. This book presents the reader with the knowledge that explains how culture works and the techniques to put that knowledge into practice.
Graham White, Retired HR Director
Published by Random House