Value Creation Through Executive Development
Value Creation Through Executive Development
Author: Solomon Akrofi
Review by: Graham White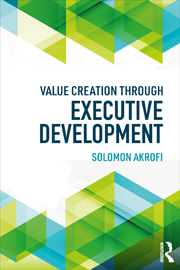 Social media, Online shopping, AirBnB, and Uber to name but a few are all now seen as the norm in our society. In less than a decade we have seen the face of industry and commerce change to a point where it is unrecognisable from where it might have been a matter of years ago. Looking ahead, our global economy faces still further and more radical change coming at
a pace yet unseen. As organisations interact with digital disruption and a regular flow of aspiring starts-ups embrace this new period of continuous change the evolving business models that have stood the test of time for the last few decades are crumbling under this new era where the rules of business have changed forever. Driverless cars, drone deliveries, AI and facial recognition interviewing analysis are all just around the corner, yet we continue to pay lip service to outdated and ineffective development practices that have never really kept pace with technology never mind led it. Whilst I accept that executives must continue to have superior management skills to run their organisations that include excellent leadership qualities, people skills and the ability to read situations and influence people the breadth of skills required in this new and fast paced global economy it is not enough, they also need a new set of competencies and skills base from which to lead their changing organisations. Finally, we have a publication which accepts many executive development programs fail to deliver
what they should, and so do not create the value they could.
In his book "Value Creation Through Executive Development" Solomon Akrofi introduces the reader to a concept as yet undeveloped as he has forges the undeniable link between the successful development of long-term value and growth in organisations and the extent to which organisations ensure they have an executive cohort with the ability to conceive and implement successful strategic initiatives. Whilst many will say this has long been understood the compelling power of this book; in fact its most compelling truth; is the realisation that "today's volatile, uncertain, complex and ambiguous (VUCA) and rapidly evolving digital economic landscape" presents a new, never before seen management landscape riddled with an
undulating business terrain peppered with unique traps and unconquered snares that require modern executives to embrace a new pace and a new urgency when reviewing their need for a changing capability and skills base. Gone are the days when one might believe the adage that "I have arrived" when the badge of executive is pinned on your job description. Past success can no longer be a guarantee of future potential as the capability requirements in organisations in future will become an evolving and changing recipe of value drivers required
for long-term sustainability if not survival.
This well written and impeccably researched book looks to deliver a solution to the challenge of how you can ensure that the commitment and focus on executive development is the stimulus that will result in your organisation achieving the necessary change in its approach that will revisit how value and growth are required to remain viable in a new and ever changing worldwide economy. We have all listened to the mantra that people don't like change. Many will have struggled with change programmes that have been hard to implement and relied on the excuse that people resisting change do so because they prefer the status quo. And yet, if we are honest with ourselves and acknowledge that we're talking about workforces
made up solely of humans it's unrealistic to apportion blame to the very species that is the living embodiment of survival of the fittest.
As leaders of organisations, executives lead workforces that have adapted since creation. Living in extremes deserts to subarctic, from remote isolated settlements to gigantic cities we have workforces that can work in mines that are miles underground or in space stations that are thousands of miles from earth. The reality is that we need to develop learning processes and
development models for our executives that are just as adaptable and mirror the very nature of the changing organisations they are designed to help.
By securing the DNA link that bonds executive development and value creation together this book looks to map out these exciting learning processes and development models into a new set of proficiencies for the future cadres of executives in a way that ensures these are finally recognised as credible and meaningful assets to be measured, developed and regularly
redefined as strategic assets of real value that will play a vital part in delivering organisational success.
Simply put there is now within the pages of this book a set of ideas, models and plans that potentially offer the reader a well-designed and graphically portrayed road map that, if you accept the link between executive development and long-term organisational value and growth presents you with a clearly structured approach that will assist you in determining the
size of the capability gap and the necessary actions required to bridge it.
Solomon Akrofi's book has a "eureka" moment in almost every chapter. The scene is set early as the book acknowledges the frustration felt by so many of us as management development professionals at the lack of value-adding executive development programmes. As you read the early chapters you can almost feel the writer joining you in your frustration at the hubris of
the development industries inability or refusal to differentiate strategic executive development from management development. Relying on known, simple and well understood challenges such as short tenure, work scheduling and overall size of executive cadres the book takes you on a journey that at times you feel should be a blinding flash of the obvious yet you cannot fathom why you have failed to grasp it until this point.
Whilst I would never want to spoil the book for the reader by revealing too much of its actual content, and while it is always invidious to describe any work as definitive, I cannot see how chapter four of this book can ever be outdone or over shadowed. By finally euthanising the belief that there is a mystical "magic bullet" in the training ether that offers a one size
fits all solution for any training need. The book accepts if not establishes finally that organisational development is a unique and specific provision that is not picked from a shelf but rather created from the maturing values and behaviours of individual organisations and is significantly influenced by issues such as size, age and market sector.
The compelling power of this book, indeed its epic achievement is its ability to capture in seven chapters a professional resource for those tasked to provide executive and management development programmes. The information, guidance, advice and research provides to the reader a powerhouse of a resource that is so well designed that it will work as a catalyst that
will either invisibly integrate the material into existing programmes or help in the creation of a whole new approach. I challenge anyone who reads this book to accept your current approach to executive development, I believe the book will influence a move to adapt and remodel older methodologies into new bespoke organisationally specific programmes that are much more likely to have the capacity to influence the tactical, operational and strategic dimensions of organisational performance.
Value Creation through Executive Development is compulsory reading for anyone on the journey of reconsidering the capability of their executive team. Whilst every organisation is facing the need to evolve and revitalise its innovative capacity this book sets the reader a challenge in the face of ever-increasing disruptive change. Do your executives see themselves as the driving force that is ensuring the internal entrepreneurial capacity of their organisation remains a priority? Does your executive add real organisational value by facilitating a
structured approach to added value?
I have lost count of the number of books I have read on leadership development, so it is pleasing to be able to recommend a new addition to the already full library by saying Solomon Akrofi has written a book that is a real page turner. This publication will compel any objective reader to revisit their perceptions around how and why we develop our executive teams. In a well-structured narrative the writer has produced an enjoyable read that is both engaging yet authoritative in its demands on the reader. The books has a wealth of supporting information with almost unlimited access to references from a wide range of global case studies and previously published sources making this not only a practical book for its target audience of those involved in executive development but also providing textbook quality research for those in academia looking to inspire the next generation of organisational design specialists.
Graham White, Retired HR Director