Unleashing Capacity – The Hidden Human Resources
Unleashing Capacity – The Hidden Human Resources
Author: Rita Trehan
Review by: Derek Draper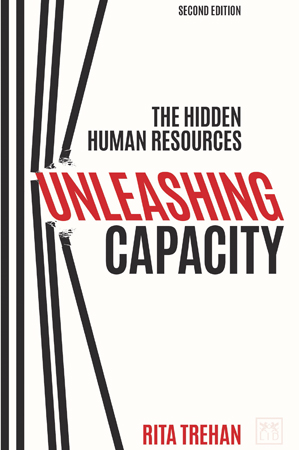 When I coach senior Human Resource leaders the subject of how other leaders in their business perceive HR is a concern shared by many. Is HR involved in the key strategic decisions or an afterthought to bring on board once they have been taken? My experience is that what this often comes down to is how close the HRD is to the CEO. But it shouldn't be that the people function's influence is down to the strength of that particular dyad. HR deserves a seat at the top table like anyone else, more so when one takes into account the vital role of talent within any serious business.
That is why this book is so useful. I would actually go further and say it is vital reading for any ambitious HR professional at any level. For in these 200 pages Rita Trehan, a former CHRO who now works as a consultant to companies from start-ups to the Fortune 200, sets out in a detailed, practical – and above all – strategic way how to not only
earn your seat at the top table, but how to really add value when you get there.
Her focus throughout the book is on setting out how HR leaders have to contribute as internal consultants (what she calls Capacity HR) not merely as functional operators. The latter are
interchangeable, the former can (if they play it right) become indispensable. Along the way she addresses the vital issue of transformation, how to break down silos and the importance of having the right mindset. She also deals with AI and global politics, but always in a practical 'what does this mean for you?' way. One of the best sections are quotes from a Stanford survey on CEOs attitudes to HR. It makes sobering reading. I really liked her insistence that 'HR is a license to explore' and that HR needs to be a change generator not just a change manager. I also loved how she outlined her family background and her early influences as we at CDP believe they are crucial to how people lead. I just wished that section had come at the beginning not the end – maybe a suggestion for the third edition!
Her key advice is that HR leaders have to become enmeshed and informed about the whole company, not just it's people. We know that HR business partners are now de rigeur and that they are supposed to be commercially minded. But how many really understand the dynamics and drivers of their business. How many could talk in an informed way about the challenges facing the supply chain function, or the CIO's function. Come to that, how many CHRO's could?
I worked with a HRD once who felt she wasn't taken too seriously by her management board colleagues. When I took confidential feedback on her the reason was clear. As the CFO told me bluntly, 'she never has anything to say about finance, or any other function for that matter. She adds in her insights about people – which are good – but that's not enough'. She was stuck being a functional leader not a lateral one. The truth is she didn't really have the interest to find out more and contribute at that level. She'd effectively glazed in her own glass ceiling, and then banged on it in frustration, but with her narrow mindset she was never going to have a great impact in her current role, and I don't think she's got much chance of getting the bigger, global role she'd always wanted either. Maybe 20 years ago but not now.
It could however be different for you, especially if you are nearer the beginning of your HR career. Firstly you must have, or develop the curiosity to really understand your business. If you have that, then work your way through this book. Build your capacity and the capacity of your business, and they'll be begging you to pull up that top table chair, and that will be just the beginning.
Derek Draper – chief executive of CDP Leadership Consultants