The Team Coaching Toolkit – 55 Tools & Techniques for Building Brilliant Teams
The Team Coaching Toolkit – 55 Tools & Techniques for Building Brilliant Teams
Author: Tony Llewellyn
Review by: Su Askew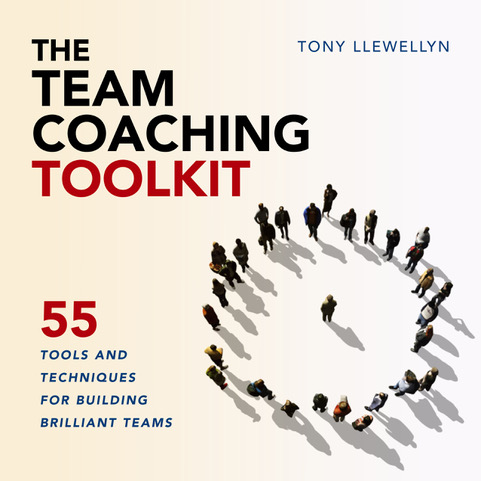 Tony Llewellyn is reassuringly an experienced and knowledgeable professional. He is using this book to share his considerable understanding of people and team dynamics in the most accessible way. Reflecting on the changing business environments and how teams and organisations need to adapt for the future.
Many of us, and I suspect many of his audience, are likely to be very familiar with the 'forming, storming, norming and performing' concept defined by Bruce Tuckman in 1965; Llewellyn weaves new norms with the use of soft skills development, both tactical and strategic tools, injecting the idea that we can act on these stages of team development.
The tools here are in the main activities and exercises that you can conduct with your own teams. They are very practical and are set out in a way that allows you to facilitate yourself. Perhaps you can use them all, or perhaps you have something specific you need to fix in your team – there is certainly a method for all team challenges in this book.
We are all likely to have experienced that it takes certain elements and time to build great functioning teams. You can rest assured that the content of this book is built upon very strong foundations, linked to experience and examples with a wide variety of high calibre collaborators and resources.
For most managers, we are propelled from the success of our current role into that of a team leader, sometimes with little or no training and mixed experience. Very often these teams are already formed, at least in part. In my experience it's rare that people have an opportunity to build a team from scratch. If we could, would we know where to start? Naturally this type of opportunity is possible in many Project management roles – building teams for purpose and efficiency, looking at a new way for getting to the objective successfully. So Lewellyn is well placed with his contributors to demonstrate how this works.
Coaching is a growing industry – this is leading to confusion. I have been asked 'are you a coach – like a real coach'? I'm interested by this and Llewellyn does a good job of framing what's going on. There are differences between an 'executive coach' and a 'team coach' and there are a number of qualifications you can embark on, however if you don't have these you can still be a coach.
First, he lists the 10 techniques to use, neatly arranged with an easy to follow flow. The optimal number of tips I think! Thoughtful new ways to engage and implement initiatives in a team. Anyone stuck in a bit of a rut looking to energise the way they communicate and conduct discussion will find a rich resource here.
The heart of the book is of course the 55 tools – this seem like a daunting number AND there are a lot, I imagined being lost in the tools aisle of B&Q with not a member of staff in sight!
For those with a short attention span (me) they will benefit from this being broken down in to the stages which you need to use then.
You can expect a dearth of ideas that you can strategically or tactically use in your team work. Foundational work like setting expectations. Ideas about how to manage project timelines and objectives, including guidance on how to create a mindset of curiosity.
Particularly illuminating for me was the use of influential questioning, an artful solution to moving conversation along. Split in to something we can tackle and master with compliance and involvement.
He's tackled 'Agile'!! Grounding us in what it means will then allow anyone of us to have an Agile Mindset. Leadership and indeed management is a fixed set of managerial tools and processes for the micro-management of tasks and actions – OK that's a cliché, however many managers that I train perceive that this is what effective management is really like, management moves to leadership. Agile suggests you prioritise personal interaction over processes and tools.
Some of these activities require time and buy in from stakeholders and all team members – that could be the biggest challenge in implementing the toolkit and getting great results.
As the reader progresses the team coaching model it's time to communicate and build resilience, in a team there is a great resource for those with established teams in pain, and there are more great activities to help create vision, motivation, feedback, bonding and tacking team conflict or behaviour issues.
As with any type of new way of working or thinking there is always initially heaps of energy and good adoption and this tapers off, perhaps inevitably possibly because a new leader joins, or budgets are cut. Llewellyn gives a refreshing approach to continually improving and learning as the teams move forward.
Something about this book that really rang true with me was that everybody can become a coach. There are many qualifications that you can take that will help you develop, own and master coaching skills. What you can get from this book is that you don't have to gain those qualifications to have an impact on the team you can do that from a standing start, from the get go on your own, because you have something to offer your teams. With this toolkit you can implement inspire and interact with your team to get the best from them. Not something that requires HR coming in on your behalf. You'll be able to return to this book again and again and still find something new….
Su Askew – ValueSelling Associates