Soft Skills Hard Results – A Practical Guide to People Skills for Analytical Leaders
Soft Skills Hard Results – A Practical Guide to People Skills for Analytical Leaders
Author: Anne Taylor
Review by: Graham White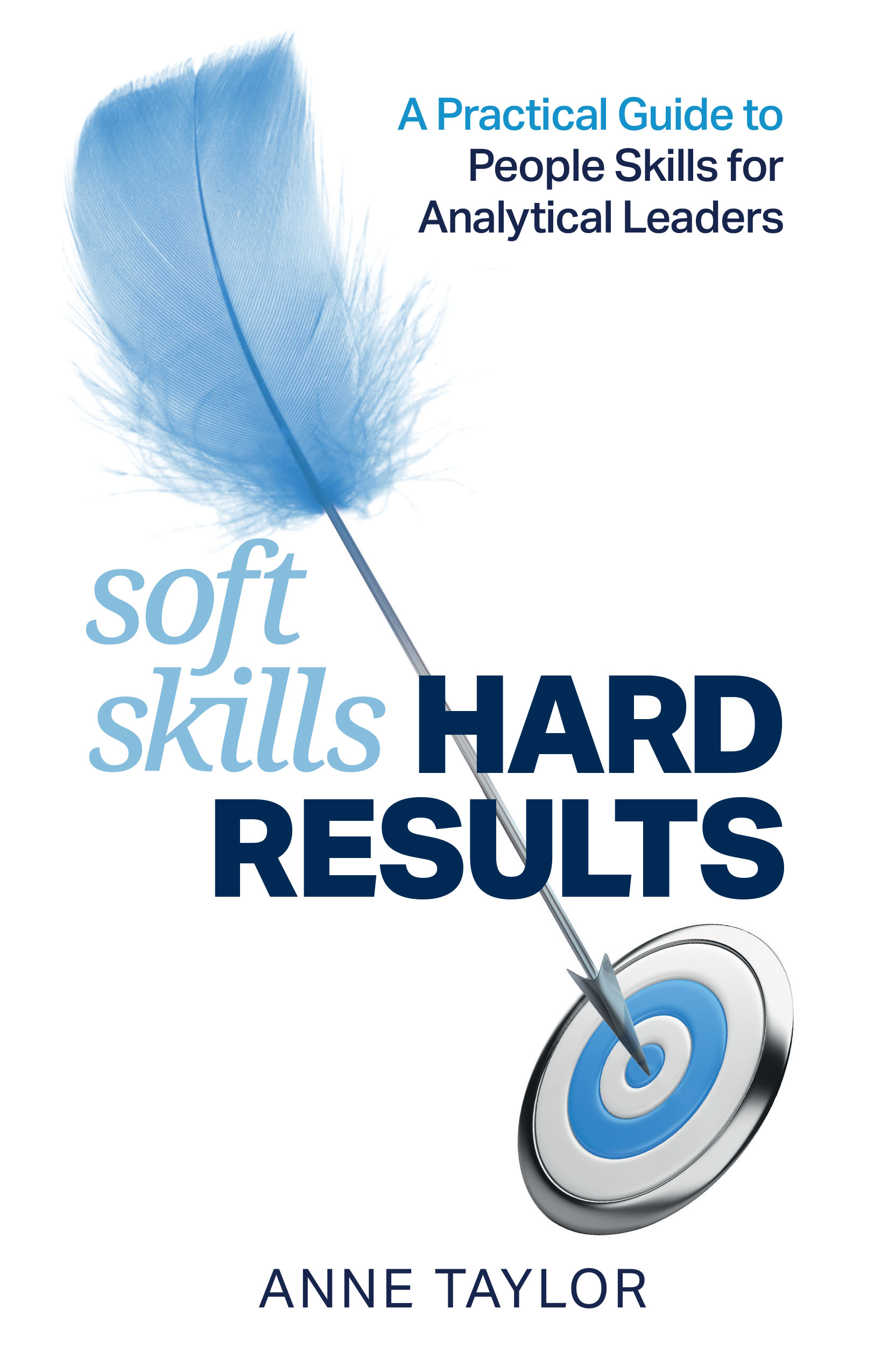 Having flown weekly as part of my job for almost twenty years I have spent an inordinate amount of time in airport bookshops, business lounges and waiting areas either perusing or reading business books about leadership, self-improvement, coaching, mentoring and strategic planning to name but a few. However whilst I cannot actually remember how many books I have read on my weekly commutes through two decades in most of London's airports I am absolutely certain I have never read a book until now that included in its introductory notes to readers the statement that " There are no revolutionary new ideas in this book," Most, if not all of the business books I have read until now said the complete opposite, they each declared in their own way that their pages held the, as yet undiscovered, unique holy grail of business success and that all I needed to do was buy the book and my world would turn upside down. The problem was that whilst I bought many of those books, I rarely found that the percentage of purchases was equally matched by the number of times my world inverted.
So, to be asked to review a book that claimed almost from the beginning to be "a practical guide to understanding and using people skills (or soft skills) in the workplace (and outside work if you want)" that made no special promise of new content presented me with a new and interesting challenge. However, I want to say from the outset that this book is a Pandora's Box of new thinking, new perspectives, and new awareness. I am certain that every reader will both enjoy and benefit from reading this book, Anne Taylor's book "Soft Skills Hard Results" is a brilliantly yet simply written book that will embarrass you and inspire you in equal measure. Taking many of the principles that we all already know and understand this book shatters our most deeply held convictions about how well we know ourselves and our people skills and their impact on our workforces and will help us explore our past successes along with some misguided failures and most importantly the writer has a rare gift of making complicated ideas come alive in a way that will ensure the return on investment of our people skills (or soft skills) in the workplace will deliver a dividend greater than we could ever imagine.
As you begin to read this book you find yourself looking both forwards and backwards. simultaneously, you see yourself looking at how you were managed and how you plan to manage others in future. You start to catalogue your own soft skills as you create mental lists of your interpersonal people skills, social skills, communication skills, character traits, attitudes, career attributes and even possibly your emotional intelligence quotient hoping as you read that you don't see yourself in the wonderful and graphical illustrations that bring this book alive. You then immediately look forward as you are stopped in your tracks with Anne Taylor's wakeup call of the future demands of leadership post 2020. Clinging to the hope that you already have at least some of these desirable qualities that do not depend on acquired knowledge you set off into the heart of this book earnestly searching for the additional skills and advice that you know you need that will give you the ability to deal with people positively.
Before we explore the essence of this book it is always good to begin with a sound understanding of its structure. The configuration of the book is very symmetrical. As you read through the book you quickly realise that the writer's ten principles of soft skills are a personal, if not unique set of principles that I have never seen collated in this fashion before. Whilst the opening declaration by Anne Taylor of "no new revolutionary ideas" may be factually correct the use of language in a graphical story-telling style ensures these principles feel new, exciting, and relevant to today's workplace. Sitting within this set of principles are a four-section quadrant model that takes you from inside to outside and then between and beyond. It is designed to be as practical as possible, and I believe its use of illustrations, examples and graphic models will maximise readers understanding and its repetitive yet discrete used of bullet points will ensure the readers retention of learning is high.
In an ironic twist I discovered that the principle that was most impactful for me was not from the quadrant that I found most challenging. It is not my style to give away the heart of a book because I want readers to have the same exciting journey I have had but it would be amiss of me not to forewarn readers of the encounter that awaits them as they enter the first quadrant of the publication. In an experience reminiscent of those heady days of the 1990's when many of us worked through the exciting Lou Tice "Investment In Excellence" programme this first quadrant of the book sent me tumbling into self-awareness as I had to "collate", "harvest" and "unearth" my real self and real values. As with any such approach when we focus on ourselves, rather than our environment we are compelled to compare ourselves with our declared and practiced standards of correctness.
As you progress through this section of the book you will find yourself building the future foundation of how you think, feel, and behave. The setting and order of the four quadrants is clearly no mistake as the writer has deliberately stepped out a pattern of learning that lets you review and assess what you think is important today whilst also helping you overlay that thinking onto the learning that will ultimately help you create a model for how you ought to think, feel, and behave. Only after you have successfully navigated this first section of the book is it viable for the reader to progress and I would say it may take more than one read to get yourself in a place where you are ready to face the rest of the journey carrying with you what the writer calls your "soft skills tool bag". As you finish this part of the book and use the challenge sections provided you will find yourself ready to review your values and beliefs as the rest of the book opened up your thinking and your understanding of this effective business tool.
Alongside this experience I believe each reader will have an exciting journey through each of the ten principles. For me principle eight remains the most impactful as I endeavoured to better understand the linkage between courage and vulnerability. But I don't want to reveal anymore as the construction of the book is clearly designed to take you on a journey of awareness if not awakening so I will let you find out more about that linkage when you read it yourself. However, let me say the provision of challenges at the end of each chapter gives the book an uncomfortable edge that is a cross between not being able to put it down and a little worried to pick it up again.
Whilst a book review is supposed to contain both pros and cons of a publication, I struggled to find anything I would change or even re-order. I am confident that from the introduction to the final notes to readers this book will lay out the facts for why soft skills deliver hard results in a manner that will leave readers in no doubt as to its authenticity and its value as a working tool that will sit best on your desk rather than on your bookshelf. The COIN feedback model is a prime example of one of the parts of the book that will be read and re-read as manager rely on it as an ad memoire for a range of meetings they hold.
I believe "Soft Skills Hard Results" has the potential to be the hidden ingredient for success in an era that is seeing Covid 19, AI and digitisation revolutionising the experience we call work. This book is an approach of deeply focused, value-added thinking and sharing. It contains a very personal process of creativity that combines the writers own learning with the evolving world of emotional intelligence and collaboration.
Anne Taylor has laid out what I consider to be a visionary framework for anyone who cares about people-based results. For those who want to get things done, who desire success and who understand that analytical leadership is no longer enough to guarantee business success this book provides a solution. This publication establishes the route map that answers the far-reaching question at the heart of effective employee engagement. For all who want to engage, motivate, and inspire their teams this book offers a genuine solution. Through vivid examples, Anne Taylor delineates the ten crucial principles of soft skills, and shows how they can critically determine success in relationships, work, and even our own physical well-being. I highly recommend this book for anyone seeking to capitalise on an engaged workforce and high advocacy levels.
Published by Practical Inspiration Publishing
Graham White, Retired HR Director