Smart Leadership: The Ultimate Handbook for Great Leaders
Smart Leadership: The Ultimate Handbook for Great Leaders
Author: Jo Owen
Review by: Monique Vander Eyken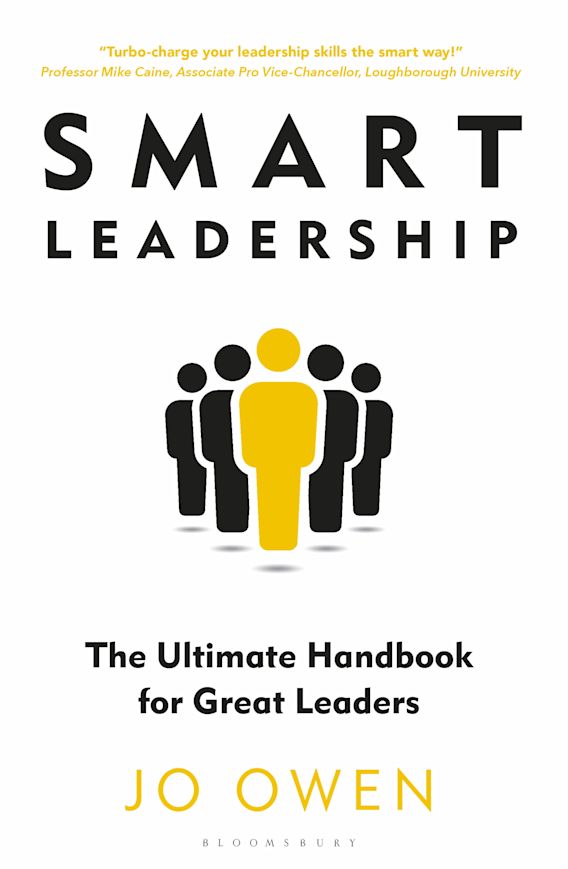 How many leadership books have you read that just didn't do it for you? They talk about theory and not always about real-life situations and ways to deal with reality and not portraying a perfect world. This book is intended to be your personal bookshelf coach to help you structure and accelerate your journey to successful leadership as it focuses on best practices, not on management theory.
Why do we need leaders if everyone just does their job, they can succeed, can't they? Leaders take people where they would not have got by themselves, they need direction, they need the why and how to get there, that means they don't just make incremental improvements, they imagine and implement whole new ways of doing things.
Jo Owen takes leadership as it should be and reiterates that leadership is about what you do, not about your title. In the recent years, the workplace has changed dramatically especially with the hybrid working and WFH (working from home) which has forced leaders to raise their game, because everything is harder when you cannot see and talk to your team all the time: even the basics of communicating, goal setting and delegating become harder. This is good news: if you can lead a remote team, you can lead any team. We all know that even companies are now trying to get workers back to the office just to get that face-to-face interaction. You can be the best boss and have the best employees but if you never see each other, it really becomes quite challenging.
Owen describes it well when he states that instead of working with today's reality, leaders challenge today's reality. They want to create the future, not sustain the past. Leadership is not just a skill set; it is a mindset. When you believe in your mission, you become a hard force to stop.
Sometimes as a leader, I especially found it hard to stay positive given the many challenges we face on a daily basis. "Being optimistic and pessimistic is about how we react to the world. We cannot control the world, but we can control how we react to it. We can choose how we react: that means we can choose to have a positive or negative outlook on life". I had to reread this reality a couple of times to really let it sink deep inside and realize this statement is so true.
A good leader finds the courage to deal with unfamiliar situations where you lack the experience or skills to succeed. The more you practise, the more the unfamiliar becomes familiar. Practise and mastery turn a risky event into a routine event. What looks brave to others will be second nature to you. You will have learned courage.
Owen explains the RAMP model as an easy way to rate your current situation and see where you might want to improve. Relationships, autonomy and mastery are largely self-explanatory. Perhaps the most important and most challenging part of the RAMP model is purpose, which is explored in the book.
As a leader, you have to take responsibility and that includes taking responsibility for how you feel, how you act and how you behave. Your motivation is your responsibility: create or find the conditions where your intrinsic motivation can flourish. How can you motivate others if you do not feel motivated yourself.
The good news is that we live in an era of high autonomy. Autonomy and accountability march hand in hand. More autonomy leads to more accountability. It is better to have a difficult conversation about expectations at the start, than to have an impossible conversation about results at the end. Learn to lean into accountability by setting yourself up for success.
A consistent theme of this book is that in today's world you have to become the leader people want to follow, not the leader they have to follow. What's the old saying… people don't leave the company they leave their manager.
The key insight is that you do not need to be popular: you need to be trusted and respected. Popularity leads to weakness because it means you always compromise: you accept excuses about why deadlines should be extended and goals reduced. When you accept excuses, you accept failure.
Part of being trusted and respected is also listening which is not about waiting to make your point while ignoring what they say. It is active listening, so that you understand their views properly. The test of active listening is to paraphrase, or summarize, what they have just said. This is written in a lot of leadership books, make sure you truly understand what they are saying.
Once the team really understands the goal, they can take ownership of it and they can proceed without having to refer back to you the whole time to ensure that they are still on track. Encourage your team to air their concerns, ask questions and examine their options.
Owen explains that positive feedback is how your team will learn from success. Leaders tend to treat success as normal. It is not. Whenever something goes right, it is the result of hard work and people doing something well. Make sure that they learn from each success, so that success becomes a habit. Trust is the currency of informal power and influence in any organization. If you are not trusted, you cannot succeed.
Owen states the fact that 67 per cent of leaders think that they are good at motivation. The bad news is that only 32 per cent of followers think that their bosses are any good at motivation. There is a motivation gap between reality and perception. Are you that leader that believes something that just isn't there? These are true facts and as leaders we need to be authentic with everyone.
With the right conditions in place, the right team will be intrinsically motivated to perform. That means your job is not to inspire and motivate them. Your job is to avoid demotivating them.
A good leader knows that people value the discovered truth more than they believe the dictated truth. If you tell someone the answer they may or may not believe it. If they work the answer out for themselves, they will believe it completely. This means they will be committed to making the solution work. They will identify solutions to problems and overcome problems without always having to delegate problems back up to you. Helping people discover the truth takes more time at the start, but saves much more time when it comes to making it happen.
Owen asked groups how they have learned to lead. They were given six options and let them pick the two most important sources of learning. Which sources would you pick: ● Books ● Courses ● Bosses (good and bad lessons) ● Role models (inside or outside work) ● Colleagues/peers ● Experience.
Mostly no one chose books or courses, they mostly focused on personal experiences. That means that their leader has a lot more influence then sometimes we think.
Your career progress and survival depend on your ability to keep on learning. You have to keep on re-inventing yourself. Take control of your career. Just as every leader is different, so is every career. Each of us are on a unique journey of a lifetime. It will have highs and lows, but whatever your journey is, enjoy it.
Monique Vander Eyken, HR Consultant – MVE Consulting