Redesigning the Way Work Works – Strong Opinions and Advice from 40 Years in the Business
Redesigning the Way Work Works – Strong Opinions and Advice from 40 Years in the Business
Author: Bruce Morton
Review by: Perry Timms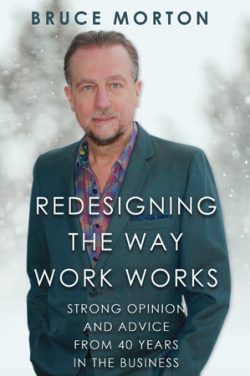 Bruce's self-published exploits and thoughts are definitely in my view of the world: So that makes me both comfortable and possibly biased about this work. I've given it my best 'open-mind' approach and also not being too critical or having expectations too harsh for someone's first written work.
I like the two characters Bruce introduces, the Work Architect chimes well with me, but I'm not so sold on the word Talentsumer to describe the person who is a talented individual at work with a consumer-like mindset about their work. I get it, I find the word a bit clunky and I'm a little at odds about consumerism being a virtuous state to be in anyway. That said, I get what Bruce has set out here. Choice (largely) in the hands of many of us. I'd have liked some referencing to those who don't appear to have that much choice though – the people who have to don fluorescent jackets, aprons, hard hats, long hours and minimum wage conditions aren't very consumer, more forced choice.
So how about the content and the stories? Will it be moving, sharp prose to set out this new world of work with variables and nuances and some huge shifts? Or more hype and over-exaggeration of the differences?
I found some cliches and over-used phraseology in this (millennial differences is very tiresome) and some spot-on accusations of the lack of adapted practices and mindsets in orthodox approaches to how people want to do their work and be treated in that pursuit.
The section on matching workers to work was interesting to me and does talk to some of the title of this work: we've very dated systems (largely) around how we currently do this with the job description construct and work allocation/demarcation. I applaud Bruce's take on this.
Deconstructing the work and companies as Talent Platforms is good modeling. It's how I have experienced a lot of the more progressive entities in work setting about their new ways to be more agile, innovative and increase the level of enterprise in their culture. As Bruce says, culture is not about collateral.
He has included some very practical steps in how to do the deconstruct and create that platform feel, so if you're looking for useful, this is very much that.
Chapter 7 – Prepare the work for workers is another good practice to adopt and Bruce sets this out coherently and usefully for the reader who now wants to be more adaptive and dynamic and this links well with his closing Chapter 9 about your brand message. Although I think it's more than brand message (and certainly not virtue signaling) it is saying to
others 'this is who we are and what we believe in'. It has to be real though, as this cannot be faked for long. Bruce's models will help others analyse and plan to make the changes
necessary that will help deliver that authentic story.
So overall, I think Bruce has created a message that we're probably all aware of. None of this is groundbreaking and new, yet he's kept to his pragmatic, hard-working roots and given us something to grapple with that is realistic and contextual for now.
It won't be Reinventing Organisations or Sapiens, but I suspect all Bruce wants, is to share his thoughts on how organisations can be more ready for the work and the people of now, and the immediate future. In this respect, I think he's done a sound job and for a pretty quick, and easily absorbed series of messages and provocations, it won't take readers long to get to grips with that.
Perry Timms, Founder and Chief Energy Officer, PTHR,
HR Most Influential Thinker 2017 & 2018, Author: Transformational HR, Adjunct Faculty – Hult International Business School