The Power of Difference: Where the Complexities of Diversity and Inclusion Meet Practical Solutions
The Power of Difference: Where the Complexities of Diversity and Inclusion Meet Practical Solutions
Author: Simon Fanshawe
Review by: Jane Williams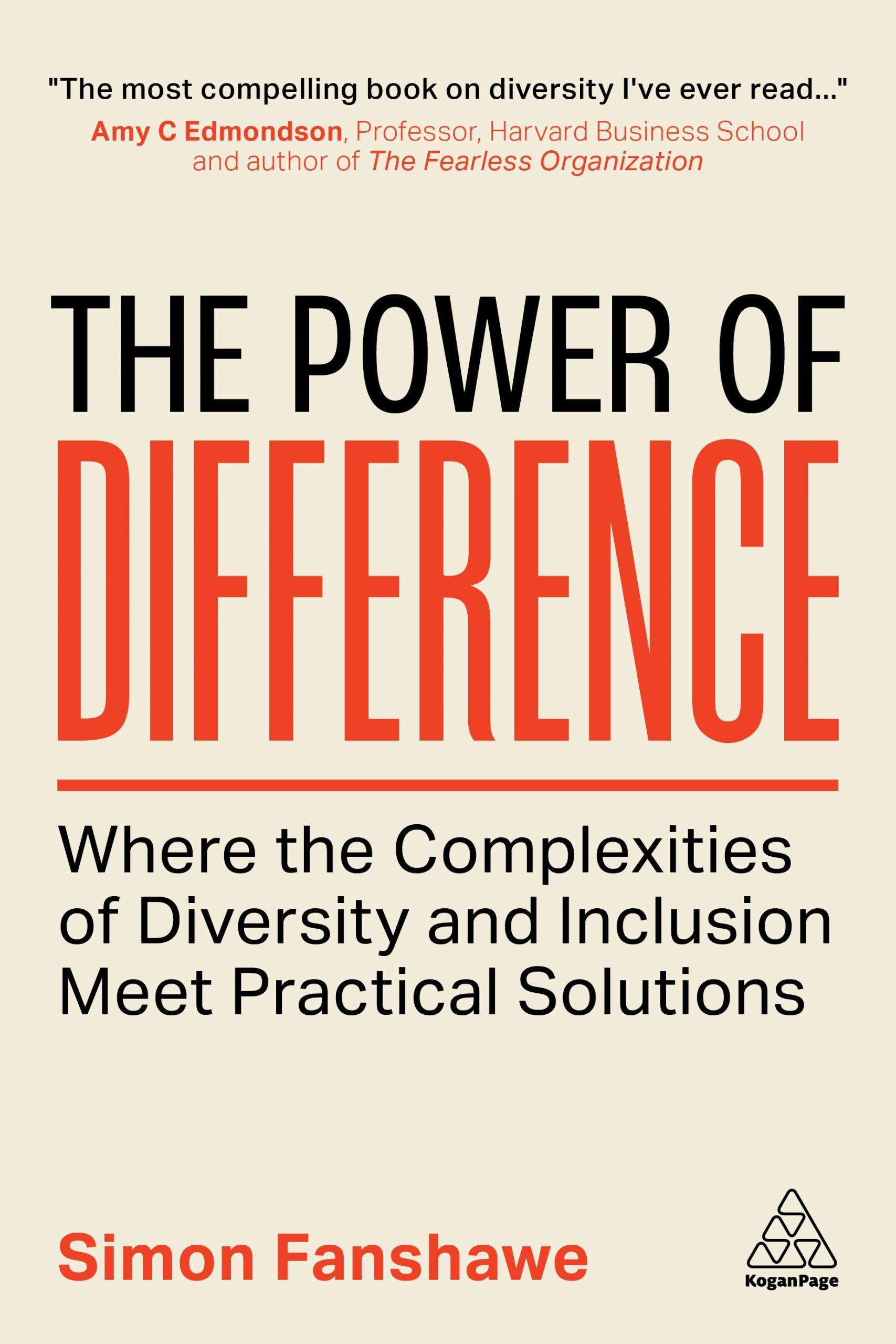 Nearly all book carry recommendations to persuade the readers as to their significance and enjoyment.   This book is described as 'The most compelling book on diversity I've ever read' by a Harvard Professor on the front cover.  Then 'Where the complexity of diversity and inclusion meet  practical solutions'.   These comments intrigue and entice straightaway because should these be correct then the content may well guide the reader how develop a more inclusive workforce, a current key challenge for leadership professionals.
The world population continues to expand, people move to more affluent locations, joining complex entities in their search for work and to enjoy life. Harnessing this diverse energy and capabilities are widespread challenges. This book, the Power of Difference, embraces these difficulties, yet puts them firmly into context, then moves quickly forward to individual responsibility for change and practical techniques.  The thrust is to empower individuals, to overcome these differences to form a more powerful united world.
The author questions the merits of some conventional wisdoms such as unconscious bias training previously seen as the cavalry who will succeed, or the growth of the superhero CEO able to save a company as if by magic is another target. Both are viewed as abrogating responsibility. The author view this whole process of how to recruit, inspire and energise the best team from all backgrounds as creating a 'right recipe' of people to define and achieve organisational success in a more inclusive world.
For those who would like to use this as a workbook there are many practical techniques to use and an essential summary of main points at the end of each paragraph.
The author is open about his background, he is gay and outlines how feeling different affected him awaking his senses to those who feel similarly in the world. As a young person he adjusted by using this consciousness which he sensed in others to create allegiances based on recognising difference. The key to moving forward is by turning conflict positive, through exploration, understanding and reaching out through open, curious dialogue to progress. For the author this is social responsibility at its best recognising that the tricky situations we all experience from time to time are personal.
At the end of the first two chapters, he states clearly his objectives for the book including creating real inclusion, confronting bias, equipping employees to override it, redesign of processes and importantly promoting the enjoyment of managing diversity. The concept of enjoyment in our work is alluded to throughout.
Then the book moves to clear messages about what exactly does inclusivity mean i.e. it is not just about being nice to people nor is it transforming a diversity of voices into one voice. Rather encouraging productive disagreement as a core activity to make good decisions and innovate as well.  The aim for each employer is to encourage staff to bring their whole selves to work as part of a personal journey balancing personal need with company behaviour at work. There is recognition that the organisation is never static rather organic as it changes to reflect current leadership values and goals.
Chapter Three has another feisty title 'Diversity is not a minority sport' rather it wraps itself around everyone in the organisation. This signals a core chapter in the book identifying key themes for effective inclusivity strategies. For example training line managers to understand and lead those with ASD syndrome can improve communication to the whole team. The importance of performance relative to underlying context is highlighted recognising that all people may need is a chance. The link between performance and the environment in which they are achieved indicates much about the person.  Companies need to respond by valuing truly what their employees bring through recognition of who they are.  This presents an opportunity to reframe companywide their thoughts on merit and what they really value in people using this to transcend to a new company identity truly as 'we'.
Companies are encouraged to ask and answer questions as the develop by hosting seminars, bringing all voices together within the organisations to discuss and find solutions to the key issues facing the company, industry and sector.  Then everyone in the company is called to review and decide how to support one another to their talent to benefit the whole company
Chapter four has another uncompromising challenge seeing unconscious bias training as an excuse as it leaves important questions unanswered about individual responsibility for what becomes conscious bias and follow up responses.  Awareness is not enough. Further unconscious bias outcomes are seen as lacking any impact on the diversity of the workforce.
The author has a simple solution for the reader to action called RAGE:
Recognise bias, Agree it is damaging, Genuinely want to change this, and Engage actively to do so.
All of us can be biased. The key point is once this is recognised how we manage and seek to change which counts.   Most effective managers appreciate and know that they need to understand the feelings of their people.   The author stresses the importance of genuine desire to change and willingness to really engage in dialogue to find common bonds and resolution.
There is a mention of System one and System two thinking, first evolving a complex pattern of ideas, followed by the second which places them into an orderly series of steps. It is seen that this can be helpful to building inclusion.
In Chapter five there is another strong title and call to action to 'ditch the super hero' which relates to the work of Jim Collins on 'Good to Great' companies.  Jim Collins outlines how the best CEO's build a strong team around them empowering and inspiring their team to achieve their goals.  Society tends to overload superheroes with capabilities rather than relate these individuals to everyone as a source of inspiration.   These superheroes have dug deep into what they are so that they rise to the challenge.  In the author's view we all need to 'dig deep' to create inclusion, explore the complexity, overcome differences, and build shared goals to arrive at a new society.  Creating inclusion is not accidental, it calls for real work by everyone to recognise and overcome differences by finding mutuality of interests.
For companies there are recommendations that new ways are needed to recruit and promote the workforce.  This becomes a Virtuous Circle of Recruitment beginning with understanding the purpose of the team and individual roles.  Candidates can then be assessed against a particular context and role.  Diversity properly harnessed should improve the organisation, so background and life experience are important.
The application process returns to the concept of a framework for conversation.   There is no reference to online recruiting process used by many to enable any discussion.  The recommendations, includes common structured criteria, metrics, and interviews completed with fairness and rigour.  Finally, there is a suggestion to create practical, likely scenarios, as part of the process by placing a candidate in the role and testing what they do.   Whilst many of these techniques are not new, this is a timely reminder that harnessed together these give excellent information for both the employer and candidate to make successful decisions.
In the last chapter our reluctance, to embrace inclusion as our challenge, both individually and in broader society is tackled as a limiting belief.  The title says it clearly, 'diversity is not harder to manage, you only think it is'. For those of engaged full time as effective leaders and managers, getting close to people to understand their DNA, in an open minded, curious, gentle manner yet quietly prepared to disagree is a core everyday activity. The author's message is that we should use this technique more often to overcome inclusion challenges.
The author addresses perceptions that managing people with visible difference is harder than managing homogenous leaders. Racially diverse group are perceived as having more conflict than homogenous groups – greater relationship conflict. His view is that it's not managing difference that is harder it is managing well. Building those fundamental interrelationships between people which  produces the real dividends. His advice is to begin with a vision of how it could be, not where it is now, working and leading to something different.  This is really the mantra for many effective managers.
There are references to the complexity of today's challenges facing management for example the effect of a pandemic, or hybrid working etc.  For any manager at any time there are obstacles to overcome. The importance of creating psychological safety for employees is stressed as a precursor for successful change. This can be created through visioning the power of possibility to their employees, finding and outlining the best of the here and now. These techniques lay the foundations for building inclusion.
In the last paragraphs, there are references to our underlying shared humanity and mercy which lies at its heart as a counter to our fast paced, volatile, uncertain and changing world where our identity as people and individuals can be lost.   A reminder to us all to make a difference, a useful conclusion.
Returning to the recommendations on the front cover, this book does give the reader the gift of making the difficult, overcoming differences, highly possible with inspiring examples, self-belief and practical techniques. Now the baton lies with the readers to make this happen.  This book is a very worthwhile investment of time.
SHORTLISTED: Business Book Awards 2022 – Diversity, Inclusion & Equality category
Published by Kogan Page
Jane Williams, Director – People Innovation Ltd