The Midlife Review – A guide to work, wealth and wellbeing
The Midlife Review – A guide to work, wealth and wellbeing
Author: Steve Butler & Tony Watts
Review by: Chris Preston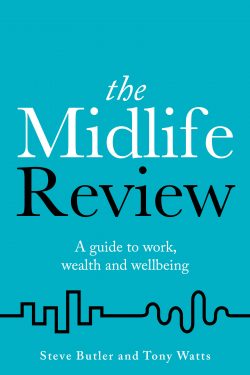 My fingers fell over themselves typing the 'me please' response to the call for a write-up of this book – for two reasons. Firstly, I had the pleasure of reviewing Steve Butler's first book – Manage the Gap – and was keen to read what is essentially 'chapter two' on the ageing workforce perspective. And, secondly… well, I'm now firmly middle aged and very much in need of a Midlife MOT (to use the book's language) myself.
Steve, with the support of Tony Watts, picks up the narrative of an aging demographic in the same engaging, positive narrative of the first book. This time, though, the focus is on how to support individuals 'of a certain age' (my phrase…) to gear up for the second stage of life. Illustrated with solid case studies and trials, the book opens up the concept of the Midlife Review and looks at the core components that are necessary to ensure it adds lasting value.
Consider this, one US-derived stat suggests that upwards of 92% of Diversity & Inclusion strategies fail to include age as a focus group. Yet all the figures indicate that the Baby-Boomer and early Gen-Xs will be a huge loss to a workforce that is rapidly seeing its well-spring of new talent dry up. People of around the 50-year-old point have a number of unique challenges and needs that, if unsupported, could result in them exiting employment early.
And, talk about timing. With the recent lockdown impact, the door to flexible working for employees hasn't just been opened, it's well and truly blown off its hinges. Attitudes are rapidly shifting around how and where people can be productive – a major factor for an older workforce that is potentially facing eldercare issues.
With the Midlife Review, organisations can broach a number of subjects with their more mature workers that have been viewed, traditionally, as areas not to discuss – either for fear of judgement/career-impact or the sensitive nature of the content. Giving people the opportunity to get input on their 'wealth, health and self' has provided highly positive results. In particular, the case studies demonstrate where, when done correctly, these conversations help retain talent and corporate knowledge that would have otherwise been lost.
Steve and Tony write in a highly pragmatic tone – there's no sensationalism or the sense of a 'peek behind the curtain'. It's facts, examples and, critically, advice. This is where the book excels. My core reviewer question of 'who is this book for' is clearly answered. Any organisation with employees that are over 45 years old should read this, and use it as the blueprint for a plan to develop their own version of the Midlife MOT.
It's also a timely read for anyone such as myself – knocking on the door of the half century – and in need of a positive nudge to think about the next leg of the journey – how I'm going to enjoy it and afford it.
Chris Preston is a culture expert and one of the founding partners of The Culture Builders