Leading through Uncertainty – Making disruptive change work for humans
Leading through Uncertainty – Making disruptive change work for humans
Author: Jude Jennison
Review by: Jo Twiselton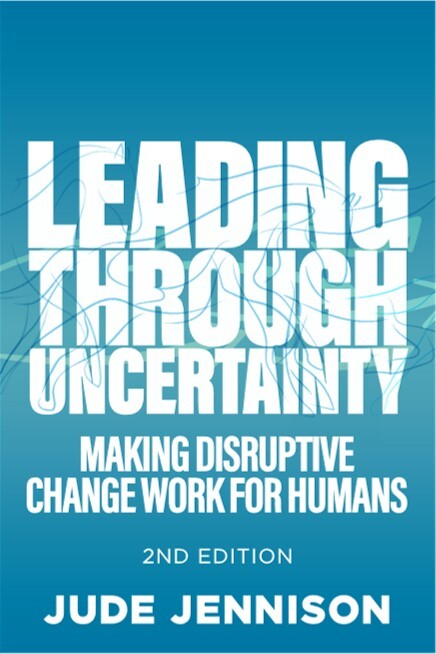 In our post-pandemic world, we're continuing to face unprecedented uncertainty and disruption. The challenge for leaders continues – in the face of even more unrelenting change, their teams are looking to them to keep providing certainty amid the chaos.  Having the skills to lead through change without suffering burnout, seeing staff turnover increase or levels of engagement plummet is a must-have.
There's so much discussion about stress, uncertainty, resilience and wellbeing right now and remembering that we are all human beings responding to the shifts we're facing, sits front and centre of this book.
This second edition of 'Leading through Uncertainty' (the first was published in 2018) considers leadership with the learnings from the pandemic firmly in mind as we face more disruptive change. But, unlike any other leadership book I've read, the author describes how she supports leadership development through horse-assisted approaches.  This approach – giving people the opportunity to increase their own self-awareness through an embodied experience – helps them develop their abilities to respond appropriately in the face of mounting uncertainty or pressure.
Whether you're a fan or sceptic of this approach, some of the transformational stories she shares make for magical reading.
The book is split into five parts. The first provides the context of uncertainty (including an insight into the author's own journey), the second, looks at our very human responses such as stress, overwhelm, fear and trauma. In the third part, she explores how leaders can lead by example, creating certainty for others and honing their abilities to adapt. The fourth part is all about the leader as team support, so building connection, trust and honing active listening skills. And finally, in part five in a section called 'Who's got your back?' the importance of support for leaders themselves is considered in depth.
She explores a host of topics throughout the book which will sound familiar to any leader in any organisation or sector, as very real challenges we're all facing right now. From leading confidently, even when you don't have all the answers, to making sure we keep a focus on humans and human connection and how we bear in mind that despite all the technology we now have available, we are not machines.
At the end of each of the chapters, she provides summaries and a set of questions, inviting readers to create their own agenda for change. She also provides an online workbook to record reflections, making this a very practical read.
If you're looking for a book that considers how to navigate change using data and intellect, then this isn't for you. Instead, this puts the spotlight firmly on emotions, connection and how we create positive spaces for leaders and their teams.
Jennison's style is gentle, compassionate but assertive and her book is a brilliant mix of story-telling, anecdote and critical perspectives.
It's packed with practical ideas that leaders can consider and use to make the most of the opportunities we have available, even when things are so uncertain
Published by Practical Inspiration Publishing
Jo Twiselton, Change leadership coach & consultant, founder of Twist Consultants