Leadership Results – How to Create Adaptive Leaders and High-Performing Organisations for an Uncertain World
Leadership Results – How to Create Adaptive Leaders and High-Performing Organisations for an Uncertain World
Author: Sebastian Salicru
Review by: Michelle Parry-Slater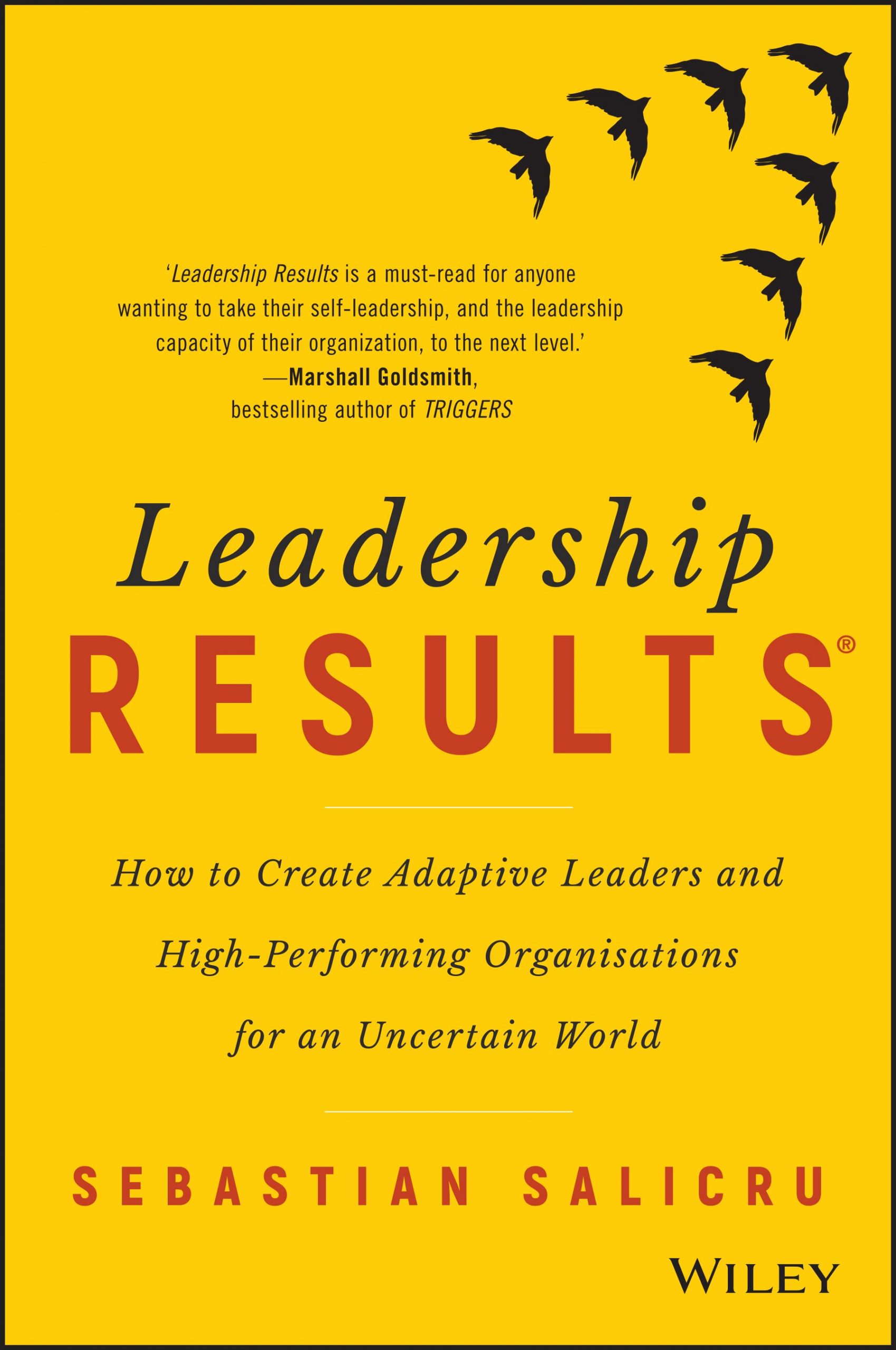 My heart sank a little when I was asked to review a leadership book. Another one, I thought. Another theory, another mix up of previously thought ideas, jumbled into a new order? Why so cynical? I facilitate leadership programmes and we often have a webquest session, where the delegates search the internet for leadership models and theories which they are drawn to. The same stuff bobs to the surface all the time – action centred leadership, situational leadership, great man theory, and then recently some of the newer ideas on social leadership from Julian Stodd or intent based leadership from David Marquet. I have kind of had my fill of leadership. So I came to this book review this a somewhat closed mindset, but willing for it to be opened.
The book begins with pages of reviews and a foreword by Marshall Goldsmith. Dr Goldsmith introduces us to the author as a coach who had mastered Goldsmith's Stakeholder Centred Coaching process. The book takes the assumption that leadership today is broken and in crisis across all levels. Salicru proposes fixing it with "a new road map" for our times. It takes us "back to basics – relationships – to tackle the leadership crisis effectively." Salicru goes on to talk about the move from individual attributes and onto the impact of social networks and collective leadership. The book comprises 14 chapters in three parts based around leadership context, self-development and collective development. The chapters follow a clear format of story, ideas/ theories/ principles presented under subheadings, followed by soundbite or stories and into a concluding insight with questions. There are lots of lists and structure curated by author to offer the reader useful, practical ideas, and academic insight. There are overarching themes in this book which I really liked and which serve leadership very well:
Leadership is about relationships
Leadership is self-serving but should be serving, with the ultimate call on leadership is philanthropy
Leadership is about empowering other people to have a voice
Salicru presents his ideas on psychological contracts and relationships in a readable and interesting format, mixing ideas and theory with case studies and anecdotes. This makes the book easy to pick up and read. I believe pick up and read is an important trait of a leadership book in order to keep it regularly alive in the reader's world. I enjoyed the stories shared, though whilst interesting, they were not all examples of Salicru's work, they were not his client stories, often simply stories to illustrate the book. This worked on one level as they were inspiring and motivational, but I would have liked to hear more practical focus. I am an intensely practical person. Sometimes I found the abstract explanations, well, too abstract. I would rather hear about models being played out in the workplace than read about the theory of them. It felt quite academically heavy at times.
The book seems to play into a lot of current thinking, although perhaps occasionally to its detriment, as it can be like reading a leadership bingo card – relationships, behaviours, action, emotions, collaboration, feedback, ROI, development, innovation, results, performance, … This is no real fault of the author – it simply demonstrates the through research and justifies the immense bibliography; there are over 40 pages of references and suggested reading, from the classic Herzberg on motivation, to more modern thinking of Csikszentmihalyi on Flow, right up to date with Goldsmith's Triggers. It has to be said, there is also a reference to the Daily Mail, which instantly put me off! As too did references to VUCA; we exist in a changing context, we always have, or we would still be living in caves. The VUCA things drives me nuts as it is overplayed. Reading through Salicru's book there were a few moments like this, of somewhat violent reaction within me as I read. It didn't make for a pleasant experience, but this probably says much more about me than about the book or its author. However therein lays the heart of my issue with this text; Salicru feels absent from his own book. Who is he? So many other people are quoted and referenced, so many other stories are told that I came away feeling like I didn't know the author. Clearly well read, the author curates content from a lot of people into this book – Gandhi, Mandela and MLK are all mentioned on one page! In amongst all the references and case studies I spent time trying to identify Salicru's work and thoughts. We have the model, obviously, but I also wanted his stories, his anecdotes, his evidence of his theories working in organisations. I kept reading and reading looking for Salicru. Who is he and what is he offering the reader as a leader?
It is unsurprising perhaps that a book written by an academic psychologist coach does not contact with a lot of himself – here is a profession which is all about leading people to their own conclusions with internal explorations via external support, and with enlightenment through research. He has written with humility and for the action of others – the closing chapter is a decisive call to action, with the future in the reader's hands. Leadership books written by leaders in their field generally shout their story. This author speaks to us in a much more understated fashion. For some, perhaps a refreshing change. For others, perhaps too dense with academia. For those in the latter camp, they may enjoy, as I did, the conclusion and insight questions offered at the end of each chapter. These summaries make for a great way to keep revisiting the book and reminding yourself of its content in your context. Asking yourself the coaching questions offers a value from the book beyond its pages.
This book is an easily accessible way to start thinking afresh about leadership, particularly in the area of relationships. It shares anecdotes to make you think and asks good questions for self-coaching. It balances academia, research, stories and theory. Personally I want to be inspired by a leadership book, I want to get behind the author and feel part of their 'gang', I want to feel more than 'oh another leadership book'. Perhaps it is because I came to it with a weary mindset – ironically which is part of the tale Salicru tries to tell, that people are weary. Perhaps it is because Salicru's context is just too different from mine, so I just didn't get it. Whatever it is, don't just take my word for it. I invite you to read the text and make up your own mind. This book is clearly structured, making it dip in and out-able, which is a bonus in today's busy world. Dip in and decide for yourself.
Michelle Parry-Slater, L&D Director, Kairos Modern Learning