Irresistible: The Seven Secrets of the World's Most Enduring, Employee-Focused Organizations
Irresistible: The Seven Secrets of the World's Most Enduring, Employee-Focused Organizations
Author: Josh Bersin
Review by: Jim Kennedy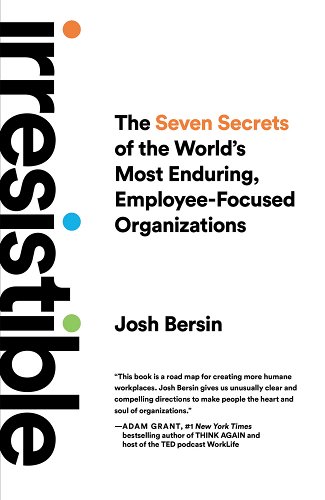 Josh Bersin first came to my attention 10 years ago. At the time, I was relatively new to my role as global HRD for a rapidly growing medical devices company and very conscious of the contribution required from HR to enable continued successful business performance. Since discovering him through the work he did authoring the Predictions series of research reports for Deloitte, I relied on his work to help me shape and plan the delivery of the HR agenda. I soon regarded him as among the best informed – if not the best informed – commentator on HR trends in an increasingly complex business environment. I still do. With that in mind, I'm guilty of finding this book to be well-named.
"Irresistible" refers to those companies which Bersin believes have the capability to not just survive but thrive long into the future. Irresistible is a proxy for organisational endurance. He was inspired to write this book during the worst of the Covid-19 period, when many of us were trying to figure what to do and how to do it to sustain our organisations. What Bersin observed during this time, allied to his prior years of research into the global talent market and the challenges impacting businesses' workforces around the world, was that it's those organisations which are genuinely and consistently employee-focused that are best suited for sustainable high performance. Irresistible offers its readers a blueprint for " …. building an organisation that has the management muscle to grow, adapt, flex, change and adapt, all with a focus on purpose, mission and values."
Bersin break his book into seven sets of principles: teams, not hierarchy; work, not jobs; coach, not boss; culture, not rules; growth, not promotion; purpose, not profits, and employee experience, not output. While a lot of themes will be very familiar, some of his conclusions might be less so. For example, he addresses the curiosity of what I suspect many of us have been puzzling over; we have high employee engagement scores but, during Covid and since, we've witnessed higher levels of attrition and lower levels of affiliation. Bersin challenges the reader with a perspective that employee engagement is now too limited in its definition and scope, and that it has been overtaken by what really motivates people in today's world. "Driven by a series of lightning-fast changes in technology, globalisation and social consciousness around the world, the rules of business have changed, resulting in an extraordinarily profound rethinking of where, how, when and even why people work today."
With each chapter, he discusses what he sees as the fundamental shift taking place within the context of the particular principle being addressed and goes on to provide some thoughts on how the reader can address the same matter within their own organisation. He also provides a checklist, based on his empirical research, of the practices which can be adopted to bring about success.
This book is not only very readable, it's immensely practical. It can read as a whole or dipped into as and when. It deserves to become a highly influential book among members of the HR community who are focused on creating the conditions within their companies which empower their people to build organisation success. That's a challenge in itself. All the more so that of the 5,000 companies Bersin has consulted with, he reckons no more than 500 are irresistible.
Jim Kennedy, Founder and Director, Metis (People & Organisation) Consulting