I Am My Brand: How to Build Your Brand Without Apology
I Am My Brand: How to Build Your Brand Without Apology
Author: Kubi Springer
Review by: Monique Vander Eyken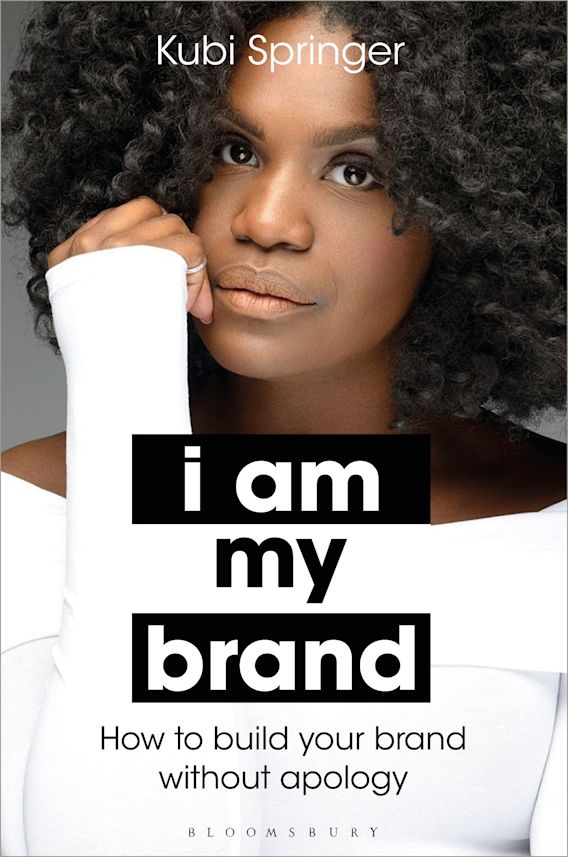 Have you ever considered to know what is your brand? What does that mean? Sometimes people see it as a marketing communication but it goes a lot deeper than that. In this book, Kubi Springer not only explains the process but also outlines the necessary steps as well as guiding you through every detail of the process. In Kubi's words, choosing to develop your personal brand and win is just the start. Staying focused on winning, and getting through the hard times, is the key. The ones who become successful are the ones who refuse to stay down.
Don't just try to win for you, try to win for everyone that takes interest in you. Take the T out of your journey to personal brand success and create a "we". I am my brand starts with you, but it shouldn't end with you. All it takes is for you to master the first step….
Kubi strongly believes that Brand Marketing is a formula! Beyond the creativity, there is a strategic science that, when combined with innovative ideas and brilliant content, connects with audiences and creates magic. First you must know what your personal brand is, but to be able to package your brand, market your brand and ultimately make money from your brand. To be proud of your specific gifts and to capture all of the opportunities that your career or business ventures give you to become a success.
A brand is an emotional connection with its target audience.
The brand promise is an idea that articulates what all of your stakeholders will experience when doing business with you. It aligns with your values, your vision and your brand mission. In the end, it is who you are.
When considering the logo, you realize it creates interest and intrigue, loyalty and recognition, it distinguishes you from the competition and reveals your identity.
With the logo comes the choice of colors which is also a tool used by marketers to reinforce the brand promise.
Kubi goes on to explain that if your brand marketing isn't working, maybe it's not the marketing that's the problem maybe it's the brand. Often, there are clients who, like you, are finding the marketing is not connecting, so she suggests they do a brand audit. A brand audit is so important, especially if you've been going for a while. Maybe you started off on your journey getting clients with ease and now you're finding it's a struggle. Once you do a brand audit and put that mirror up to what is happening, you can amend it, and then allow marketing to do its job of working for you, and not against you.
The process of a brand audit is important as it allows you to identify whether what you envision for your brand is aligning to what is actually happening with your brand. To achieve this, there are key questions that you need to ask yourself and answer from a place of truth.
Kubi reveals what the acronym "PESTLE" means and explains that it is a look at the Political, Economical, Sociological, Technological, Legal, Environmental trends in your market. It enables you to identify what is going on in the marketplace, and how what is happening is impacting the success of your brand.
Kubi goes by, "if you are going to do it, do it, and do it well".
You need to represent excellence so that when you start to create and promote your brand, people will keep coming back because you are the best at what you do. Once you take the time to be excellent, you will find that your customers will be your ambassadors and your brand awareness will grow quickly. There is no overnight formula so it is extremely important to take the necessary steps as outlined by Kubi and follow it through every step of the way.
Kubi reminds us that there are signs throughout our lives that indicate what our personal brand really is; key moments that help us to see our true authentic selves. When we analyze the journey to date, we can see patterns that emerge that show us, in the plain light of day, who we really are. It is then our job to learn how to package and sell this authenticity, to use our unique story to connect with our tribe, and get them to buy into or buy from us. Think about that, everyone has it in them to identify their true brand, its just sometimes not everyone takes the time to see it and recognize it.
The second part of gaining real brand clarity is understanding that your brand identity is one of the most critical components needed for personal brand success. Your brand identity is how you want to present yourself to and be perceived by your customers.
When communicated effectively, your brand ID builds trust, harnesses recognition and secures buy in from your customers, whilst simultaneously differentiating you from your competitors.
Before you create a plan, you need a strategy. To effectively market your personal brand, you need to have a destination in mind. Your goal is a description of that destination. Kubi would always recommend starting with no more than three to five years. Identify what capabilities you have and run with the ones that come easily, it's important to follow the path of least resistance.
You also need to know if you are operating in a hungry market or a saturated market. A saturated market is one in which there is lost of competition and very little demand for what you have to offer. Other people can find themselves in a saturated market but assume that the problem is them, when in reality the problem is not them at all, it's just that they are operating in the wrong market.
Kubi highly recommends to spend time undertaking a competitor analysis across your aspirational, direct and non-direct competitors, so that you are aware of who they are, and what they are doing. It is recommended that you do this once a year to help reposition your brand for greater success.
The era of hard selling is over. We are in the age of the brand doing the selling for you. This means that you need to connect emotionally with your audience and be agile in your approach. Your focus is less on the marketing channels but the brand delivery within those channels.
And in today's marketplace, each one of your social media pages should have a specific objective that ties into your wider brand strategy and marketing plan. As a result, cross-promoting your content between social media platforms may not work. You really need to focus on the specific social media and make sure your message fits in.
With all this, there are areas that are highlighted by Kubi to not forget, for example, networking is an important and critical aspect to this whole brand ID. Even though you are successful today, it doesn't mean it will last and so you need to prepare yourself for the unknown. Keep your networking channels open and touch base occasional with contacts especially through social media channels.
For someone who really has not thought twice about My Brand, this book really has opened my thoughts into what is important and critical in today's world and this book fits right in with knowing how your future can be shaped to display the real authentic "YOU"!
Published by Bloomsbury
Monique Vander Eyken, HR Consultant – MVE Consulting