The HR Change Toolkit – Your complete guide to making it happen
The HR Change Toolkit – Your complete guide to making it happen
Author: Lucy Adams
Review by: Perry Timms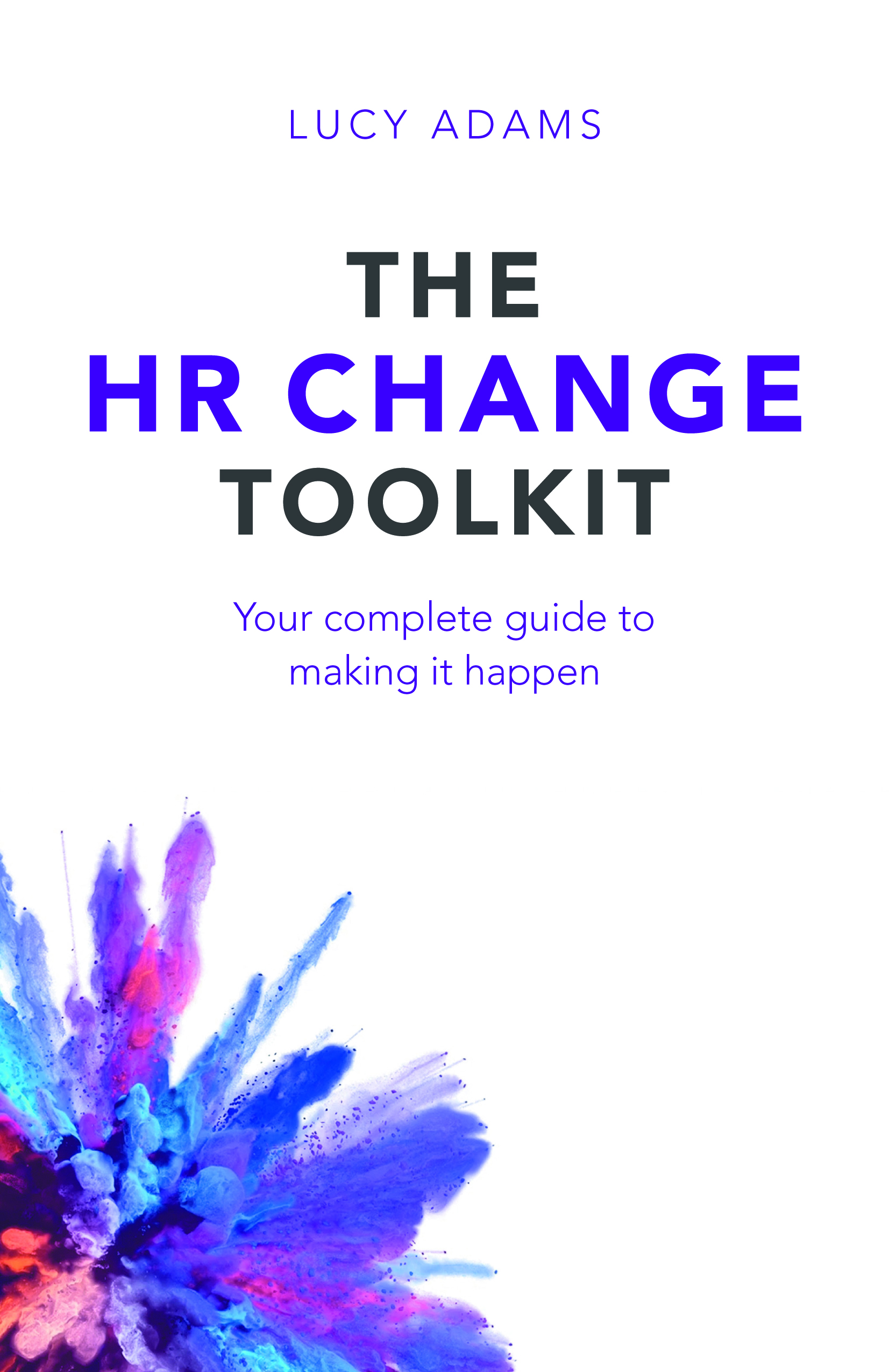 I did something in the spirit of Lucy Adams' Disruptive HR brand: I first read this book from the back to the front.
Why would I do that? Well, I wanted to see how this book ended up rather than take the traditional reader's linear path. Lucy encourages disruptive thinking so I thought I'd take a disruptive review approach to this.
And I guess to use one of my own speed-reading techniques. I read SO many books that a linear start-end isn't always the quickest way when you have so many to go through and I've
avoided some overly-drawn out books by starting at the end. This book wasn't in the "overly-drawn out" category on what I found going backwards through it.
So, how did The HR Change Toolkit shape up?
I'll start by saying there will be a LOT of HR practitioners out there who will find this enlightening and useful in equal measure. Those who are involved in their first organisational/HR change venture and those who've done a few and want something different.
Overall, there's a lot of very useful thinking and doing here. And some great recommended reading options at the very end – all of those I endorse fully.
In summarising how I feel about this book, I found myself polarised a little. Polarised in either
Big nodding endorsements – for example, the use of Product design/thinking/approaches – or
Grimacing a little – such as focusing on language/jargon and then using it in latter stages of the book – Onboarding, Rank & File, Front Line (being three such examples).
Overall though, I still felt this a useful read. And that was bolstered by reading it as if I were a practitioner discovering it for the first time; after I did the back-to-front thing.
So here goes.
I found the opening strong: Section 1 and 2 were a great start – I positively leaned into these. Got me inspired to read on. Section 3 again, useful. Section 4 sparked me with some very clear and helpful, frank and realistic things to think about and do.
And then I stuttered. Don't embark on HR Transformation lost me. After reading it I got the message but it jarred with that title. I realised what I'd read was more this: Beware of false HR transformation – HR process efficiency via a new tech platform masquerading as HR transformation. So I got the warning but the title confused me.
My faith was then restored with helpful things around Employee Segmentation and Personas in thinking how to serve the people of the business you are in as an HR
professional. Phew – back in a useful space.
I struggled a tiny bit with a 90/10 rule – it's less a rule more an approach – but I get that it's a trap and not useful. Still, the call to break this "rule" was a good thing to do I suppose.
Section 5 was a real head-nodding endorsement – Product Design and Experiences over processes. Yes, yes and more yes.
Section 6 – a real monster of a section – was stocked with useful advice and some odd prose.
For example, if the CEO or HRD aren't interested in change, then go elsewhere was the advice. I get that, but that feels a little throw-away if you need that income more than a funky change programme to explore. That said, banging up against the brick wall of apathy or resistance isn't that useful to anyone.
Loved the references to apps and tools like Looop (a great learning platform) and the section on Piloting was really well set out.
And then a grimace again: I found my values and beliefs clashed with the section "Leading Change the Human Way". It felt more a toolkit of manipulative, pop-psychology nudge and behavioural economics tactics to "convince others".
I prefer true "get to the bottom of it and involve people intensely in co-creating" strategy for lasting change. So I'm sorry – I didn't buy that section, despite knowing it's used in all sorts of industries and approaches.
Nodding again to Section 7 – which was a very nicely set out scenario that brought the approaches thus far covered together in a helpful way for the reader.
Section 8 I also liked with its references to products again, HR Hackathons for innovation and inclusion and generally, as a "get started" call to action.
So overall, this is a useful "field guide" that – as I said at the start – many first time to HR / Change and those looking for some new inspiration will find
useful indeed.
It's gently disruptive but overall more practical – which I like. With disruption often now, comes easily dismissed hype. This book avoids that and centres on useful, helpful ways to effect change from within HR and for its work with its colleagues across the organisation.
Perry Timms, Founder and Chief Energy Officer, PTHR,
HR Most Influential Thinker 2017 & 2018, Author: Transformational HR, Adjunct Faculty – Hult International Business School