Executive Presentations – Develop presence to speak with confidence and skill
Executive Presentations – Develop presence to speak with confidence and skill
Author: Jacqui Harper
Review by: Michelle Parry-Slater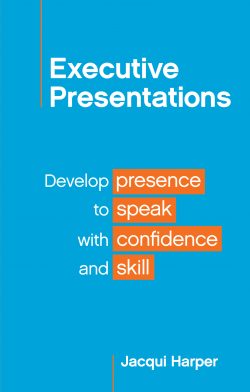 If you like practical books written by a very credible author who's been there, done that, this is the book for you. Jacqui Harper (visiting professor teaching Executive Presence and former news anchor for BBC, Sky News and ITV) has provided her audience with a rich blend of useful tips, sensible support, and experienced encouragement. Whilst an academic, Jacqui's writing is far from the stereotype of dull and un-engaging. The writing is in a clear, well thought out, presentation style; you can almost hear the author presenting as she writes. This makes the book incredibly accessible and welcoming to the reader. If you are feeling anxious about giving presentations, Jacqui's writing style genuinely makes you feel the process is very straight-forward and easy. There's a 'you got this' feel all the way through.
There is a lot to like about this book. It is clearly laid out, as you might expect from someone teaching how to give great presentations. It deals well with all the areas you need to consider as a presenter, from words and nerves to body language and communication styles. But it also addresses areas even the most seasoned presenter may not consider such as vocal
competence, developing a signature style, and gratitude. The easy to follow methods, using Jacqui's BRIBE model seem to be effective and engaging. I particularly love the level of detail addressed in this book, from breathing and pausing to colour and curiosity. There is no stone left unturned, including body shapes and suitable clothing, plus a whole chapter on headshots such as might be required by a conference organiser for your presentation marketing. This is a great chapter, with additional support from a professional photographer. There
are a couple of experts who pop up in the text, adding weight to Jacqui's commentary and suggestions. Such exhaustive, in depth characteristics are one of the key wins for this book.
The book is useful to all presenters and would be presenters. The level of detail that Jacqui covers makes her work suitable for people who are starting out of their presentation journey; the book is choc-a-bloc with mnemonics and recall memory aids to help you remember how to give great presentations. However, those already on the presentation circuit will
also find the ideas shared offer a new way to look at some old tried and tested methods, in addition to creative thinking they may not yet have come across. Each of the 15 chapters has a summary and reflective questions, which make the book a must have 'pick up, put down' tool to have around before a presentation to support you as you prepare and just before you go live. The book really does feel like Jacqui is in your pocket cheering you on! Even the pitfalls chapter has solutions. This author has thought of everything and is there for a presenters, new and old, for every single step of the way.
Chapter 12 is on self-coaching and shows Jacqui's really caring side. She seems warm, yet direct, and positive, yet realistic. She offers stories which show her vulnerabilities to shine a light on the potential challenges for presenters. This is a kindness, like much of the book, which enables would-be presenters to learn from Jacqui's mistakes. For example, using
a ladder of inference model, Jacqui demonstrates what could be misconstrued from a member of an audience walking out of a presentation. Jacqui's anxieties thought the person left as her presentation was not good enough and the ensuing self-talk interrupted Jacqui's stride as the woman click-clacked her heels on the wooden floor during her departure. However it turned it the lady was simply leaving for childcare reasons. Jacqui's self-limiting beliefs interpreted what she was seeing as entirely wrong. The ladder of inference model clearly highlights how our imaginations are usually more vivid than reality, and by using uncorrelated, observable data we are not always in the best place to make accurate assessment of a situation. As a reader of the book, it is comforting to know Jacqui may be on the TV, but she really is like the rest of us, with her own anxieties and vulnerabilities. She shows up as any human being doing
presentations might do. The techniques she then shares to get over this seem all the more powerful and effective. Jacqui repeats these vulnerable moments and personal stories throughout the book, ever more supporting the reader with how she overcame the adversity.
There are helpful endnotes, and whilst a full bibliography would have been of benefit, the notes are thorough and useful. One point of note which I am never a fan of in a book is there are weblinks listed within the text, particularly YouTube links. Who types out all those random uppercase and lower case letters to get to a YouTube link when you can simply search
using accurate titles and channel names? It interrupts the flow of the text and spoils the look and feel of the reading experience. In my humble opinion, Jacqui would have been better to share the full title of the content rather than litter her text with weblinks which clutter up the otherwise tidy and impactful pages. That said, however, this is a small beef in an otherwise marvellous support tool.
It is nice to have a pick-up-able book as a handy reference tool. Publisher, Practical inspiration, are known for their portfolio of undeniably useful, hands on practical manuals. This handbook on Executive Presentations from Jacqui Harper is absolutely no exception. It really does what it says it will do "Develop presence to speak with confidence and skill" and more. This is a fine workhorse from that ever practical stable.
Michelle Parry-Slater, L&D Director, Kairos Modern Learning
Published by Practical Inspiration
Shortlisted for the Business Book Awards 2019 in the Self-Development category!