The Ethical Business Book – 50 ways you can help protect people, the planet and profits
The Ethical Business Book – 50 ways you can help protect people, the planet and profits
Author: Sarah Duncan
Review by: Perry Timms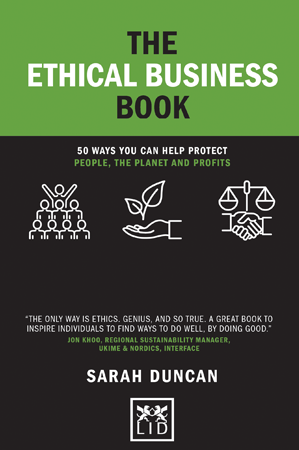 We've come a LONG way in our thoughts on what a sustainable business is.
We coined the phrase Corporate Social Responsibility installed recycling bins and had an email signature that said 'Think before you print, please consider the environment' we ticked that box.
Fast forward to now. We thought we were raising levels consciousness of environmental issues through that email footer, and we now have Extinction Rebellion, and of course, interest in Greta Thunberg's messages to world leaders. We also have things like B Corporation certification – which more closely scrutinises our use of resources and impacts like carbon footprint; and internal Green Energy schemes. Even office complexes with their own wind turbine generating their own power and not drawing off the grid.
We still have a LONG way to go; which is clearly why this book is with us.
Author Sarah Duncan – a marketer by background – has been working in the area of ethical and sustainable business practices. I've got more than an active interest in this myself so my expectations for this book are pretty high. And I love the nature of this LID series: short, graphical, practical. The world needs more books like these for the ecological impact and the intellectual stimulus.
So here goes: We open gently and persuasively: no hype and scaremongering and a rather quick (and perhaps a little superficial) leap to 'consumers have the power'. True, social media has opened up the world to more scrutiny, but that hasn't totally subverted the power dynamic, yet.
I should add here, in reviewing this book, I'm trying not to be taken by it just because I personally agree with the sentiments on display here. I'm channelling the hard-pressed, hard-nosed business leaders who are still warriors for profit, and still into their battle metaphors.
We then start with a self-reported test on whether senior leaders agree with some founding principles of an ethical business. Honourable? Yes. Of course, I'd sign up to these. Risks I'd be prepared to manage? More probably. The four-part CSR model is a useful reminder of the stages of maturity in being a conscious business. So far so good, if not still a little too easy for me to nod in agreement without a stir in my soul.
Section 3 was a little more deep in how it sets out business areas and the shifts from normative MBA-playbook operating to ethical operating. Liking this more.
A practical checklist at Section 4 is a useful self-audit and in 5 a matrix from the Conscious Capitalism Field Guide (a favourite book of mine) now has my strategic cogs
whirring.
Section 6 and the concept of Triple Bottom Line is in keeping with strategic stimulation for me; and into 7 with its focus on the meaning of the company, A nice way to ease me into testing how purposeful this organisation really is outside of piling up some cash for shareholders.
Sections 8-10 round off part 1 and I've enjoyed testing my thinking, conscience and business model components. OK, I'm in and have gotten this far without dismissing this as another 'holier than thou' rant. It's good. I'm keen to see what next.
Part Two is all about the people. Your people. And then in Section 8 you as a leader. But the people elements are a good mix of Organisation Design and Behavioural Science models which help get to the heart of your culture and approaches to being open, inclusive and fair to your people. After all, it's one thing to donate to charities and be good with ecological resources but if you treat your people like robots, then that's not very ethical. I'd be asking my Chief People Officer for progress on this at least weekly.
It's true also, that you can decree all the green policies; embed all the best practices you want into your operating manual, but if your own people don't believe it, are wasteful and even commit green crimes through dumping waste or flying around the world instead of video calling, then your efforts will have lost somewhere in translation. Sustainability is definitely a team effort.
Part Three is where your customers come into focus with a range of fabulous commercial tools with a clear link to ethical outcomes and methods of 'doing and serving'. This is sometimes where the sustainable and ethical agenda can come unstuck: Against the backdrop of demanding clients and the need for new products. Some great tools here. I'd have my Operations/Relationships teams all over this.
Part Four then is the planet. A logical continuance from the customer and operational elements, this is a deeper review of what your business does to the planet. More practical than Part One, and a return to the inner dialogue about what's important to you and why. Some very useful tables and prompts here continues this book's approach as a 'coach in your pocket'. Big issues at play here so I found myself feeling a little overawed in the grand scheme but committed to doing 'my bit'.
And we close with the marketing side. I was happy with this as it was a clear call to cut the spin and be real, clear and ethical about how you position yourselves. And a final word for the United Nations 17 Sustainable Development Goals (SDGs).
Which meant this book got my absolute approval and I'd consider myself a discerning reader/consumer in this area. I'm a fully paid-up member of the Green Party; have committed to offsetting my carbon footprint this year despite being a micro-business, avidly consume conscious business studies and stories and have committed to becoming a B Corp Certified
company this year.
It's a yes from me Sarah. Yes to this book – and it's practical tools-based nature without being preached to. And of course, yes to being part of any green new deal that comes our way.
We owe it to the planet and future generations to regenerate this wonderful spinning ball in the cosmos, we just happen to do business on.
Perry Timms, MCIPD & FRSA, Founder and Chief Energy Officer, PTHR,
HR Most Influential Thinker 2017 – 2019, Author: Transformational HR, Adjunct Faculty – Hult International Business School
Published by LID