Design Thinking for Business Growth: How to Design and Scale Business Models and Business Ecosystems
Design Thinking for Business Growth: How to Design and Scale Business Models and Business Ecosystems
Author: Michael Lewrick
Review by: Danielle Bacon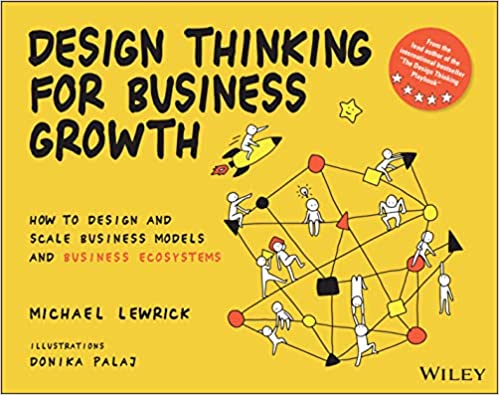 Businesses that once worked independently are now cooperating in new ways, breaking down traditional industry barriers and encouraging innovation. In a business ecosystem the actors are operating beyond existing company and industry boundaries.
In a true business ecosystem established businesses, start-ups, competitors, researchers, and technology providers are collaborating to design and create a unique and integrated value proposition and experience for the customer.  It requires a mindset shift, a move to decentralised governance and increased collaboration and transparency between traditionally siloed organisations.
Michael Lewrick's Design Thinking for Business Growth is a great resource for anyone who wants to learn more about business ecosystems and more importantly how to design and scale one.
The book covers a wide range of topics including what a business ecosystem is – and isn't and why you should consider building an ecosystem. The book explains the basics of design thinking and then takes the reader through the journey of using design-thinking to build a successful business ecosystem and includes everything from creating the right mindset to designing new products and services that meet customer needs.
It's a beautifully looking book, in the same vein as the Strategyzer series. A mix of narrative supported by diagrams and illustrations and a series of canvases (which can also be downloaded as PDFs) to help you work through the various stages of the design thinking and business growth journey.
Lewrick provides several case studies and examples of companies who have had great success with their ecosystems, including Netflix and Amazon. These examples are very helpful in understanding the concept of business eco-systems.
The author provides exercises throughout the book to help readers better understand how they can apply what they've learned from reading this book. They are simple but effective exercises that will get you thinking about how you can apply these concepts in your own business.  There are also summary pages at the end of each chapter that recap on the main points.  These are really helpful as there is a lot of information packed into this book.
Design Thinking for Business Growth is a valuable resource for leaders and innovators.  The chapters on Ecosystem leadership and Ways of Working will be particularly relevant to HR and People professionals as they seek to understand what a shift to business eco-systems could mean for work, the workforce and the workplace.
The chapters on the fundamentals of design thinking and many of the tools could easily be applied to a variety of settings even if you aren't involved in business ecosystem design.  It would be useful for HR and People professionals to look at how to apply them to people initiatives and  projects in their organisations.
Published by Wiley
Dani Bacon is an Organisation Development consultant, co-founder of Distinction Consulting and co-host of the Distinction podcast