Be Brilliant: How to Lead a Life of Influence.
Be Brilliant: How to Lead a Life of Influence.
Author: Janine Garner
Review by: Graham White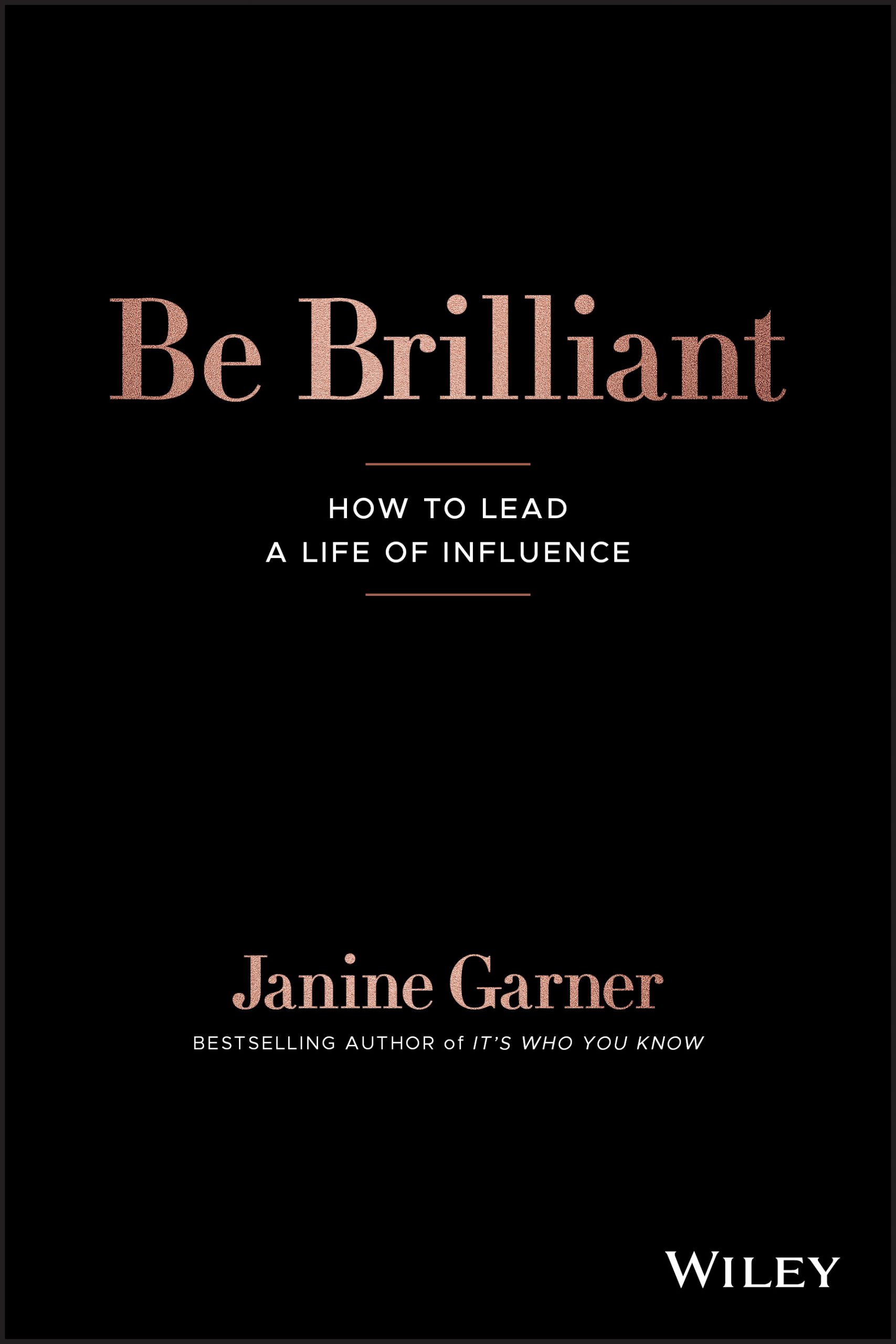 With positive news about a vaccine that will hopefully see the COVID-19 pandemic ebb and markets and economies re-open, industries longstanding focus on efficiency and sustainability must surely give way to a new and fresh approach that finally addresses the unfortunate popularity of "average" as a personal or business goal. It is hard to believe that in the new world of work the future business model will focus on anything other than workforce resilience. In particular' companies will have to balance the great dichotomy of employees seeking purpose, values and stability whilst organisations themselves will be searching for new and novel approaches that bring with them the promises of greater flexibility and agility.
In a world where everything we have held dear has been turned on its head, we have seen the world of business and commerce undertake a polaric shift from established, slowly evolving longstanding operating arrangements to a world of relentless pressure to remain competitive. Where employees are now activists and customers are untiring in their demands, we see the result of the pandemic accelerate every form of technology and every style of communication.
So, as we see these first green shoots of a new spring following the reality that tomorrow's unknown is even more uncertain and even more in need of a new and different approach to the world of work it is so energising, timely and just a little scary to pick up and read Janine Garner's book "Be Brilliant – How to lead a life of influence". This book could not have been written at a more relevant point in time. Put another way, this book has arrived at a point in history with the potential to deliver an operating model for organisations that could conceivably light the blue touch paper of employee brilliance.
With future workforces seeking a new employment relationship and organisations desperate for a new creative and innovate workforce to work in parallel with AI and perpetual digital disruption Garner reveals to us in her book a breath-taking wisdom and practical understanding of the steps necessary to unleash the power of any workforce and its leaders. With a world seeking a better understanding of workplace and personal wellbeing this publication addresses these issues in a unique way. In acknowledging the intensity of life and the pressure of work the solution that is presented demands that we become extraordinary by getting better at being ourselves.
We know the post-COVID world will look different and that there will be a huge premium on understanding the new normal. The companies that thrive will be the ones that remain in control. However, as the author of "Be Brilliant" explains. this control cannot just be a "band-aid on perceived imperfections". Janine Garner launches into her book by attempting to convince the reader that earlier thinking around the importance of motivation in the work environment whilst important should not be the primary driver of future success. In desiring to create a high level of certainty around future proofing individual or organisational goals Garner takes us on a journey that moves us away from thinking "Why" is the most important factor in achieving success and instead we are redirected into the arena of "Who" and having now read the book twice from cover to cover I am inclined to agree wholeheartedly with her on this point. But I don't intend explaining why as I believe the author desires for everyone who opens this book to have a moment of personal realisation that who we are and why we do what we do needs to effectively and seamlessly merge.
The structure and framework of the book is a beautiful blend of information, instruction, evidence, and example. Built in three parts the reader is initially introduced to Janine Garner in a manner that ensures they feel that they know and understand the authors origins, drivers, and motives which I believe enhance if not accelerate understanding and appreciation of the wisdom of this book. The honesty and sincerity woven through these early chapters create a growing sense of absolute integrity in the substance of the book whilst also giving the reader a quiet assurance that despite some amazing descriptive adjectives Janine Garner is an ordinary person who has faced many of life's challenges and in a beautiful moment early in the book brings home the honesty of her own challenges, successes and failures when she says in a very simply statement that her journey through life "was never and will never be all unicorns and rainbows". This section also has the "Stick Your Hand Up Please" check list and I urge every reader not to glance over it, in fact I would suggest turning that page corner down as I expect like me you will go back to it more than once as the book challenges you to be more and more honest with yourself.
With your understanding and appreciation of the author already well-grounded the main part of the book presents the core message and awareness through the four laws of brilliance, Be You, Be Ready, Be together, Be Heard and each of these laws are intricately supported with three facets each. It is not my style to spoil the plot or heart of any book I review however I can't underestimate the impact the first law had on me as I tentatively tip-toed my way through facet one which looked at Character. With the mantra that we can't really bring out brilliance in others until we are in control of ourselves, I found I had to read this section more than once before I could safely move on.
The book itself brings its own vocabulary to many of the situations we all face in life. Often these words capture in much easier ways everything we want to say, and I believe after reading the book many of the words and phrases will become part of your own business and personal language. With a range of these words and phrases permeating through the book I expect it won't be long before phrases such as "blame-itis, "modern loneliness", Imposter syndrome, Dream Stealer and "get off the dancefloor and into the balcony" become regulars in business meetings.
The book concludes with a thoughtful section that demands a level of honesty that is well served by the level of openness already shared by the author. This practical approach to personal review is woven throughout the book and keeps the reader engrossed in every page and unlikely to want to put the book down and might even cause the reader to sneak a quick look ahead occasionally. Added to this there are two Jewels in this book's crown that show pockets of cleverness that give this publication a unique level of influence if not punch. The "Brilliance in Action" section that ends each facet holds a treasure trove of questions that cause you to dig deeply inside yourself as you are compelled to tug at your collar as these questions do more that seek information, but once again honesty is the key. The book also includes a "Watch Out" section at the end of each of the four Law which include stories, anecdotes, and helpful warnings to ensure you end each section with a pragmatic realism.
I wholeheartedly recommend this book wishing it had been available many years ago. The content, the intuitive learning and the timely relevance of this publication make it a must read for any and every contemporary leader who aspires to create within their organisation a powerhouse of brilliance that will ignite a wave of empowering brilliance that will reach every corner of their organisation and embrace all aspects of its purpose.
Graham White, Retired HR Director