Big Teams – The key ingredients for successfully delivering large projects
Big Teams – The key ingredients for successfully delivering large projects
Author: Tony Llewellyn
Review by: Perry Timms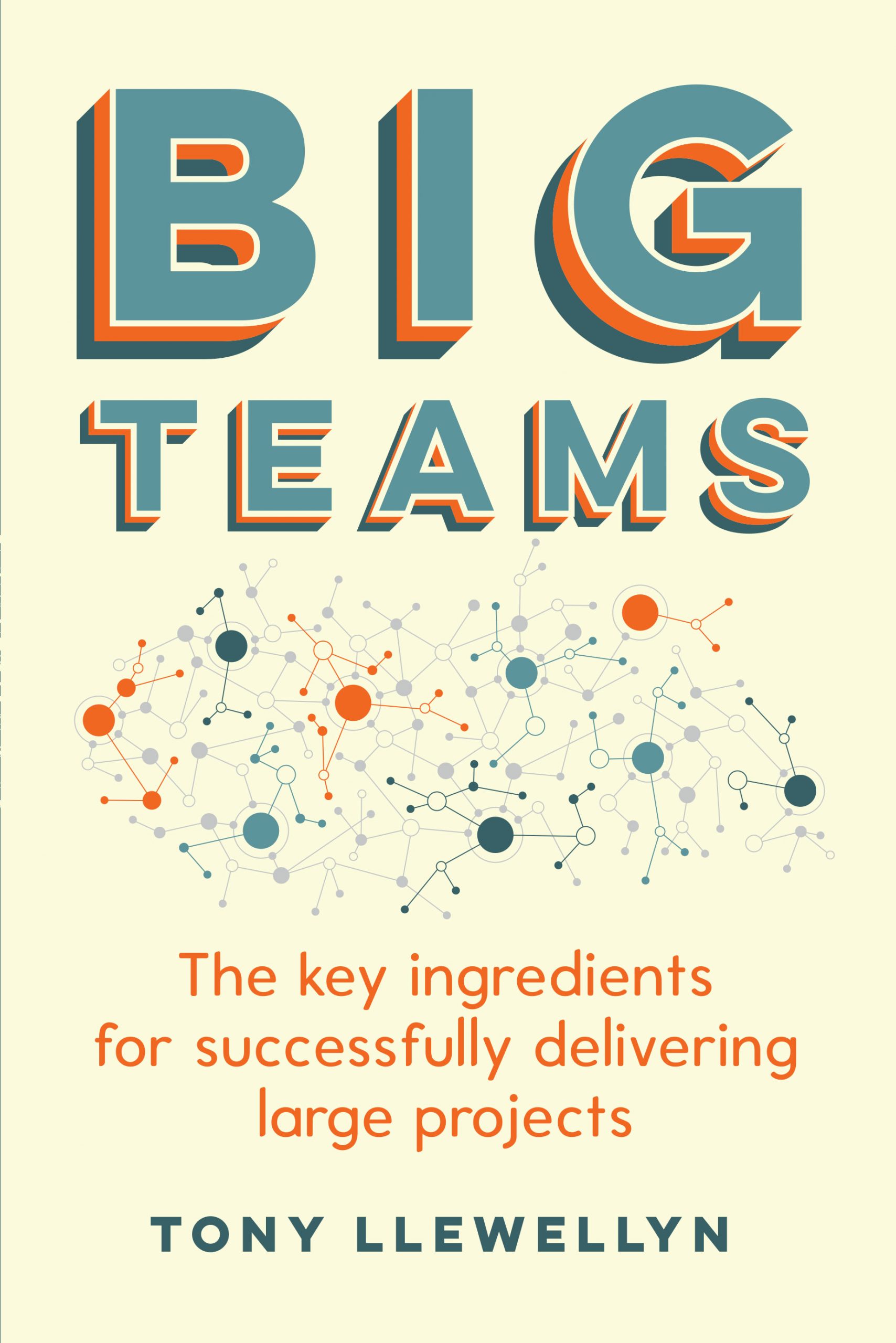 I'm going to sound really harsh in the intro to this book review.
The world SHOULDN'T need Tony to have written this book.
Why? Because every ounce of this super practical and very solid set of tools, approaches, recommendations, models and suggestions here should be the modus operandi of anyone involved in assembling, leading and participating in the work of a team. Yet we know that's not the case so Tony's book does have a need and a deficiency to shape up.
Tony has then, thankfully, given us the de facto guide to not screwing up a team. Really, people, there's no excuse now, because every word Tony's written is useful and right. Not just in my opinion – it's wise, well set out and appropriate for all project team constructs be they an Agile Dev team in a new product or service; or a robust legal team introducing new compliance measures.
Is this the book that finally consigns bad team constructs, management and behaviours to the bin?
Unfortunately, it won't be BUT if you've never really got off to a good start with a team; experienced bumps in the road during a team's performance on a project or felt the let-down of a failed team venture, then you can find where you went wrong here.
Tony's flow on this book is excellent. I can tell a good book because I write a lot of notes on a big sketch pad. If it's an outstanding book – like say Frederic Laloux's Reinventing Organizations (which Tony does a lovely homage to in his book) – then it could go to 3 pages. I had a good page worth for this book because it was very useful.
It didn't set me alight though. It wasn't an OMG type of response, but lots of nods, and flashbacks to when things were good or ghastly as I read through the book. It's a credit to Tony as an author that this flows so well and is a really easy read. It should be recommended reading for anyone starting their career in professional services and having clients work to manage. It will also be helpful to public sector project leaders who have a complex challenging civic programme to deliver. It could even be a resource used in MBA teaching for the 'actualisation' aspect of all those 7S, 4-box and S-curve reading that's done.
Because what Tony's built is one of the more useful aggregations of good team practice I've read.
Clustered elegantly, phrased simply but professionally, Tony tackles what I've seen lacking in projects and team leadership, without this being 'Teams 101'. It's more Teams for Serious Practitioners.
Referencing Schein, Cameron & Quinn and Laloux gives credibility. All very nicely contextualised.
His under-obsession with the process but his smart merging of people, behaviours and flow are really well thought out.
Tony has given us a good way to sharpen our Big Teams – be they big in number or big-of-heart; with a strong focus on some great questions to ask yourself; models to use; tips to apply and wisdom in a sincere and cliche-free piece of writing.
It took me no time at all to read this. Did I learn a lot of new things? Not really, but I definitely relearned, underscored, emboldened and re-acclimatised myself to things I believe in as the constructs of a great team. Or as Tony puts it, the state of 'temporary organisations' when projects are the order of the day (or month or months as projects can be).
Honestly, if your teams or team colleagues tell you all is well in how projects are done, you will only need Tony's book to do your emboldening of what you already do and perhaps relearn a few new things.
If you're often in dysfunctional team setups, buy a copy for the whole team. Read it together, adopt what Tony's set out and watch yourselves reboot and upgrade your Big Team ways.
Not the most revelationary, radical book on teams, but absolutely one of the most practical and downright doable pieces of writing in this area.
Published by Practical Inspiration Publishing
Perry Timms, Founder and Chief Energy Officer – People and Transformational HR Ltd, HR Most Influential Thinker 2017, 2018 and 2019