Artificial Intelligence in Practice – How 50 successful companies used AI and machine learning to solve problems.
Artificial Intelligence in Practice – How 50 successful companies used AI and machine learning to solve problems.
Author: Bernard Marr with Matt Ward
Review by: Perry Timms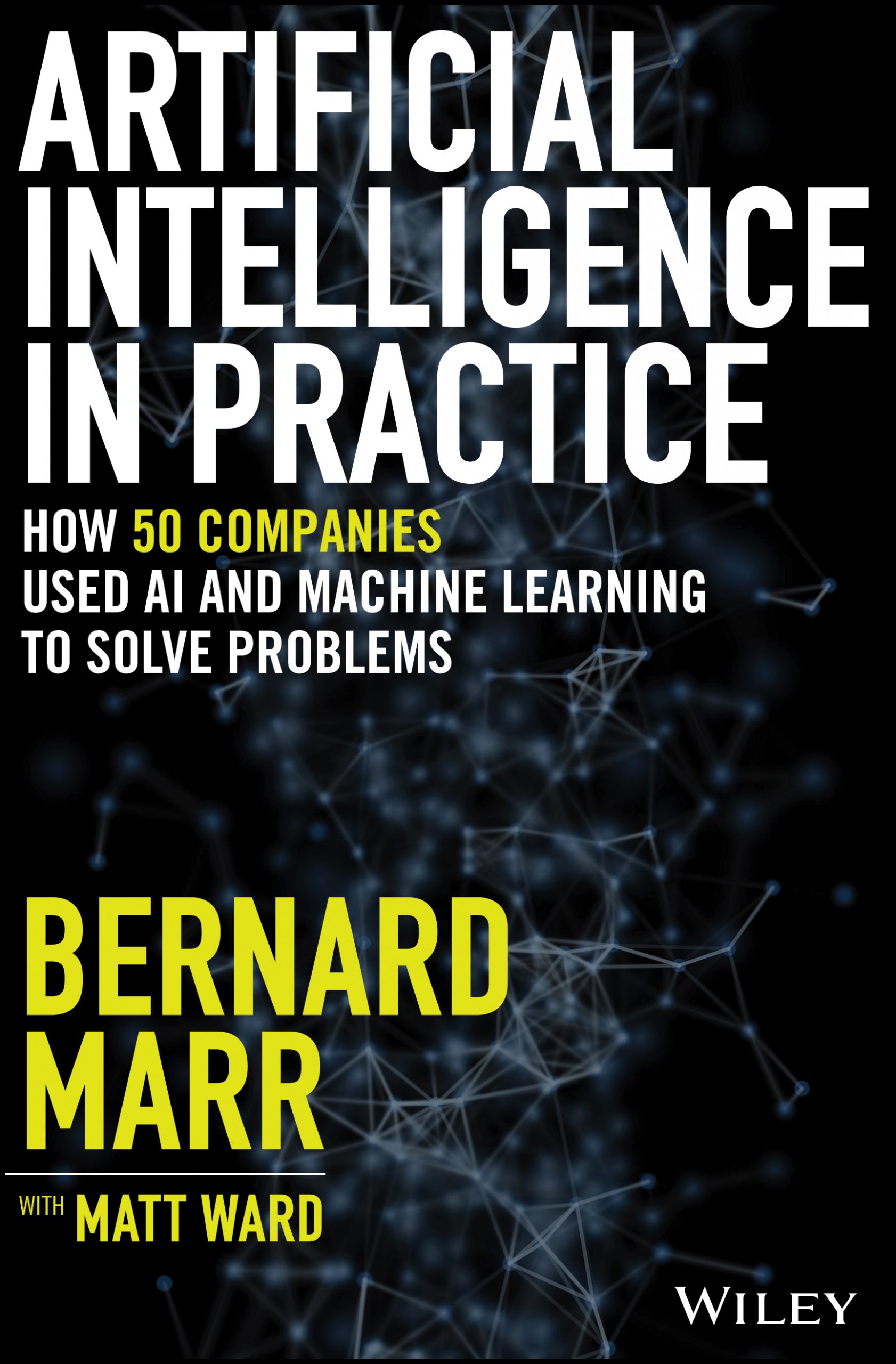 We're all interested in Artificial Intelligence right? It's the killer app, the job-stealing bot, the algorithm that decides the future, the way to make sense of the world.
In many ways, it is all of those, but what do we really know about how organisations are using AI and therefore, get some practical context to settle our minds over media hype or awaken our sense of possibility from a previously uncertain state of not knowing enough?
This book does that with gusto. Bernard Marr – a reputable and authority-like figure on data (in particular) and the world of business and work, takes us on a tour of "50 successful companies" using AI to solve problems.
After a really short contextual introduction, we're into the thick of case studies. Alibaba, Alphabet, Amazon, Apple and we're still on A.
You could stop there. 4 GIANTS in every sense covering not just retail but farming, pharma and flywheels (Amazon's word for their dispersal of intelligence and use of AI from department to department).
What's good about this book is the punchy nature of the examples (which invite you to dig deeper elsewhere if you wish) but illustrate the harnessing of the AI powerhouses these organisations have built. JD.com, Elsevier, Experian, Spotify, BMW – there's something for everyone here.
Key takeaways section keeps it really easy to follow – which is a bonus amongst all the variety of uses of AI.
Mortgages, Motorbikes and medical decisions pepper this book so you really do have a range of applications of AI by those organisations with the horsepower to use this data "exhaust". Of course, we're not all in that position to exploit such rich and co-ordinated data resources, but this helps us know how to use them when we have our data "ducks in a line".
Overall, I think this is a bold book.
It would quickly become dated as this stuff moves so fast and is so likely to be enhanced and enriched with more examples than even this mini-encyclopaedia of examples gives us. Nevertheless, these are relevant now and will be for the next few years at least.
If you want to know how to boost something in your organisation (performance, new markets, research, customer insight, investments) then this book will have something for you.
It takes time to go through all the examples as there's so many (and they can get mixed up in the recollection of your own mind) but they're short enough to pick your favourites to support your business case, keynote address or short article. I suspect this book will be quoted a lot in features on AI. So congratulations to Bernard for being the
super investigator and compiler.
For the next issue, maybe an AI author will produce the update? Who would've thought that a few years ago…happy retirement Bernard!
Perry Timms, Founder and Chief Energy Officer, PTHR,
HR Most Influential Thinker 2017 & 2018, Author: Transformational HR, Adjunct Faculty – Hult International Business School