Firm Principles: Simple Guidelines for Winning Professional Service Firms
Firm Principles: Simple Guidelines for Winning Professional Service Firms
Author: Alex Shacklock
Review by: Su Askew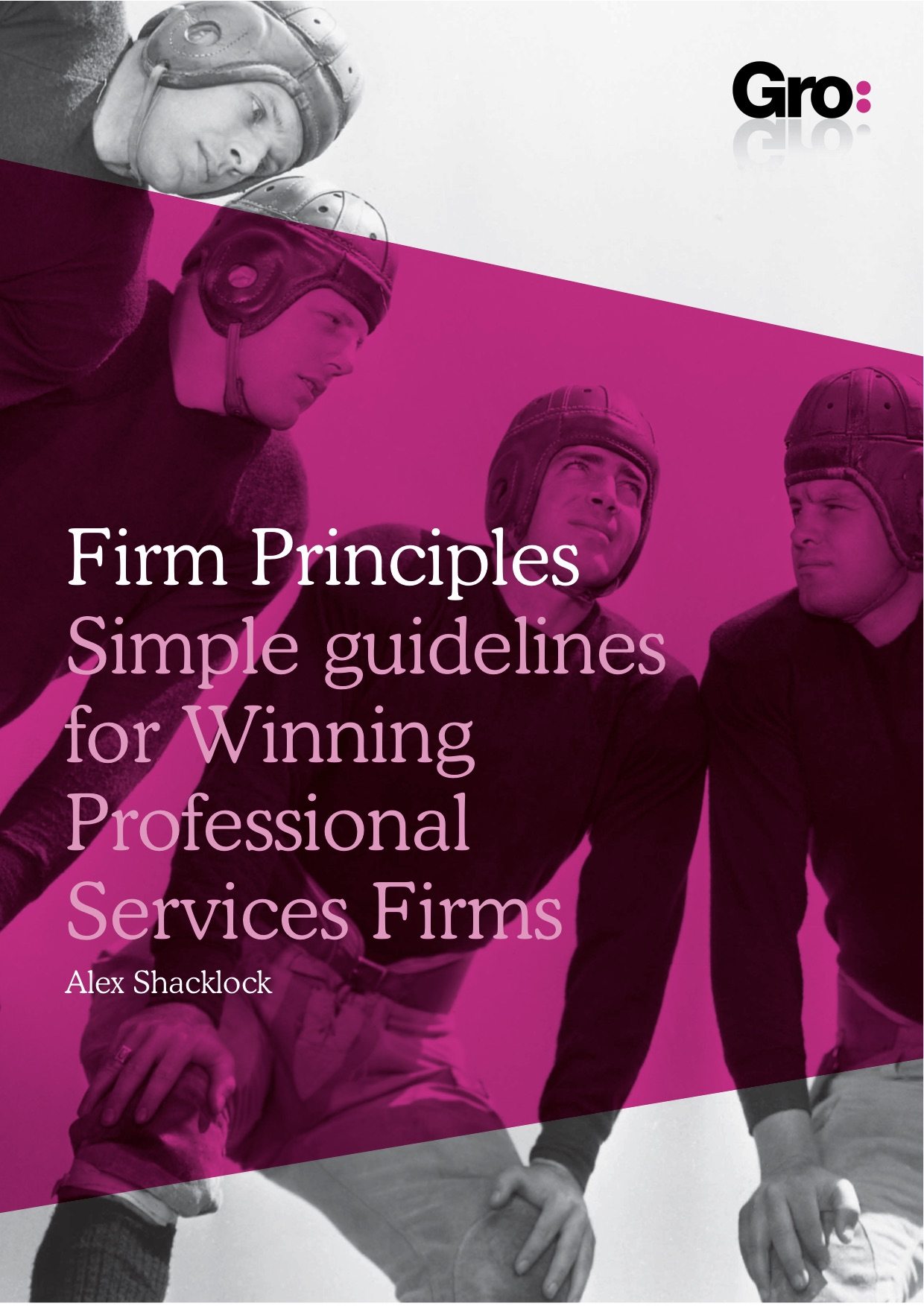 I like simple – many of us are very good at over complicating things and in business this can prevent progress. So, a proven simple approach to achieving a winning business strategy is tempting as a concept and the reader wants to benefit from the experience of this author. The narrative that kicks off this book is like a call to arms for changing the status quo of how companies work, tapping into many different applications of the principles that the author imparts. I took to the colloquial and pragmatic tone well, it feels like you are in a consultation with the author.
The stall is set out with a heading about how organisations need to future-proof themselves, long gone is the much used 'succession planning' strategy, organisations need to be ready for a future that is speeding towards us at a rapid pace. We are cautioned that we must be fast, innovative, flexible, collaborative and agile. These words sound like good advice, so many organisations throw rhetoric around stating that they are the embodiment of all these things! Is that really the case? In my experience, it is not true and for the HR professional, a challenge also. This book promises some tangible outcomes! Peppered with impactful quotations from the likes of George Bernard Shaw and Bill Gates you feel in good company in the book!
Having worked with professional services firms for 10 years, I have seen some of the challenges the author explores, we are going to be faced with ingrained, established cultures and working practices long accepted as a rite of passage, paired with effective utilisation of proven working models that get the job done rapidly. I could not agree with Alex more when he highlights that many senior teams are 'very good, thank you very much' it's a tough gig lighting a fire under a company to convince them that a move to action really is needed.
It's refreshing that there is a theme of humility in business from this book, we are asked to challenge complacency and put aside egos, even when things are going OK. It strikes me that readers of this book are possibly more predisposed to the kind of corporate reflection, so he may be preaching to the converted but it gives us a platform, a 'leg up' to formalise and organise ourselves.
The book format forces interaction – with many pages devoted to your own reflection and ideas, a place to record these live thoughts and create actions. And then you are invited to choose the next chapter to read, move ahead to the most important design and analysis or read the chapters in numerical order. I should admit now that I had trouble in deciding what I needed to read next and opted for the 'recommended choice' which felt a little like I was jumping ahead to see what happened or cheating the end, spoiler alert! I took his advice and moved to the last two chapters…then I read the middle! So, it's worth spending the time on principles 4-10 – not least of all because that is a large part of the book but also because they are hugely worthwhile. They present some well structure guidance on career development, talent maximisation and game changing business direction and commercial development.
It occurred to me at this stage of the book that really these reflections and exercises you would want to carry out with your leadership team in tow and perhaps not reflect solely on your own perspective. Imagine heading back in to the office and telling your team what you have decided what the corporate purpose was? How would that conversation go? Not easy but if you do involve them in this process this not quick either. The author even stated that this is a 6-month process with many or their clients.
It was refreshing to hear within the text some honest truths about how great culture is so often a rhetorical, perhaps even a mythical, ethos organisations say they have: it's something that is searched for and refenced as being present but often is not a reality in the business, certainly not in the DNA of the company. Least of all perhaps at consulting firms who are driven by the insatiable need for billable assets, not to be left 'on the bench', the very nature of their work makes it hard to carve time for cultivating an inclusive culture with regular and open dialogue.
The book requires some real analytical thinking and you many need information from the rest of the business in order to get the most of the allocated activity. It is about driving a winning business, with its practical workbook format there are exercises in here that any HR leader will want to complete with their leaders across the business. Without that involvement, the reader could devote a great deal of time and effort in to completing the tasks this book coaches you through, the risk then is that you have a huge hurdle to get your leadership team on board at all.
There is one key principle in the book that, to me, leaps out as a differentiator, often assumptions about HR will harm any strategic initiative that is driven by the department. Assumptions like; we are here to discipline, performance manage, recruit and train. Rather than a function that can drive the success of a business, harness efficiency and maximise its assets – the humans. If you are going to take the recommendations of this book to your CEO I think you will find something fundamental in principle nine. Having spent a large part of my career in sales I can attest that revenue drives most action, short sighted, I know, however it's true for many organisations.
So, when revenues are down leaders can switch to the behaviours they know best, that is often not the answer. In this book, you can marry the less tangible benefits of a reflective and progressive culture that will harness talent and shape careers with the revenue a company can unlock if the correct energy and focus is gained. It's a wakeup call that we all need to understand business development and do it well to underpin an organisation. If HR are going to need to 'sell' these principles in to an organisation there needs to be a strong business metric, reduced attrition and increased productivity could be a great start AND even better if you apply this you can build in a sales activity and finally commercial activity.
These principles are comprehensive, the author (and sometimes you feel his team are writing this book also) is experienced at moving people to change, some of the tasks are not easy, the require a lot of thought. If you are going to invest your time and brain space on completing those exercises then you want to have a way of weaving this into your business.
If in HR we are to harness agility, by organising ourselves and working in a new and more agile way, we must lead from the front, this may mean working to a framework like these principles to demonstrate to the rest of our organisation how it can benefit a workforce and create sustainable winning activities.
Su Askew – ValueSelling Associates