Every time we get a new AI development, this time generative AI, we also get the usual doomsday scenario about its impact on jobs. It's widely recognised that the jobs most likely to be on the proverbial chopping board are those that can easily be automated. But now we have AI systems that can process billions of data points and provide pretty sophisticated answers to literally any question at lightning speed, so is it time to look at those roles with the highest overhead? Your CEO and C-suite executives? McKinsey has estimated that 25% of a CEO's time is spent on tasks that AI could potentially replicate such as analysing reports and data to inform decisions.[5] In view of this, and that only too frequently, we hear about CEOs handsomely rewarded even when they lead their companies to abysmal financial outcomes or about 'fat cat' top executives creaming off millions in bonuses through profits made at the expense of financially struggling households,[6] I can see the appeal of replacing them with an AI bot that works 24/7, doesn't rest or sleep, and is compensated £0 per year!
OK, I'm being somewhat facetious. Business leaders like these end up giving all leaders a bad name and don't represent the vast majority of CEOs (in my humble opinion), but it does beg the question what are we paying these people for?
If we see the role of the CEO as one of monitoring and improving company financial performance, budgeting and forecasting, setting strategic goals, conveying meetings, and keeping the board updated, then arguably as IBM's Atif Rafiq recently suggested, secure private AI systems could be designed to function as the 'brain' of the company and this could mean the demise of the human CEO. You could have a smaller streamlined management team who simply  'asks' the AI CEO questions to inform decisions such as which are the best markets to invest in, or to simulate different scenarios and their potential outcomes, helping anticipate the consequences of their decisions before implementing them.
But the role of the CEO should be much more than this. Effective CEOs build and nurture systems and teams to create empowering work environments that drive business success. That involves interpersonal skills, intuitive thinking, leadership, ethical consideration, passion and vision that are inherently human. These qualities are challenging for AI to replicate. But AI has a critical role in complementing and enhancing the capabilities of human CEOs rather than replacing them entirely.
I asked ChatGPT to help me summarise the key qualities of human vs. AI-powered CEOs (see Fig.1). The speed and content of the response were impressive but needed some tweaking based on my own views and style of writing but this is a classic illustration of the 'augmented' nature of activities generative AI can support.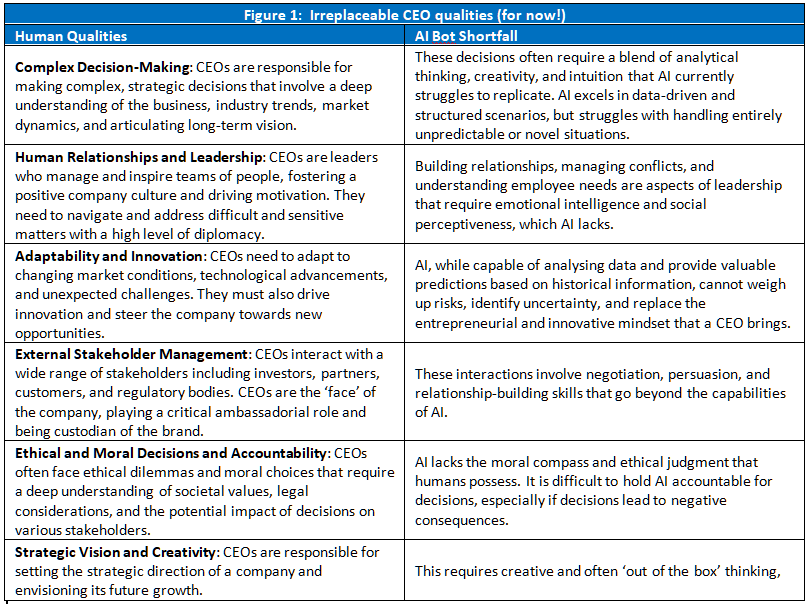 Based on the capabilities of current AI systems there are several characteristics that may make an occupation less likely to be at risk of automation.
Using a model developed by willrobotstakemyjob.com, I reviewed the risk of automation of 30 occupations. Jobs with a risk rating of 25% or lower (see Fig. 2) can all be deemed as 'low risk'. These are jobs that require a high degree of originality, creativity, judgment, and complex problem-solving such as architects; jobs that involve a high level of personal interaction and empathy such as social workers; jobs that require a deep understanding of context and cultural knowledge, such as anthropologists; jobs that involve high levels of diplomacy, intuition, negotiation and persuasion such as a lawyer; and jobs that involve a high level of physical dexterity, intricate hand movements and precise coordination such as plumbers.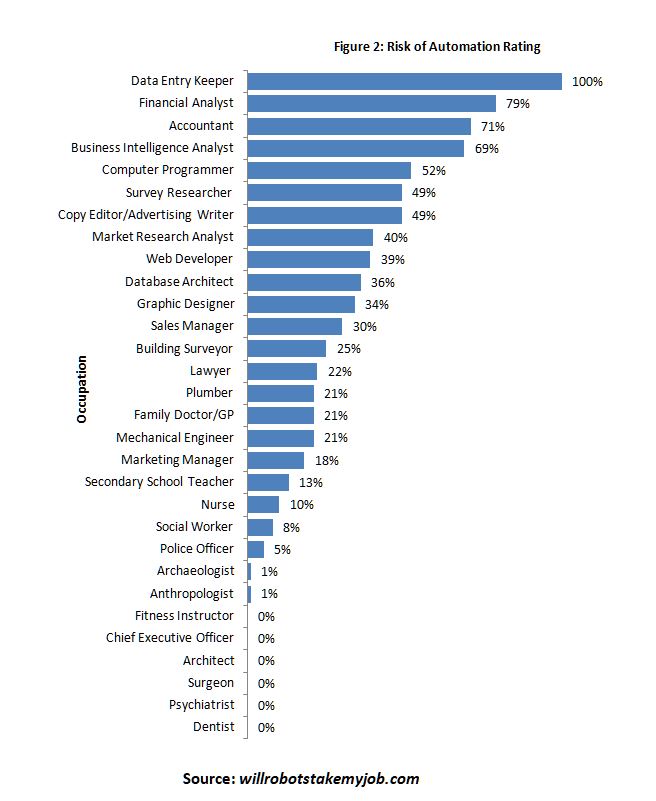 For now, CEOs are pretty AI foolproof! They along with a number of other specialised occupations receive a '0%' rating for risk of automation. But there is no doubt that the speed, scope, quality and accuracy of generative AI systems will continue to improve as technology advances, computational resources increase, and algorithms become more sophisticated. As these systems become more robust and capable of doing more 'human' tasks, it will become even more critical that CEOs can demonstrate the value they bring and future-proof their skills. If they can't – they better watch out for an AI takeover!
[1] https://www.theguardian.com/technology/2017/apr/24/alibaba-jack-ma-artificial-intelligence-more-pain-than-happiness
[2] https://gameworldobserver.com/2023/03/16/netdragon-websoft-shares-rise-ai-ceo
[3] https://www.prnewswire.com/in/news-releases/first-ai-as-ceo-in-europe-revolutionizes-leadership-using-human-supervision-for-safety-301884041.html
[4] https://www.raconteur.net/technology/ai-transform-replace-ceo-role
[5] https://hbr.org/2017/02/25-percent-of-ceos-time-is-spent-on-tasks-machines-could-do
[6] https://www.dailymail.co.uk/news/article-12377009/Hitting-jackpot-rest-suffer-Fat-cat-bank-energy-bosses-rake-stellar-profits-hard-hit-families-battle-cost-living-squeeze.html