Gear4music – a leading retailer of musical instruments and music equipment.
Gear4music – a leading retailer of musical instruments and music equipment. Gear4music was launched in 2003 and now has over 1 million active customers. Carrying a huge range of music gear in distribution centres based in Germany, Spain, Sweden, Ireland and the UK, customers can buy music gear from orchestral instruments to rock 'n' roll, including guitars, drum kits, digital pianos, saxophones and cellos, plus leading recording and studio equipment.
From starter guitars to pro microphones and amps, the Gear4music online music shop has a huge range of music equipment available. Whether you're looking for a violin, keyboard, electronic drum kit or PA system, Gear4music can help.
Gear4music has some of the biggest brands in stock, including Yamaha, Roland, Casio, Fender, Ibanez, Alesis, Behringer & Gibson, as well as their own great value Gear4music music product range.
The Challenge
Gear4music, based in York – North Yorkshire, United Kingdom, set out to find a cost-effective solution that would enable themselves to effectively engage and train their employees in England around the compliance requirements of GDPR – General Data Protection Regulation.
Gear4music wished to understand the individual performances of their employees' GDPR training so wanted clear and easily understood dashboards to readily view these results.
Gear4music wanted a system that was easy to manage but flexible enough to change if the need arose as well as being quick and easy for their employees to interact with and still deliver meaningful, rich insights through dynamic reporting.
Samantha Dunwell –Data Protection Officer (DPO): Gear4music and Andrew Blackwell – Data Protection and Privacy Assistant: Gear4music, took responsibility for overseeing the project.
Finding the Right Partner
Andrew and Samantha's focus was on finding a cloud-based service provider that had a cost-effective platform which allowed for the effective implementation of the Gear4music's training needs.
Rison Software's platform, VirtlX, was selected for the project.
The Solution
Richard Chalk, Rison Software Managing Director comments "The VirtlX platform perfectly assisted Andrew and Samantha's requirements utilising the Enrich Training element available on VirtlX.
The Enrich element facilitates bespoke training for companies thereby ensuring that the training material is specifically focused on the company's requirements.
"Our onboard bulk email system also assisted with the rapid-sending of emails to large sets of employees linking the required course material and tests to each recipient's profile ensuring easy access to the material and accurate recording of the results specific to each employee."
Utilising the VirtlX model allowed the results to highlight which employees require further training.
Gear4music requested additional reporting which the VirtlX development team were able to design and build in a matter of hours ensuring Gear4music had rapid access to the requested results they required for the project.
The Result
Gear4music was easily able to author and distribute their bespoke learning material and monitor their employees progress.
Tools such as the email reminder to those employees that had not started on time assisted Gear4music in achieving, and exceeding, the expectation of engagement. A 97.25% engagement was ultimately achieved on the project.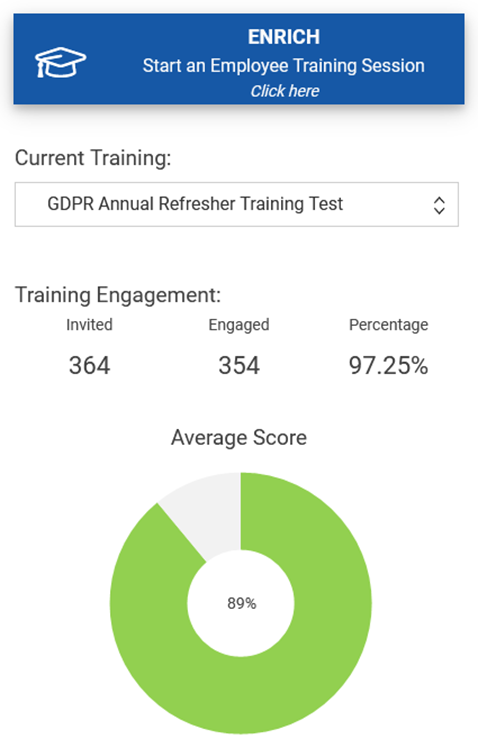 Gear4music's requested report highlighting which questions in the test were achieving levels of success or not also assisted in analysing the employee's engagement of the questions being asked affording Andrew and Sam the opportunity to engage with the employees and ascertain what made the posed questions understandable or challenging and then adapt the questions accordingly.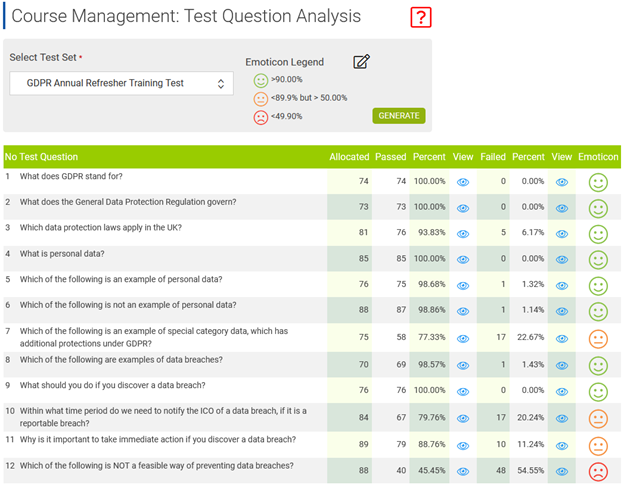 Samantha comments: "Using VirtlX, Gear4music was able to achieve what it set out to do – deliver a GDPR refresher eLearning course to its UK office-based staff.  We had fantastic engagement from our staff with over 97% of staff completing the course and assessment.
"It was the behind the scenes work with VirtlX that really stood out for me.  The ability to have open discussions with the VirtlX team about the platform and suggest features that would meet our specific needs was great. But it didn't end there, one of VirtlX team's plus points is they listen to feedback from their customers and will implement those suggestions that provide a more positive and meaningful experience for the end user. They are quick to implement changes too, this meant we were able to make use of the requested new features for our GDPR refresher eLearning course.
"I doubt many other eLearning platform providers have this open working relationship with their customers.  All you may get with other providers is an account manager to deal with your account queries!"
Andrew comments: "VirtlX has been a really useful platform for hosting our e-Learning course and analysing our staff's responses to this. The VirtlX team have been a great help and have been quick to implement features that were specific to our requirements as the project evolved."