What is an HR Management System?
The human resources department is the basis of any company, and it's responsible for managing and supporting employees. As the business world continues to evolve and adapt to new technologies, HR departments need modern tools to improve operations.
One of the innovations that has gained significant attention over the past few years is HR management system software. So, let's explore what it is and how it works, discover the benefits, and best practices associated with it, as well as discuss how to choose the right HR system for your business.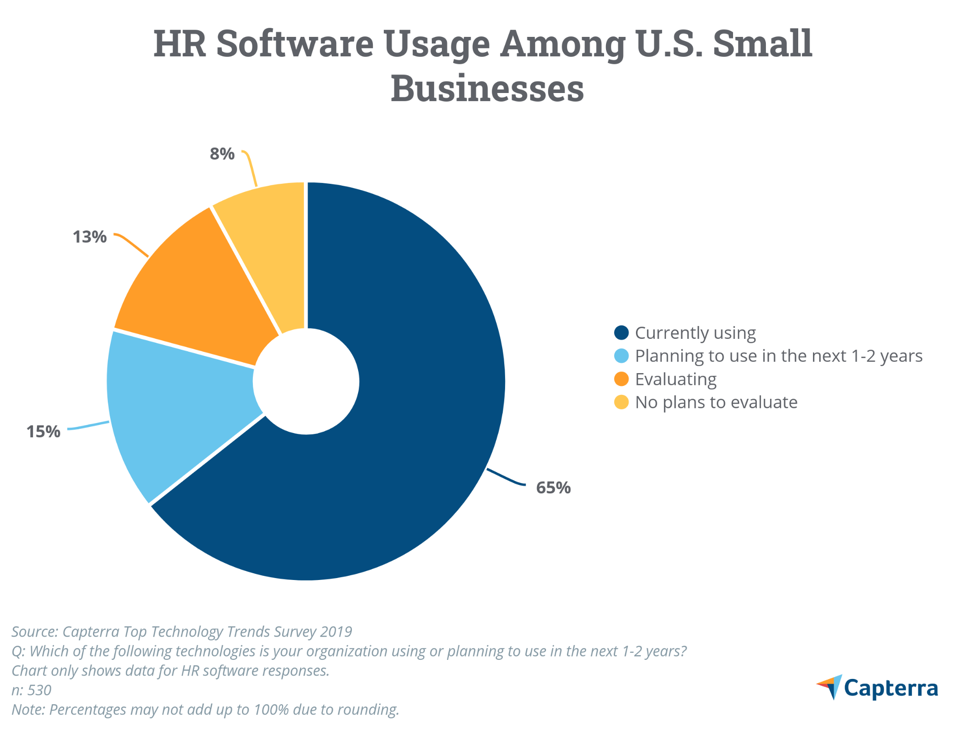 Key Components of an HR Management System
An HR management system is a comprehensive software solution that integrates various HR functions into one platform. It is also known as HRMS or Human Resource Information System (HRIS). Rippling, CleverLMS, Gusto, and Deel are good examples of HR software that helps with processes, increasing efficiency and productivity. 
According to Capterra, 65% of small businesses already use various HR solutions to help with the following:
Recruitment and Applicant Tracking
Managing recruitment and applicant tracking is one of the primary functions of an HR manager, thus, and of an HR system. It involves streamlining the entire hiring process, from job posting and candidate sourcing to interview scheduling and offer management. This module helps HR teams to organize and track all recruitment activities, providing a seamless and efficient hiring process.
Employee Data Management
A centralized database is essential for maintaining personal information, training records, job history, performance reviews, and other data about staff. An HR employee management system enables organizations to store, manage, and update staff data in a secure and structured manner. This database enables HR managers to easily access and update employee information, making sure that the records are accurate and up-to-date.
Time and Attendance Management
Checking employee time and attendance is crucial for ensuring productivity and compliance with labor laws. HR management software automates time attendance tracking, reducing manual errors and streamlining the process. This module also helps to manage employee work hours and vacations more effectively.
Payroll Management
Some organizations may opt for a dedicated payroll and benefits administration system to manage employee compensation, benefits, and tax compliance. These tools often integrate with other HR management system software and ensure accurate and timely payroll processing. 
Benefits Administration
A robust HR Management System should provide a comprehensive solution for managing health insurance, retirement plans, and paid time off. This also includes covers tracking eligibility, enrollment, and changes in benefits plans, as well as guaranteeing compliance with relevant regulations.
Performance Management
An HR Management System streamlines the procedure of establishing performance objectives, carrying out performance assessments, and offering feedback to staff members. This can help managers pinpoint improvement areas and implement development plans.
Learning and Development
An HR Learning Management System is designed to facilitate employee training and development, allowing organizations to deliver, manage, and track learning activities. These systems, like CleverLMS, often include features such as course creation, assessment tools, and reporting capabilities.
Compliance Management
Organizations must follow various labor laws and regulations:
Equal Employment Opportunities (EEO)

Family and Medical Leave Act (FMLA)

Occupational Safety and Health Administration (OSHA) 
An HR Management System should provide a comprehensive compliance management solution that helps organizations track and maintain compliance with these regulations.
Reporting and Analytics
Data-driven insights are essential for making informed decisions about human resource management. A good HR Management System should have advanced reporting features to help organizations analyze employee data and identify trends to improve HR processes.
The Benefits of Using HR Management System Software
Implementing HR management software or an online HR system can bring numerous advantages to an organization. These tools streamline the management of employee data, simplify the recruitment process, and improve overall efficiency in the workplace. However, according to Northeastern University's research, 36% of HR teams don't have the right tools and believe their mundane processes can be improved.
Let's take a closer look at some of the key benefits:
Improved Efficiency
HRMS systems automate benefits administration, payroll processing, and performance evaluations, reducing the need for manual data entry and reducing the chance of errors. This increased efficiency frees up valuable time and resources that can be redirected towards more strategic HR initiatives, ultimately leading to cost savings and improved business outcomes. This frees up HR managers to switch their focus to other initiatives, resulting in improved productivity and efficiency.
Enhanced Data Security
A robust HRMS ensures that sensitive employee information is stored securely and protected against unauthorized access. 
Law Compliance
Compliance with ever-changing labor regulations is another essential aspect of HR management, and HRMS software plays a crucial role in this regard. These systems are designed to help businesses stay up-to-date with relevant laws and regulations, minimizing the risk of non-compliance and the associated financial penalties.
Better Employee Experience
An HR system offers self-service portals that give employees access and rights to update their personal information, request leave, and submit timesheets. HRMS software helps employees succeed in their roles by providing access to resources and support. This empowers employees and fosters a sense of ownership, ultimately contributing to improved job satisfaction and engagement.
Selecting the Right HR Management System
With the numerous options of HRMS on the market, choosing the one that fits your company's needs may seem daunting. However, these three factors are the ones you must scrutinize if you are in doubt:
Functionality
Evaluate the specific needs and requirements of your organization and identify the core functionalities that are essential for your HR operations. The system you choose should offer these capabilities, like payroll, recruiting, learning, onboarding, and retaining. You should be able to customize it for your own processes.
Scalability
As your business grows, your HR management system should be able to keep up with the evolving demands. Look for a flexible and scalable solution that can accommodate changes in your workforce size, structure, and needs.
Integration
A good integration with other business software, like finance, accounting, and CRM, is key for efficient data exchange and workflows. An online HR management system usually offers more integration capabilities and supports popular third-party applications.
Implementing an HR Management System: Best Practices
Once you've selected the software, your next goal is to ensure a smooth implementation process. Here are some best practices to follow:
Involve Key Stakeholders
Engage employees, managers, and executives from the beginning and ensure their buy-in and support for the new system. This will help in fostering a successful adoption and long-term success.
Plan and Communicate
Develop a detailed implementation plan, outlining the specific steps, timelines, and responsibilities. Communicate the plan to the stakeholders and provide regular updates on the progress and any potential challenges.
Provide Training and Support
Organize comprehensive training sessions for employees and managers to familiarize them with the new system and its features. Offer ongoing support to address any questions or issues that may arise during the transition. If necessary, organize an hr management system demo for everyone involved in the process.
Transforming HR Operations with an Effective Management System
Leveraging technology to streamline HR operations is no longer a luxury, but a necessity. Implementing HR system software can significantly enhance your organization's efficiency and employee experience. We hope you can now make an informed decision and find the right HRMS for your business. Just remember to follow the best practices for implementation and integration, and you'll ensure a smooth transition and long-term success.
Article By Jonathan Hill