A study* into the best and worst cities businesses can conduct meetings and entertain clients
Using metrics such as the number of business meeting rooms available to hire, number of Michelin recognised restaurants and the cost of a taxi, 38 OECD countries were researched to discover the 10 best and worst cities in the world for businesspeople looking to impress their clients.
London, UK, revealed as the best capital city worldwide to impress your business clients
The UK's capital city boasts 129 five-star luxury bars and clubs, 231 business meeting rooms, and 445 prestigious golf courses making it the best city to entertain clients. However, London is also the most expensive city with an average nightly rate for its five-star hotels at £1,091.87 per night.
Tokyo takes second place, with rates for five-star hotel stays at around £368.21 per night, 105 five star rated bars and clubs, and the second highest number of Michelin star restaurants (427). Madrid ranks in third with 113 business meeting rooms, affordable five-star hotel stays and reasonably priced transportation with a 5 km taxi ride costing just £7.90.
The table below shows the top five locations to entertain clients in:

Well known for its delicious cuisine, it comes as no surprise that Paris has the most Michelin star restaurants available, making it the perfect choice for companies that want to wine and dine clients.
Study reveals Bern, Switzerland is the worst location for companies to take clients
Bern in Switzerland ranks the worst city for entertaining clients. A 5 km taxi journey in the Swiss capital is the most expensive out of every city in Compare My Jet's ranking at £24. There are also only eight business meeting rooms to choose from and just three five star bars and clubs for evening entertainment.
Reykjavik in Iceland comes in second to last, partially due to the cost of a five star hotel stay which would set the average company back nearly £471 per person per night.
Saint Paul, Minnesota, is the best city in the US to entertain clients
The team at Compare My Jet are well aware that business people based in the US may prefer to stay stateside when entertaining clients, so they have also looked into the best US states to show clients a good time.
Minnesota's state capital, Saint Paul, ranks number one with the highest number of five star bars and clubs out of all 50 states (81). There are also 154 golf courses to choose from, and the average price of a five star hotel stay is a reasonable $273 per night.
Coming in second is Denver, which has the highest number of business meeting rooms available to book (57) and 22 five star bars and clubs to choose from. Atlanta ranks in third place with 202 restaurants deemed suitable for business meetings and 121 golf courses.
The table below shows the top five US cities to entertain clients in: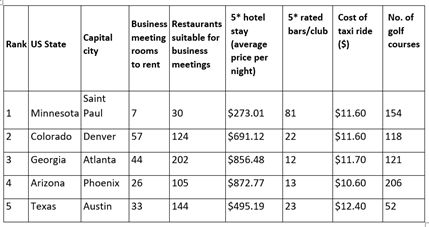 * https://comparemyjet.com/best-cities-for-entertaining-clients/