Provision of affordable US health care remains a priority for both companies and individuals as they look to secure adequate coverage and manage escalating costs. The challenges in the United States are unique as spending on health care in 2017 was calculated at 17.9%[1] of GDP – this contrasts[2] to the UK where spending accounts for 9.6% of GDP.  Contributor Mark Sullivan, Head of International Workplace Consulting at Fidelity
As healthcare expenses are approaching 20% of household income for many Americans, one can see the importance of planning for ones' health care needs.  Although there is some state provision for the poor, most citizens are covered through private health plans, with about half of all Americans participating in an employer sponsored group plan  until they are eligible for the national health insurance program for the elderly, Medicare, at age 65..
So there are two challenges, the first relates to how can organizations control health care costs by encouraging a healthier workforce and the second relates to educating people to adequately provide for their post-retirement health care needs.
Incentivising well-being
There has been a significant shift towards encouraging the workforce to lead healthier lives. This trend reflects a belief that well-being programmes will reduce plan sponsor costs but significantly they are also a way to enhance employee engagement. Well-being initiatives look to provide employee education to better equip the workforce, and their families, to live healthier lives and also to encourage quicker medical intervention to better manage health care costs.
Education initiatives have focused on a number of areas including better nutrition, more active lifestyles, support around mental health issues and debt management. Whilst this focus has delivered positive results there is an increasing focus to provide incentives to drive engagement in well-being programmes.
Fidelity's 10th 2019 annual employer survey[3] in partnership with the National Business Group on Health ("NBGH") provided evidence that there is increased use of financial incentives to encourage participation:
> Employers, on average, are spending 40% of their total well-being budgets on incentives with an average per-employee incentive at $762.
> 58% of employers also offer financial incentives to spouses/domestic partners to participate, with the average annual incentive of $601.
> 57% of financial incentives are delivered through reduction in medical plan contributions and 34% of financial incentives are delivered through employee's health care accounts, such as a Health Savings Account (HSA).
While programmes focused on physical health remain the most popular offering on well-being platforms, employers continue to recognise the interrelationship between physical, financial, work and life well-being. However, financial well-being is also being specifically targeted and, our research indicates, that employees who need help with their financial well-being are significantly less likely to be physically healthy and more likely to report feeling frequently stressed or anxious — which can impact job performance, productivity and increase medical costs. As a result, Fidelity is currently working with clients on synergistic well-being learnings and strategies via our Total Well-Being survey and dashboard.
Providing for health care in retirement
The focus on well-being whilst employed is gaining momentum but that need continues to exist into retirement. In April, Fidelity estimated that a 65-year old American couple retiring in 2019 can expect to spend $285,000[4] on health care and medical expenses.
The quantum of this amount is not widely appreciated and few people make adequate provision. It has been estimated, as shown in the chart below, that a couple at the age of 35 could save sufficient to provide for the estimated cost of health care by saving $2,820 per year [5].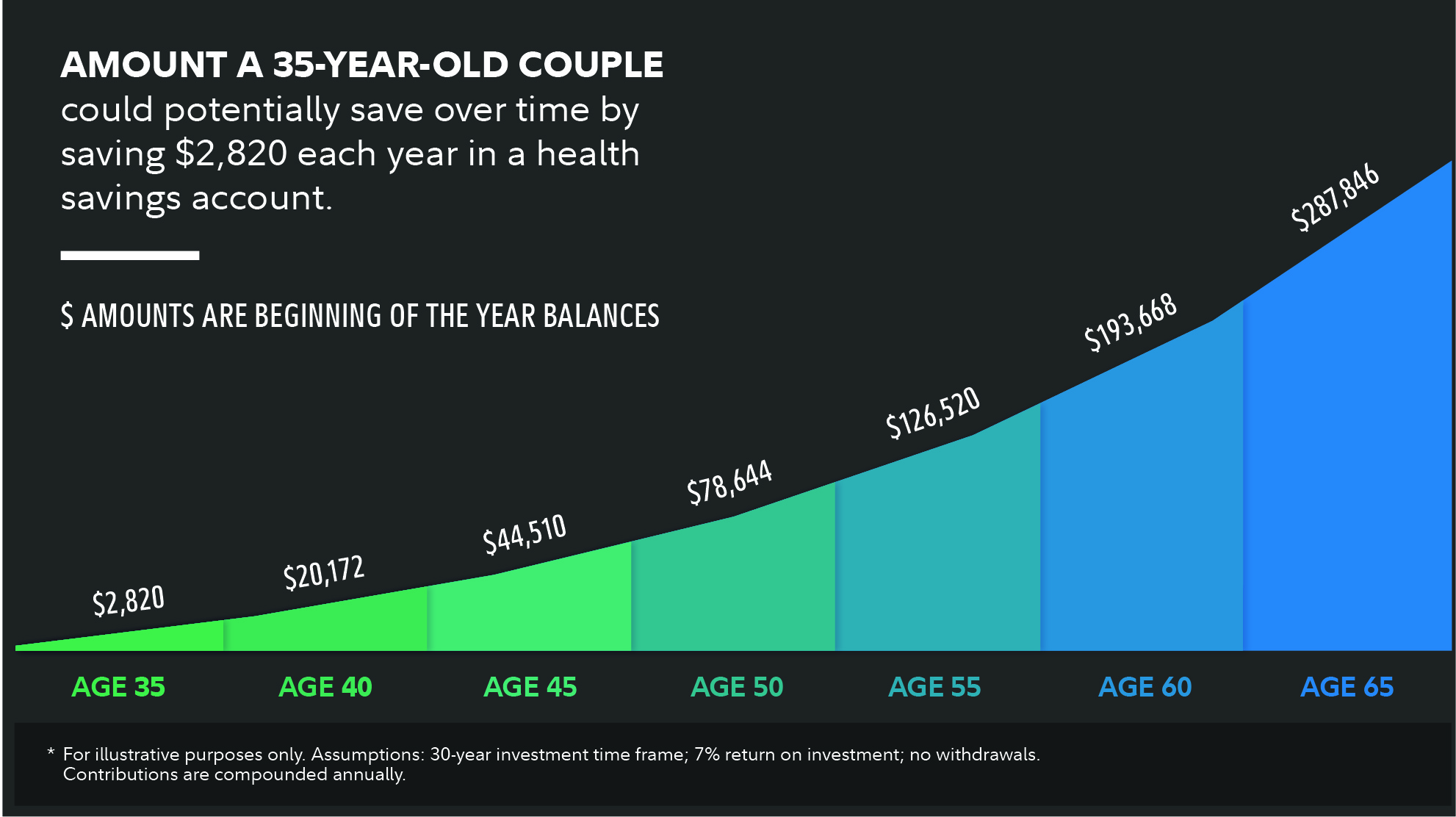 For pre-retirees who don't have 30 more years to save, there are options to consider including deferring Social Security benefits, inquiring about employer-subsidised early retiree benefits, maximising tax-advantaged savings accounts, and engaging with a financial planner.  The complexity of these will invariably require guidance to support individuals making the right decisions for their circumstances.
Whilst post-retirement needs might be seen outside the scope of an employer, retirement readiness does have a significant impact on a workforce. The impact of individuals approaching retirement without adequate provision can have consequences on employee turnover, stress and absenteeism.  This in part explains why 88% of employers in the NBGH survey have adopted a specific focus on Financial Wellness.
Benefit strategy implications of US health care trends
Employers are seeing positive results from well-being programmes in the form of a better engaged, more productive workforce with less absenteeism. Further there is evidence that in the war for talent a well-being culture is a requirement for the new generation of employees. This is leading more multinationals to consider global deployment to build on the positive results in the US.
[1] Centers for Medicare & Medicaid Services
[2] OECD (2019), Health spending (indicator). doi: 10.1787/8643de7e-en (Accessed on 05 June 2019)
[3] https://www.fidelity.com/bin-public/060_www_fidelity_com/documents/press-release/Fidelity-Well-Being-Survey-041819.pdf
[4] https://www.fidelity.com/bin-public/060_www_fidelity_com/documents/press-release/healthcare-price-check-040219.pdf
[5] Note, however, that the amount needed when that couple reaches Medicare eligibility age in 30 years will be materially higher if trends continue.