The very tools designed to keep remote employees connected and productive may be leading to technology burnout.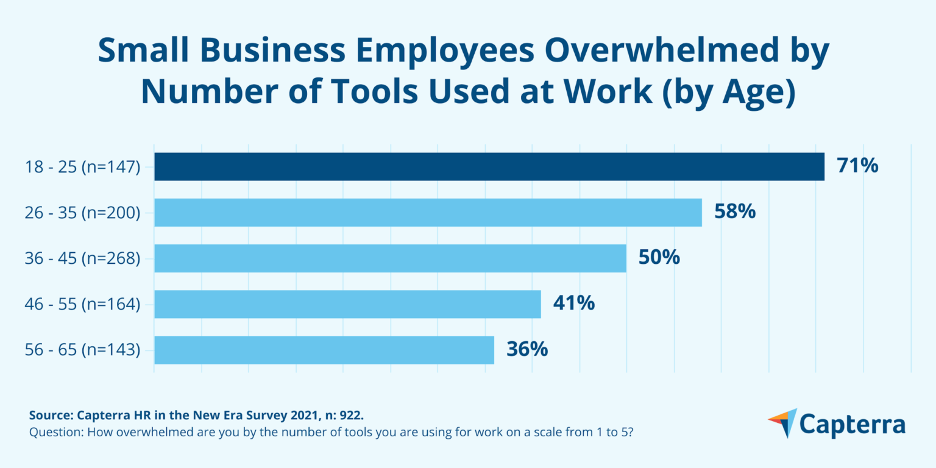 At the beginning of the COVID-19 pandemic, businesses moved to remote work quickly, and digital tools helped fill in the gaps brought about by this rapid pivot. These tools helped workers communicate, manage projects, track metrics, and connect with colleagues, all from their own homes. But this level of digital connectivity comes at a cost, and those most affected appears to be Gen Z, the "tech generation." 
According to the New Era Survey*, workers ages 18-25 use more digital tools for work than their older colleagues. While this generation is often deemed the most tech savvy, their savviness doesn't protect them from "technostress." 71% of workers ages 18-25 report feeling overwhelmed with the number of digital tools they use for work, compared to 58% for ages 26-35 and 50% for ages 36-45. 
However, remote work, and the digital tools that make it possible, are here to stay. Here are three things you can do to prevent and alleviate employees' burnout with technology to keep your teams happy, healthy, and productive. 
1. Take inventory of all digital tools in use by employees
According to the Capterra HR in the New Era Survey, most Gen Z workers report using multiple digital tools for personal organization, time management, online communication, collaboration, learning and development, and security. 
While digital tools can make these aspects of employees' jobs easier, using too many tools may cause some workers to feel overwhelmed. Take inventory of what tools your employees are using and identify areas of overlap. For example, are they using more than one productivity tool? Can the number of productivity tools be reduced to one?
When taking inventory and auditing your employees' current relationship with digital tools, consider how the digital tools in use benefit the business and its processes. It is possible to outgrow some tools as you scale or processes evolve. 
2. Reduce the number of mandatory video conference calls 
"This could have been an email" memes have been circulating on social media even before the pandemic but have gained renewed popularity when in-person meetings went virtual. And although these snarky memes are meant in jest, they get at an important aspect of people's unexpected and prolonged remote situations: Video conferencing fatigue. 
Video conferencing fatigue describes the burnout associated with virtual meetings. 
According to Harvard Business Review, video calls can be more exhausting than in-person meetings because of how people process information through video calls. 
In pre-pandemic meetings, people would gather in one place. Attendees could look around the room, see others, and glance out the window on occasion. In a virtual meeting, however, attendees need to look directly at the camera to show they're engaged and listening. 
"But, in real life, how often do you stand within three feet of a colleague and stare at their face? Probably never. This is because having to engage in a 'constant gaze' makes us uncomfortable — and tired," wrote Liz Fosslien and Mollie West Duffy in HBR in April 2020.
To combat burnout from video conferencing technology, businesses can take inventory of their meetings. If you're unsure where your employees stand regarding meetings or video conferencing fatigue, ask for feedback either directly or through an anonymous form. 
Consider recording longer meetings and allow employees to watch them on their own time. Or, perhaps some meetings really could be emails or combined with other meetings to reduce the number of video calls on employees' calendars.
3. Encourage teams to schedule in breaks 
With all of your remote employees constantly "plugged in," be sure to encourage them to unplug and take breaks when needed. Taking breaks can help alleviate "technostress" by giving people a mental break. 
Encourage employees to schedule time for physical activity such as taking a walk outside in the afternoon, doing lunch-time yoga, or doing a quick 5-minute meditation when they need an extra dose of mindfulness. 
When people are working where they live and living in their workspace, it can be difficult to achieve work-life balance, and this can impact mental health. Consistently communicate what's expected of your employees, while also reminding them that they're not expected to work longer hours than normal. 
This will require an ongoing effort to reassure your employees that you understand the additional stresses they are encountering while working from home and value their mental wellbeing. 
Making mental health a priority for your teams, including alleviating "technostress" and promoting a healthy work-life balance, is essential for sustained remote work. However, 41% of employers have not discussed mental wellbeing with employees since the pandemic started. 
Start these conversations today to protect your teams and business from the impact of burnout, and listen to your employees when they offer feedback and insights into their personal experience working from home.