Seeing the need for change
Craig Lundberg was a sniper for the 2nd Battalion of the Duke of Lancasters. In 2007, on a routine patrol in Iraq, he was hit by two rocket-propelled grenades during a roof top battle. As soon as he regained consciousness, he knew that he'd be blind forever.
Craig will tell you he isn't special; that he's just another injured war veteran. But he's wrong. What makes him special is his attitude to change. In that moment of realisation, Craig's response was, 'well, that's it then, let's get on with this'. He's since achieved things he says he would never have done as a sighted person, including cycling the length of Britain on a tandem, and carrying the Olympic torch into his home city of Liverpool in 2012.
Dynamics in the likes of technology and climate change were already making our lives increasingly less certain, but Covid-19 has taken unpredictability to a whole new level. Our world is increasingly uncertain, and our ability to see what lies ahead is deteriorating. As a result, adaptability has never been more important to organizational survival and growth than it is right now. 
The challenge for all of us is to become as adaptable as Craig.
But what exactly is adaptability, why does it seem to be so elusive, and how can we get more of it?
The anatomy of adaptability
No leader worth their salt would say anything other than 'people are the backbone of our organisation'. In which case, adaptability is the series of soft discs between each vertebra that allows the spine to twist, bend, and shock-absorb. In times of good health, we tend to take our backs for granted. Only when a 'slipped disc' puts pressure on a nerve does the resultant pain force us to work on our flexibility. 
Well, Covid-19 has certainly hit a nerve. And one reason it hurts so much is because most organisations have been pre-occupied with building strong vertebra – such as hiring experts in their field, putting them in the right organisational structure, and keeping their technical skills current. That all helps build strength, but the crucial bit that gives the organisation mobility has been less of a priority.
Ultimately, it doesn't matter how technically intelligent key players are as e.g. marketers, engineers, or lawyers, unless they also have the ability to adapt to how the game is being played. A subject matter expert who cannot adapt will, when faced with change, tend to roll up like a hedgehog, denying the organisation access to their key skills and experience at the very moment they're needed most. 
But, however compelling the case for developing adaptability is, it's not a challenge to be taken lightly, not least because it involves rewiring generations of evolution.
Resistance is primal
Thousands of years ago, our ancestors evolved to perceive any change in their situation as an increased likelihood of being eaten. Our default setting is 'resist first, ask questions later'. It's a stance fuelled by fear, anxiety, and self-doubt. Managing these mental challenges requires new behaviours that are counter-intuitive. Moreover, it's a journey that takes time and courage.
Getting people to embrace change isn't just about neutralizing their raw negative emotional instincts. It's also about capitalizing on the massive personal benefits that change offers, such as the ability to make a difference, the chance to work in teams united by a challenge, and having the freedom to act differently.
Projects are great at changing what people do, but they rarely change how people think and feel about change itself. In other words, projects are great at delivering everything except an adaptable mindset. As a result, most people are stuck believing that their current relationship with change is fixed. That's not true – which is lucky, because it's no longer viable either. 
So the question is, how do we move from changing people one project at a time, to developing a culture where adaptability is embedded as a core behaviour?
Covid-19 has caused a paradigm shift in how we see the world, and a corresponding shift is needed in recognising adaptability not as part of a change process, but as a form of intelligence. That immediately opens up the possibility that it can be learned and mastered. 
The one strategy to rule them all
Let's recap so far by joining a few dots:
Change is essential for survival and growth.

 

The world is becoming more unpredictable.
People are the backbone of the organisation.

 
And yet
People instinctively resist change.
Houston, we have a problem. 
Logically therefore, a strategic imperative for any organisation has to be the development of its most valuable assets in mastering the skills that will most contribute to its survival and growth. In other words:
We all need to become experts in adaptability as well as whatever we were hired to be experts in.
High Performance Change Culture
In simple terms, people (and the organisations they work in) who embrace change are progressing, and those who resist are regressing. Adaptability can be measured on a spectrum that ranges from the 'fear of change' to the 'freedom to change' (see Fig.1). Although there's some distance between the two, the application of practical antidotes and stimulants at each level helps people build a series of 'super-powers' that will catalyse their journey towards mastering adaptability.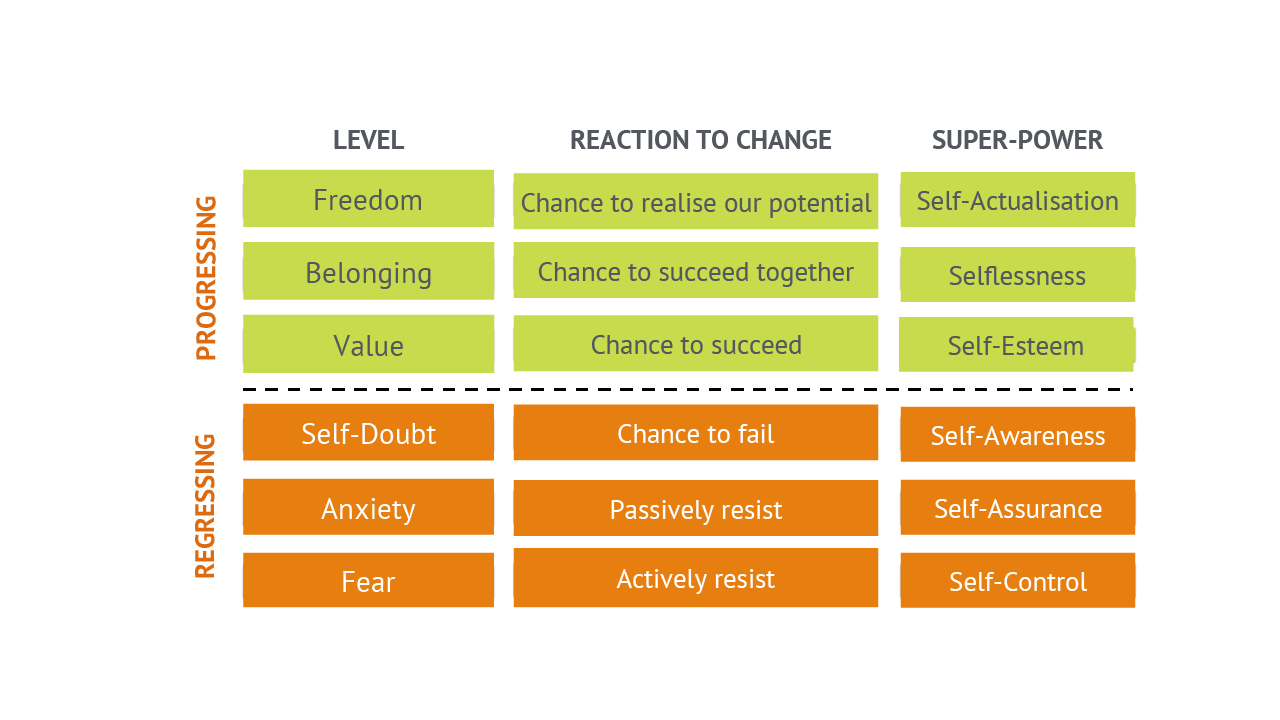 Fig.1 The High Performance Change Model
Using the above roadmap, the kind of adaptability that Craig Lundberg demonstrated can be learned and mastered by anyone who chooses to do so. At an organizational level, adaptability will then become the expected behaviour, where people default to giving new ideas a fair hearing. Constructive criticism of change is encouraged, but cynicism isn't. When people stop being defensive of the status quo, it generates an atmosphere of trust and openness. 
Adaptability builds a culture of optimism, curiosity, and a sense of being ready for anything. 
The complete strategy
Strategies are filled with ambitious change initiatives that seek to gain competitive advantage. The one initiative that is usually missing though, is the one that can accelerate the delivery of all the others. Develop people's adaptability and they won't just accept the strategy, they'll grab it with both hands. 
Web: www.highperformancechange.com      
email: info@highperformancechange.com