The role of the workplace has changed exponentially over the past decade. From simply a place to do work, it is now a recruitment and retention tool, a symbol of an organisation's brand and is increasingly playing a key role in engaging people and making them more productive – which when productivity is at an all-time low is a challenging task. Contributor Bruce Barclay, Head of European – Elavon and US Bank.
In addition to technological change, management structures are changing making the workforce more fluid, scalable, agile and responsive. As a result businesses are radically rethinking their HR and workplace experience strategies to align more closely with this new, evolving set of business drivers – and the workplace of 2020.
These transformations are having profound implications on the role and intrinsic value of the centralised workspace, as the balance shifts towards more flexible, diverse, de-centralised workplaces.  The physical workspace required for the talent of the future will be completely re-thought, redesigned and maybe even relocated.
This article will explore how this can be achieved, arguing that only bridging the gap between HR, real estate, facilities management, IT and security to create a workplace ecosystem can drive this change and enable the workplace to transform and deliver tomorrow's business objectives. It will look at both why, and how, this can be achieved, the benefits to the HR profession and what changes HR professionals may need to make. 
The workplace has changed exponentially over the past decade with businesses radically rethinking their HR and workplace experience strategies as a result. But to be truly successful, argues Bruce Barclay, organisations must bridge the gap between HR, real estate, facilities management, IT and security to create a workplace ecosystem
The natural world is a story of constant change and evolution. Animals, plants, insects and micro-organisms exist in an ecosystem, adapting to relentless changes in their environment, influenced by habitat, climate and their co-habitators. They respond to change faster than the human world, because they are not tied by the same restraints and conventions. They are interdependent and reliant on each other, competitors and cohabiters for mutual advantage.
Continual change is one of the fundamental laws of nature and just as the animal kingdom is constantly adapting, we as humans, are living in an era of unfathomable change as we move into what has been called the Fourth Industrial Revolution. Technology-driven advances are happening at an exponential rate, changing our habitat and with it the very fabric of society. Everything we do is becoming enabled and enhanced through new technology, apps and intelligent machines. To survive and thrive in this new digitally-enabled, consumer and experience-driven world, businesses are completely rethinking how and where they supply their product, service or value proposition. 
The old corporate-centric models with rigid hierarchies, silo mentality and traditional business strategies are slow to respond and are rapidly becoming disconnected with today's constantly changing world. The nature of the workforce itself is also changing: the rise of gig economy workers, increased demand for flexible working, changing skills requirements, and the war for talent. 
As a result, businesses are radically rethinking their HR and workplace experience strategies to align more closely with this evolving set of business drivers. Companies are adapting their strategies to engage diverse and flexible talent that supports their need for agility and unlocks future productivity. At the same time, the role of the workplace is changing from being merely a place to do work, to acting as a recruitment and retention tool, a symbol of an organisation's brand and a central tool in employee experience and engagement, productivity and business innovation. As a result the centralised workspace is changing, shifting towards more flexible, diverse, de-centralised workplaces. The physical workspace required for the talent of the future is being re-thought, redesigned and may even be relocated.
What is the key to survival in a rapidly-changing business environment and what does the HR team need to do to deliver this transformation? The challenges facing the workplace of 2020 and beyond are so complex that they cannot be solved by people working in one function. What is needed are groups of subject matter experts working together in business ecosystems. Organisations need a structure that provides insight and knowledge from multiple sources, promotes innovation and business engagement. Long-term business advantage lies with agile, intelligent organisations that are able to anticipate change and adapt more efficiently than the competition.
A properly-structured workplace ecosystem is the best tool to handle business change in relation to the employee experience. If support functions work separately, the business will only ever receive the separate insights from the individual contributors about future need and how best to prepare for it. With an ecosystem, a business has multiple stakeholders looking to the future, aligned to unifying vision and strategy and coming together to discuss how external and internal changes may impact the business. This drives business agility through better insight and faster decision making. Agility in a fast-changing world is both a competitive and strategic advantage.
The benefits of a workplace ecosystem
The war for talent is becoming more competitive and today's workplace is a key weapon in an organisation's armoury. But the employee experience is the outcome of a number of functions working together, not one department alone. The location of the office might be the decision of the real estate team, but the HR function would have provided input around employee travel and talent attraction considerations. The services provided within the workplace such as catering, and the design of the office, might have been led by FM but will have involved HR, IT and security. The contractual documentation that the employee signed when they joined the business will have been led by HR but may have been influenced by other departments. The storage of those documents might be the responsibility of HR, but archive storage may well be managed by the FM team. If an employee decides to work predominantly from home, the HR, IT and H&S teams will work together to ensure that person has the right home-working environment and is managed properly. 
Because no one function stands alone when it comes to delivering the employee experience, it stands to reason that all these functions working together will provide greater business impact than if they work separately.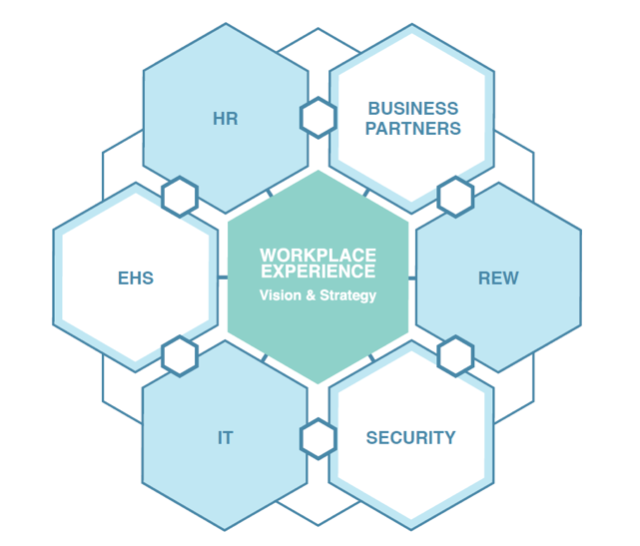 As well as benefitting the business, working together benefits the individual functions themselves. It allows HR, for example, to better respond to the needs of the business. For example, during growth periods HR will engage with real estate as to where growth can be accommodated, and through the on-boarding process work with the IT team for equipment and resources for the employee, the FM team to provision workspace and amenity, and security in relation to access controls. 
The ecosystem approach provides a unified solution for the workplace consumer, individuals and teams in the organisation. Rather than be sent from pillar to post with a query that may fall between the HR/ IT/ FM/ security silos, they get an immediate response from one person who takes responsibility for dealing with the issue, whoever's former remit it falls into. This approach speeds up the response to end-users and enables them to get on with their core job, delivering value to the business, more quickly.
Much has been written on the 'why' of organisational learning, knowledge management and change management, the prerequisite of an agile, intelligent organisation.  'How' to achieve this and what needs to happen in practice has received far less air-time. 
The How
The workplace ecosystem is about designing the organisational structure around the purpose of the organisation and putting the workplace consumer – the employee – at the centre. Every business will be slightly different and will apply this idea differently. However, with the creation of a workplace ecosystem there will be different stakeholders with different insight and business perspectives all focusing on the same goal – making the workplace and employee experience the best it can be, enabling improved business performance.
HR specialists will talk about the impact of new labour law changes, for example, or how to support people adapting to changes in how and where work is done. The IT experts will discuss the latest technology they're introducing. The facilities professionals will look at how operating regimes might need to change to improve workplace performance and data capture. And the real estate experts will focus on how the property footprint might need to change to adapt to the latest changes in the business and its talent attraction need. Rather than these functions all working separately, duplicating work and not sharing information, in an ideal world they will all work together as One Workplace Team delivering an outstanding workplace experience that enables the core business.
Some might argue that the HR team, for example, will have subject-specific work that does not involve other specialisms. But this is rarely the case. A new training programme, changes in headcount, a wellbeing drive and new legislation all affect the workplace experience. As does an upgrade in technology infrastructure introduced by the IT team or a new office fit-out by the FM team. 
If there is a single point of contact with holistic business insight, they can react quicker to workplace consumer need and be a true enabler to the business. This structure will also help the HR team to increase overall functional performance and strategic value to the business.
But building relationships is just part of the task. Key to the success of any ecosystem is the creation of the environment and conditions in which the various stakeholders can engage with each other and collectively thrive. One such approach is the SERVICEBRAND ® methodology and operating platform which has been tried and tested in workplace supply chain environments, delivering strong results.  The underpinning concept is one of alignment across the core areas of brand identity, employee engagement and customer experience supported by robust measurement and insight and facilitated by effective systems and processes.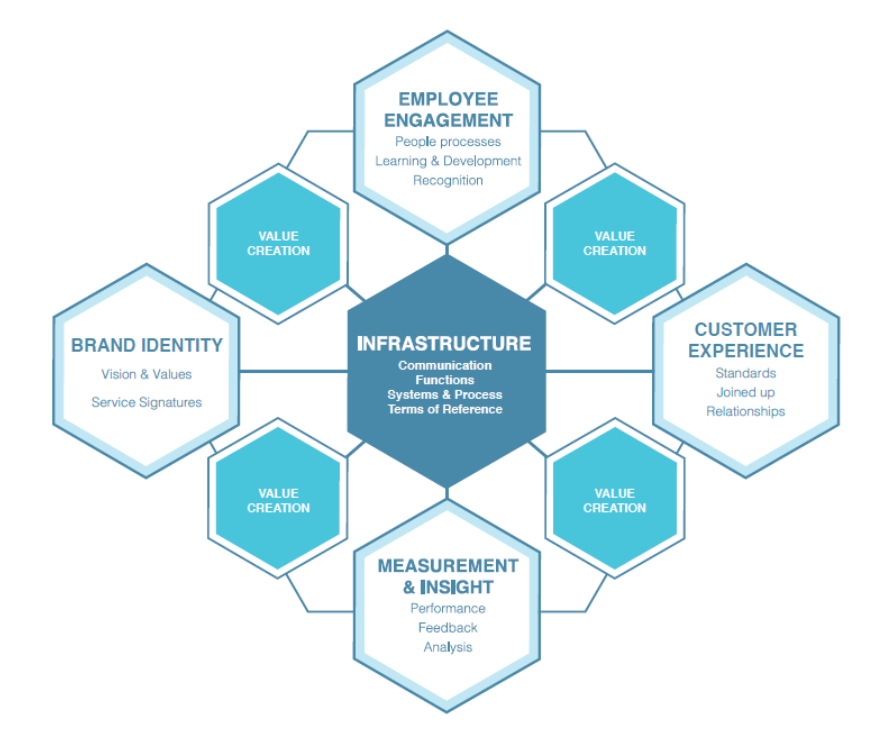 The Workplace Ecosystem Operating Platform
This approach facilitates customer-led decision making, encourages collaboration, accelerates and distributes the development of innovation and enables agile response. It can help to create and capture new economic value and provides a scalable solution for single site, regional or global ecosystems.
The steps to forming an effective workplace ecosystem are easy to define, but much harder to initiate. It requires business leaders to break free from the traditional corporate models and embrace a whole new way of working. We need to recognise the ecosystem as a key engine of future performance and move beyond the notion of high performing individuals or teams. Like Darwin's theory of natural selection, those who don't adapt and prepare now for the next great wave of transformation will be left behind. Whichever way you look at it, the HR, real estate, FM and IT functions work better in a workplace ecosystem where there is aligned focus on delivering the core needs of the business.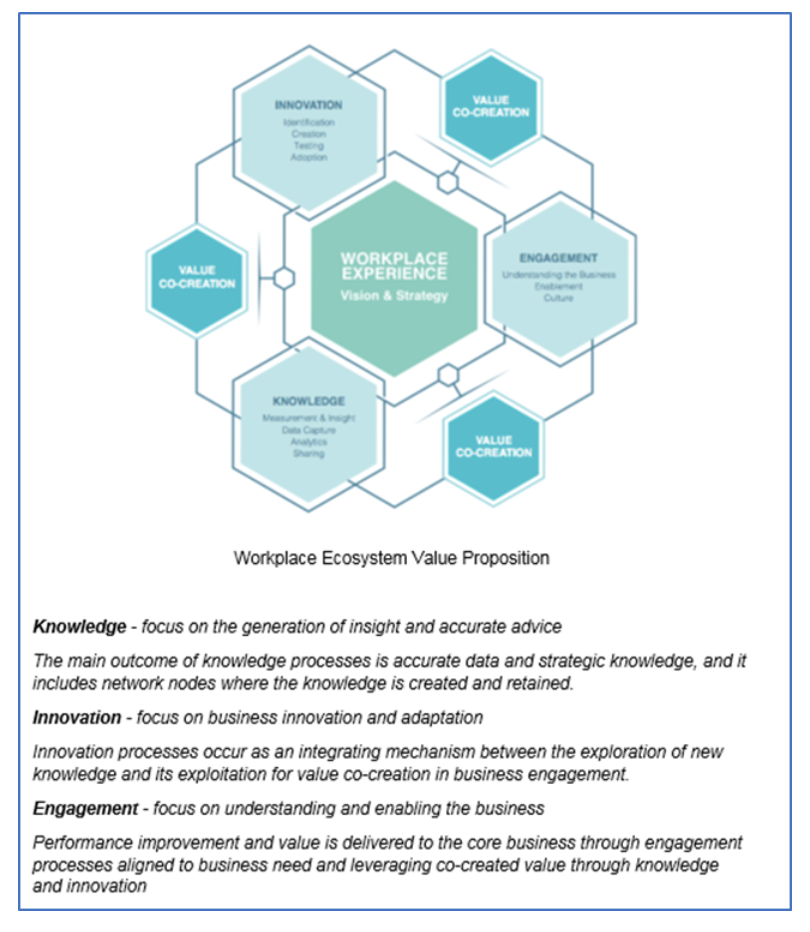 Workplace Ecosystem Value Proposition showing the functionality of the proposed ecosystem, not the stakeholders or actors 
Knowledge – focus on the generation of insight and accurate advisory
The main outcome of knowledge processes is accurate data and strategic knowledge, and it includes network nodes where the knowledge is created and retained.
Innovation – focus on business innovation and adaptation
Innovation processes occur as an integrating mechanism between the exploration of new knowledge and its exploitation for value co-creation in business engagement.
Engagement – focus on understanding and enabling the business
Performance improvement and value is delivered to the core business through engagement processes aligned to business need and leveraging co-created value through knowledge and innovation
---
Receive more HR related news and content with our monthly Enewsletter (Ebrief)