Change Resistance Bingo: print out the card below, hand it out during a meeting where the plan is discussed. When you hear a phrase that resembles a phrase on the card, tick the box. If you do not like the plan, use one or more of the phrases on the card. In that way, you can both slow down the plan and win the Change Resistance Bingo.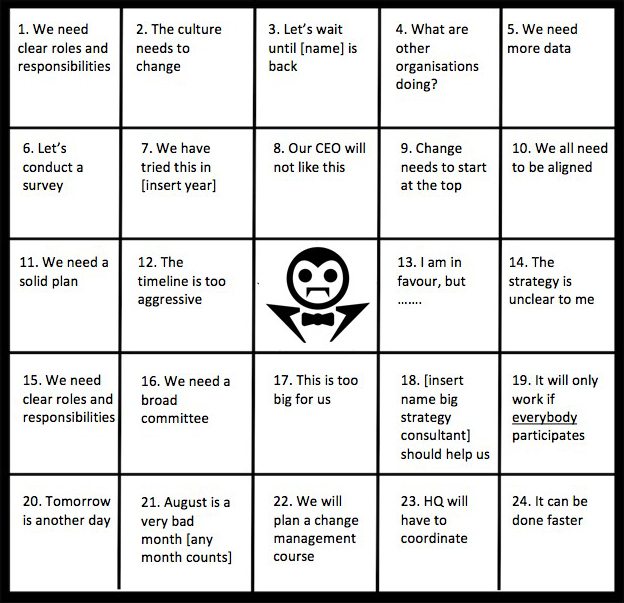 1. We need clear roles and responsibilities
2. The culture needs to change
3. Let's wait until [name] is back
4. What are other organisations doing?
5. We need more data
6. Let's conduct a survey
7. We have tried this in [insert year]
8. Our CEO will not like this
9. Change needs to start at the top
10. We all need to be aligned
11. We need a solid plan
12. The timeline is too aggressive
13. I am in favour, but …….
14. The strategy is unclear to me
15. We need clear roles and responsibilities
16. We need a broad committee
17. This is too big for us
18. [insert name big strategy consultant] should help us
19. It will only work if everybody participates
20. Tomorrow is another day
21. August is a very bad month [any month counts]
22. We will plan a change management course
23. HQ will have to coordinate
24. It can be done faster 
Tom Haak is the founder and director The HR Trend Institute. Prior to founding the HR Trend Institute in 2014, Tom held senior HR positions in companies as Arcadis, Aon, KPMG and Philips. The HR Trend Institute detects, follows and encourages smart and creative use of trends in the field of people and organizations, and in adjacent areas.