Big Tech has always been seen as "culture-obsessed". Yet, the golden era is over and workplace issues in tech land are piling up. Mass layoffs and resignations, allegations about toxic cultures and a certain social media boss's outlandish leadership style have placed Big Tech in the headlines in recent months for all the wrong reasons.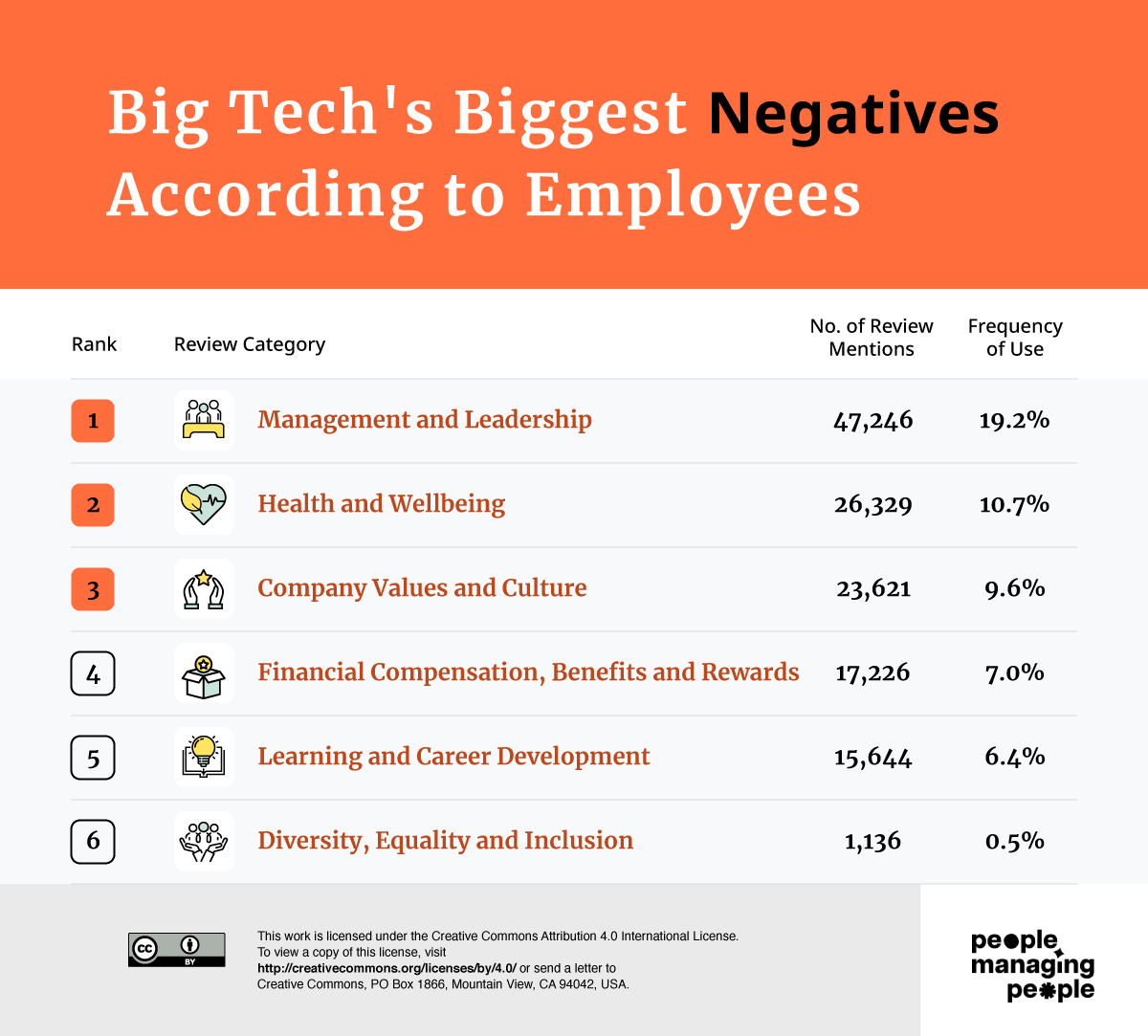 But what does the workforce believe to be Big Tech's biggest problem?
To find out, the data analysts at HR and leadership community People Managing People reviewed nearly a quarter of a million Glassdoor reviews for 25 of the world's largest internet companies with US headquarters and $1 billion+ annual revenues – including Google, Meta, Twitter and PayPal.
The study, which analyzed 245,990 Glassdoor reviews, reveals management and leadership is the biggest issue within Big Tech companies according to employees. It was cited 47,246 times – or 19 percent of the time.
The second biggest issue within Big Tech corporations relates to employee health and wellbeing. Complaints including long hours, work-life balance, stress and burnout were mentioned 10 percent of the time in staff reviews (26,329 times).
Despite Big Tech being early adopters of the wellbeing agenda, the data corroborates earlier statistics published by the workplace app Blind which found close to 60 percent of tech professionals are burnt out.
Complaints about company values and workplace culture feature 9 percent of the time in employee reviews (23,621 mentions). This isn't just a problem in some large tech companies; it's prevalent in many start-ups too.
Good company culture is so much more than having an Instagrammable office space, unlimited holiday policy and a beer fridge. Culture should revolve around creating a supportive and psychologically safe environment for employees, where they are empowered to be the best person – personally and professionally – they can be.
However, it's important to note company values and workplace culture keywords are cited in a positive way 24 percent of the time (58,963 mentions), too. This suggests views on what constitutes good company culture vary among staff and experiences differ across companies.
By contrast, 'Financial compensation, benefits and rewards' is considered the biggest positive of working in dot-com companies, mentioned in a positive way 29 percent of the time in the Glassdoor reviews analyzed (72,433 mentions).
Sizeable total compensation (salaries plus bonuses or equity) is a big draw for tech jobs and can boost a worker's take-home package by six-figure, if not million-dollar, sums.
But it has also led to unsustainable salary and cost-of-living inflation in tech hubs, such as Silicon Valley, which is affecting big tech's ability to hire talent and afford its wage bills as share values become more volatile.
Interestingly, negative opinions on companies' Diversity, Equality and Inclusion (DEI) programs are minimal – mentioned 1,136 times (or 0.5 percent of the time).
In recent years, tech majors have stepped up hiring and made DEI a priority. But as the industry grapples with the hangover from over-hiring, rising interest rates and changes in consumer behavior, tech companies have announced deep cuts, risking their diversity gains.
Amazon recently announced layoffs of more than 18,000 roles as part of a workforce reduction – roughly 6% of its corporate workforce. Salesforce also has plans to cut about 10% of its staff, with Google further announcing 12,000 job losses globally.
Looking at the data at a company level, there are clear differences in how staff view the workplace and their employers.
'Company Values and Culture' is mentioned positively 42.4 percent of the time by employees at Workday, a software vendor. This contrasts with Netflix, whose employees express negative opinions about this aspect of work life 20.8 percent of the time on Glassdoor.
Meta employees, past and present, are most happy about their financial compensation, benefits and rewards, with positive mentions in reviews 55.1 percent of the time. Whereas e-commerce platform Wayfair performs the worst in this category, with staff citing this as an issue 16.5 percent of the time.
Wayfair also has the biggest problem with poor management and leadership, according to the reviews and companies analyzed. Employees are likely to talk negatively about this 37.4 percent of the time.
Expedia tops the list for its approach to health and wellbeing, with staff expressing positive opinions 16.5 percent of the time. The worst-performing company in this category is tech real-estate marketplace Zillow, with negative mentions 41.5 percent of the time.
Finn Bartram, Editor of People Managing People commented on the findings: "It is a challenging time for Big Tech which means employee morale and uncertainty are high. "It has been interesting to look at the sector with a macro-lens to uncover the biggest issues affecting its workforce. It's clear poor leadership and management is affecting a high proportion of employees' experiences working within dot-com companies. "As pressures on management increase and leadership transition becomes even more common, it's vital Big Tech addresses this flaw to rebuild better, more resilient businesses that can attract and retain talent."