The world's largest professional network, today released the most overused words by the UK's recruitment professionals on their LinkedIn profiles. The 'buzzwords' were drawn from analysis of millions of UK member profiles to compile the ten worst offenders from the past twelve months.
During what is typically the busiest week in January for LinkedIn members to update their profiles as they refresh their professional brand for the year ahead, LinkedIn is encouraging recruiters to make sure their profiles reflect the unique aspects of their employer brand to attract the best talent in 2017. This year's list reveals "specialised", "leadership" and "experienced" as the most overused buzzwords. The top ten buzzwords among UK recruiters use are: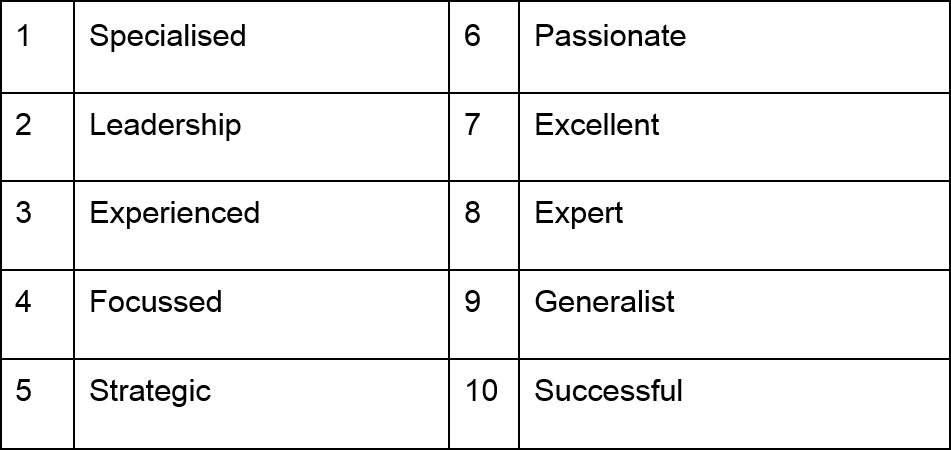 Jon Addison, Head of Talent Solutions, LinkedIn UK commented, "Recruiters are the front line when it comes to a company's ability to attract the best talent. More than half of candidates wouldn't consider working for a company whose values they didn't know or agree with, so a recruiter's profile should clearly communicate the unique aspects of their organisation's culture and purpose. That's why we're encouraging recruiters to check their LinkedIn profiles for these buzzwords and make sure they stand out from the crowd in 2017." Stephen Chambers, Resourcing Delivery Manager, John Lewis Partnership commented, "When we're considering candidates to join the John Lewis Partnership Resourcing team we're looking for professionals who understand how to shape their own professional profile, as well as spot a strong one in others. Standing out from the crowd is part of this. I'd encourage all recruiters to make sure they're not falling into the trap of using buzzwords on their LinkedIn profiles, and being true ambassadors for their employer brand."
LinkedIn also shared its top tips for members looking to avoid clichés on their professional profiles: Nail your profile summary: First impressions matter, so as well as having a professional profile photo, your profile summary is one of the first things people see. It can be punchy, humorous, or an anecdote, but it should draw people in while giving them a succinct picture of how you can connect them with relevant career opportunities.  Write for your candidates: As a recruiter, your LinkedIn profile should be working to communicate why top talent should work for your organisation. Write with potential candidates in mind and describe your company's culture, values and what it means to be part of the organisation. Show, don't tell: Were you one of the top recruiters in your previous role? Don't just say it, prove it with numbers of placements filled or projects completed because of the great talent you brought into the organisation.