A recent survey* has revealed that over 30% of full-time UK employees are working a hybrid working schedule. In the midst of the Covid-19 and Cost of Living crisis, this comes as no surprise with more businesses wanting to incorporate this work schedule to help support employees during the winter months.
Findings also show that Marketing, Advertising and PR is one of the most popular industries in the UK to be working a hybrid working model in the UK, as data analysts revealed that people in digital marketing value having social interactions with work colleagues.
Over a quarter of people in full-time employment in London (36.21%) are working a mixed working schedule days during the week working at home and in the office – which is followed closely by South West (35.33%).
In East Anglia, 30.19% of full-time employees are working a hybrid work schedule. Elsewhere, 29.46% in the South East and 27.18% in the North West.
With percentages showing increases in businesses across the country adopting a hybrid working schedule. The Manchester-based agency wanted to find out which sectors in the UK have incorporated this working schedule since offices across the country reopened post-pandemic.
The Top Sectors in the UK for Hybrid Working according to Embryo's Survey:
Recruitment and HR – 55.56%
Marketing, Advertising and PR – 53.85%
Public Services and Administration – 49.01%
Information Research and Analysis – 46.15%
Insurance and Pensions – 44.74%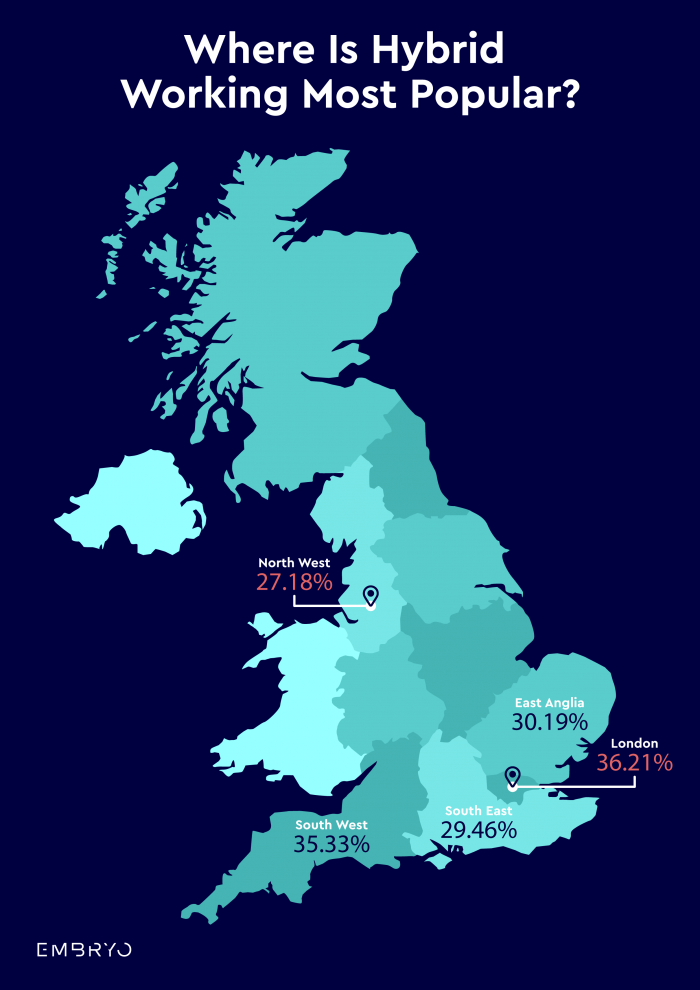 The findings showed that over 40% of businesses in the North West working in these sectors are adopting a working hours schedule that offers staff the flexibility to work at home and in the office. Recruitment, HR, Marketing, Advertising and PR showed the highest percentage due to most of these firms and agencies in Manchester and other surrounding areas putting together workplace policies that catered to COVID-19 rules. While the remaining industries, such as technical and administrative, are now adapting to a hybrid working schedule after facing challenges with remote working.
World-renowned psychologist Angela Karanja commented: "Employees benefit from Hybrid working as they spend less time travelling and commuting to work every day. Having days at home gives them more hours to get tasks done at work and home. Instead of hanging about chattering during breaks, many employees can now do housework.
This flexibility that hybrid working gives allows them to stay motivated and feel satisfied with their work as they can create structure and balance in their workload. For environmentally focused employees, this is a dream come true and an altruistic achievement that can increase motivation.
However, with many workplace processes, some challenges come with hybrid working, including miscommunications, a feeling of ingroup outgroup, lack of proximity and peer psychological support, and an out of sight out mind phenomenon. "
Head of Operations, Cicely Ward, commented on how Embryo benefits from a hybrid working schedule: "Since implementing a hybrid working schedule, we have been able to give employees at Embryo the opportunity to interact with team members on their days in the office, whilst also enjoying the benefits of working from home. As a multi-channel agency, we value our rotating hybrid schedule, as it allows staff to interact with different departments and liaise with one another on digital marketing strategies. We're expanding our office space in the new year, which will allow every person at Embryo to be in the office on the same day. We believe this will help improve productivity and also drive more innovation.
To help keep on top of communication and tasks happening with the agency, we have tools like Slack, which allow each team member to share ideas, have fun and keep up to date on client communication and the progress of digital marketing projects and campaigns."
Other stats from the survey revealed that 28.33% of respondents felt like having a hybrid working schedule gave them a great work-life balance as respondents were able to have quality time with work colleagues and time at home with loved ones. While 29.61% said that being in the office motivated them to stay on track and get work done. Over a third (36.05%) of respondents said that having time at home made them feel more productive as they were able to get into a creative flow, which is something that Embryo is a big advocate of as this helps their innovative team stay focused on their clients' work.
Chief of Innovation Officer at Embryo, James Welch, shares why he encourages staff to be in a flow state while working from home: "When in a flow state, some things that usually take hours can take minutes! Hybrid working has made elongated flow states – especially across multiple team members – much harder to accomplish than before the pandemic, which is something that I am trying to remedy. I've encouraged each team member at Embryo to block out time in their diaries as this will encourage them to stay on task and get into this flow state."
*Embryo