Rehumanizing Leadership
Rehumanizing Leadership
Putting Purpose Back into Business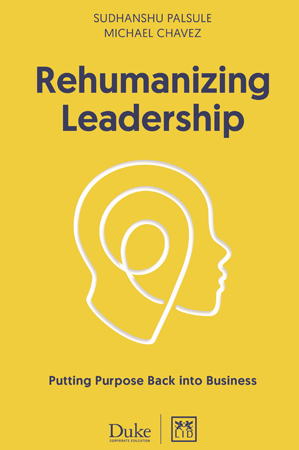 Authors: Sudhanshu Palsule & Machael Chavez
Review by: Chris Preston
This is a big book.  A few pages in I needed to draw breath and give the stream of ideas and facts some time to bed in. Imagine "Sapiens meets An Inconvenient Truth" and you've got an idea of the weight of the prologue. But then, given the topic, you would expect such depth. It's a book with a bold aim – re-humanising leadership, which is supported by a compelling narrative for the need to do so.

As the content unfolds, a structure for creating a more human organisation emerges – it's fundamental and by no means an easy 'five steps to humanity'. One quote on the book's cover describes it as a blueprint – for me it's perhaps less directive – I experienced it as a guidebook for a journey of reflection, discovery and change.

Who should read this book? Every leader running an organisation.  Amazing, mediocre or failing – all business need this thinking to either maintain positive momentum or to lift themselves out of the mire. I would also gift this book to anyone looking to support a team on the journey of discovery around purpose and leadership.

It's a big book that is a little too small. I would have loved more on empathy and meaning, both of which lost space to the content on purpose. Perhaps these are volumes two and three – or, we need to continue the journey ourselves.
Chris Preston is a culture expert and one of the founding partners of The Culture Builders
Receive this book FREE with a Platinum Subscription with our March 2020 issue, from 13.03.2020 to 14.04.2020, along with The Heartbeat of Excellence by Curt Blattner, People not Paperclips by Kath Howard and Press Start by Daniel Griffin & Albert van der Meer worth over £60.00 – Find out more.