Recruitment Advertising – click for more
We provide advertising opportunities to promote your Senior HR Role(s) to our readership both online with our Platinum, Silver and Chrome Recruitment Packages and in print in our flagship publication. Please note, we can only accept roles with salaries of £50k+.
Choose from one of our recruitment advertising mediums to place your next Senior HR role, which are highly targeted to our readership of Senior HR Practitioners.
PLATINUM Senior HR Job – £100k+ roles only
(3 available per month)
SILVER Senior HR Job – £50k+ roles only
(10 available per month)
CHROME Senior HR Job – £50k+ roles only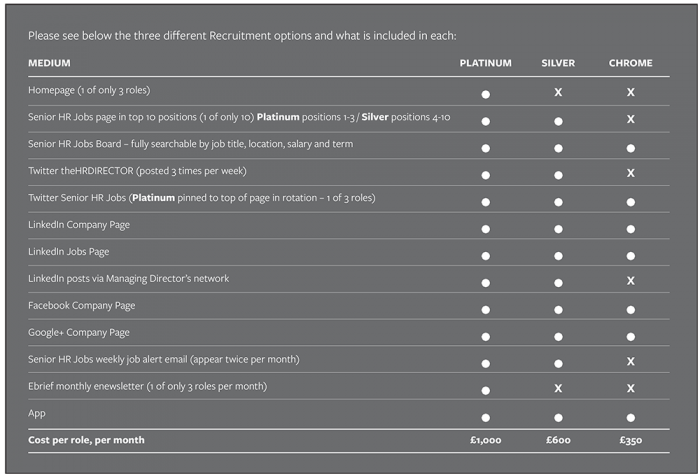 Please contact us should you wish to book bulk roles as we offer a discount based on number required.
Print Recruitment Advertising
If you are interested in placing a display recruitment advert in our monthly flagship publication in print and digital format, which reaches 10,500 Senior HR Readers, we offer both Full Page and Half Page opportunities.
To see our rates, please download our media pack at the link below:
To advertise your next Senior HR role on our highly popular mediums which only target Senior HR Practitioners, please contact us at:
e: [email protected]
t: 01454 292069
Target the right body in HR, not everybody