VIRTUAL HRDEBATE –
Why assessing and strengthening your organisations culture is critical for business performance
06 June 2023 Microsoft Teams
2:00PM - 4:00PM (BST)

Join theHRDIRECTOR for this timely VIRTUAL HRDEBATE partnered by Kincentric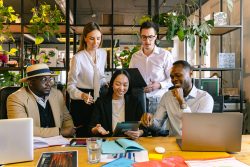 THE PROBLEM:
The importance of a consistently healthy culture cannot be underestimated in driving an inclusive and thriving business. But we have recently seen how some of our most vital organisations and services that we rely on to maintain safety, security and social order, have become mired by unhealthy cultures. Some have shown to be toxic to the core of the establishment.
We have seen how seemingly venerable and long-established organisations, have demonstrated some of the worst possible abuses of power and have proven to be self-serving, misogynistic, homophobic and racist. Some have even been described as institutionally racist. We wonder how it could possibly have become this bad and pressingly, what can be done to reverse the situation?
WHAT WE WILL EXAMINE:
We will explore how to assess organisations in terms of cultural maturity and explore the critical links to business performance. We'll dive into how culture is felt and distributed across organisations and finally seek to identify who "owns" culture".
Some of the key points will cover:
Culture and sub-cultures – advantages and disadvantages
How culture is reflected in internal relationships and those with clients and customers
Learning and innovation within your culture, will it sustain and enable your business to grow?
Cultural maturity approaches
Who owns your culture and what does this mean for your business
Using culture to drive success? What might you need more or less of?
For this virtual debate we are interested in receiving registrations from HR and People Leaders in organisations of 500 employees or more.