In Person Debate –
What should be the role of employers in managing employee health?
03 October 2023 London
Flemings Hotel, W1J 7BH

12pm to 4.30pm (post drinks to follow until 5.30pm)

Join theHRDIRECTOR for a roundtable debate, partnered with Goodshape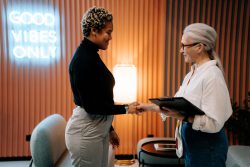 THE PROBLEM:
The increasing expectation of employees, particularly within the younger generations, is for employers to actively support their health and wellbeing. Businesses are recognising that investing in employee health and wellbeing is necessary to attract and retain staff, increase productivity and fulfil ESG (environmental, social and governance) responsibilities.
As ESG evolves, organisations will be expected to report on employee health and benchmark changes year on year, which is fast becoming a metric for investment decisions and linked to boardroom pay. Committing to supporting employee health means accepting a role in supporting the overall health of the individual, including when they are not at work. Historically, employers have had limited information about employee health, but emerging requirements would likely require a better understanding. Organisations must consider what data they need to gather on employee health, what restrictions might impact this (e.g. GDPR), and how much information they should gather.
HOW WE SOLVE IT:
In this insightful HRDebate, we will be focusing on how employers must decide how much support to provide to unwell colleagues and which conditions are appropriate to tackle. Additionally, we will discuss how organisations could play a role in the wider health system, by offering low-level screening of staff at work, to provide valuable population data for health research.
As the NHS struggles, we will look at how employers could play a role in supporting people that would benefit both them, the business and the wider NHS. We will also consider how prepared current HR systems and processes are to support these emerging requirements and the new relationships between employers and employees in this rapidly changing era of work.
Some of the key points will be covering:
Emerging trends in what employees are expecting from employers, to actively support their health
Driving factors that are informing strategy and spend
How ESG evolving and what you can report on and benchmark, to understand health across the employee population
How prepared are current HR systems and processes
Changing mindsets from investors and shareholders, towards metrics and improvement plans around employee health
(Complimentary refreshments, 2 course sit-down' lunch and post drinks)
**For this Debate we invite HR and People Leaders as well as Health & Wellbeing Leads in organisations of 3,000 employees or more**